With a thick and creamy sauce, this delicious roasted butternut squash pasta recipe is a cozy fall favorite dinner, and for good reason!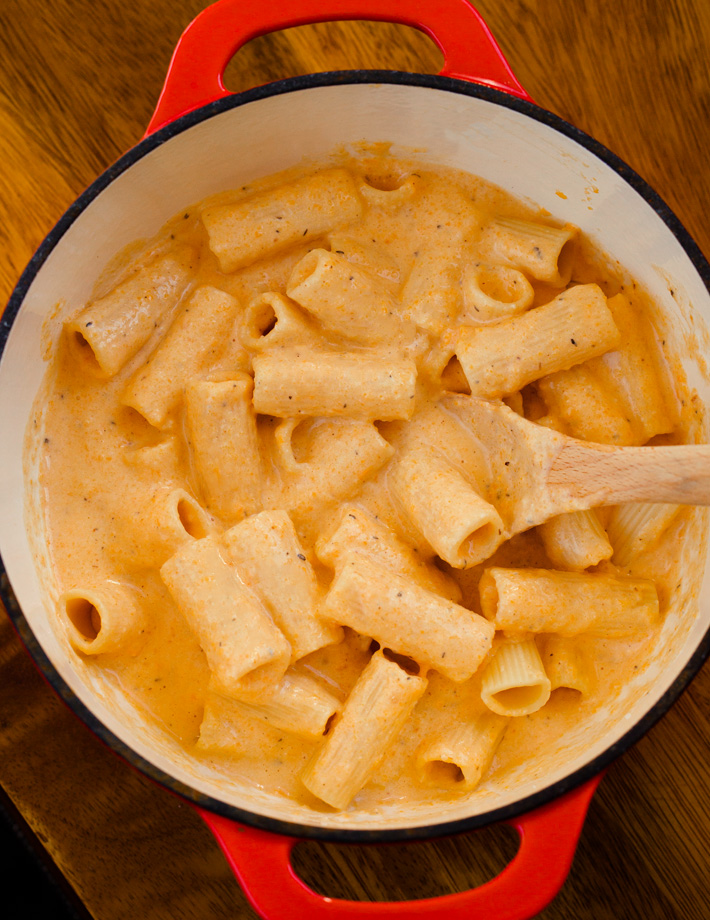 Creamy butternut squash pasta
If you're looking for a healthy comfort food recipe the whole family will love, be sure to try this classic autumn pasta dish.
Guests always ask for the recipe, and people will want to go back for seconds!
Thick, rich, saucy, and savory butternut squash pasta sauce is poured over perfectly cooked pasta, for a simple vegetarian dinner.
Serve it at fancy parties or for Thanksgiving or Christmas dinner. Or add some excitement to regular weeknights by serving this healthy butternut squash pasta instead of the usual marinara or pesto.
For dessert, make Sweet Potato Brownies
Above, watch the video of how to make butternut squash pasta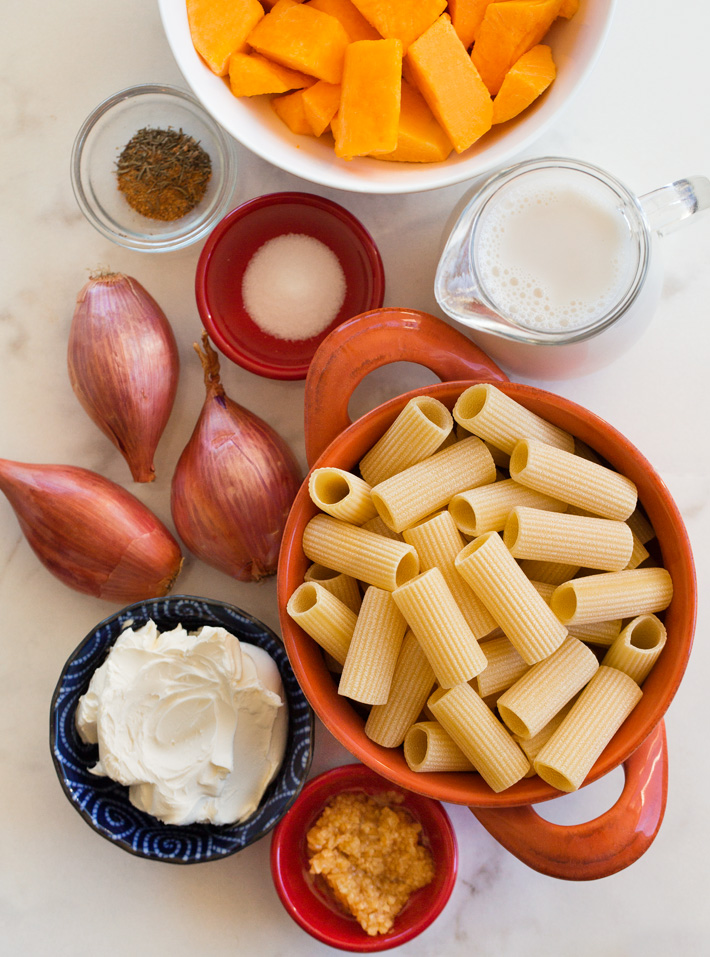 Roasted butternut pasta sauce ingredients
You need only a few ingredients: winter squash, garlic, salt, pepper, dried thyme and nutmeg, olive oil or spray, shallots or onions, cream cheese or coconut cream, pasta of choice, milk of choice, and optional Parmesan or nutritional yeast.
Butternut squash: Chopped acorn squash or sweet potato also work in this recipe. I have not tried substituting pumpkin for the butternut squash.
Shallots: These are a bit sweeter and more mild than onions. If you do not have shallots on hand, substitute one small onion for three shallots.
Garlic: I use jarred minced garlic for easy preparation. You can also buy whole garlic cloves and finely chop peeled cloves to make your own minced garlic.
For vegan butternut squash pasta sauce, use nutritional yeast and either coconut cream or dairy free cream cheese. Go with oil instead of brown butter. Unlike some other butternut squash pasta recipes, this one does not call for goat cheese or ricotta.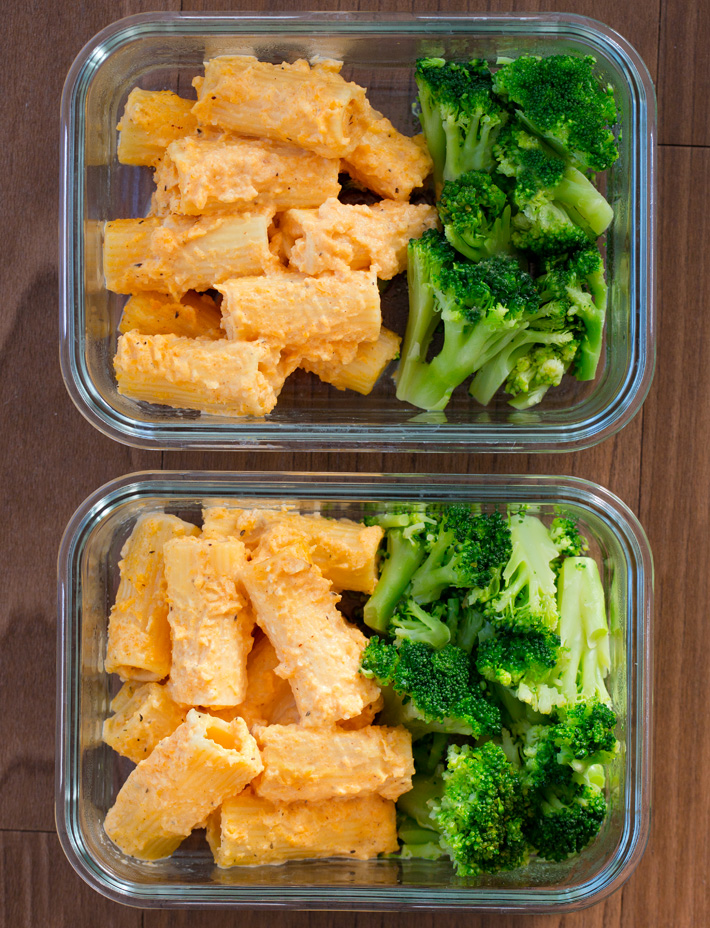 What is the best pasta to use?
The sky is the limit when it comes to pasta for this recipe.
I like choosing a tube pasta shape or one with a large surface area and creases, because each noodle holds more sauce.
Examples of pasta shapes that work well include penne, rotini, shells, farfalle, rigatoni, cavatappi, wagon wheels, or elbow macaroni.
You can also make the recipe with spaghetti, fettuccine, or your favorite gluten free pasta. Or pour the sauce over spaghetti squash or spiralized zucchini noodles for a low carb and keto friendly version.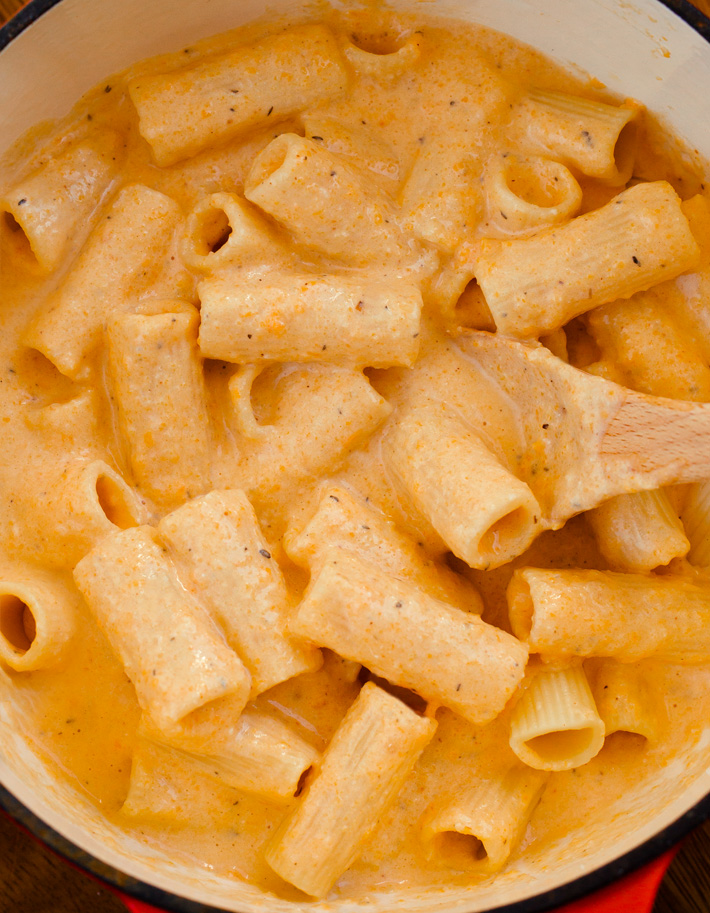 Can you use frozen butternut squash?
You can either buy pre-chopped butternut squash pieces (easy time saving trick) or peel and cut a whole squash. Both packaged and whole butternuts should be readily available in Wegmans, Trader Joes, Whole Foods, and regular grocery stores.
You can use frozen butternut squash if the above options are not available. Thaw the chunks fully before roasting, and blot excess moisture away with paper towels.
If making your own chopped butternut squash, start by rinsing the whole winter squash with water. Then use a vegetable peeler to remove the skin.
Cut the squash in half, lengthwise. Scoop out and discard the seeds. Cut the remaining squash into pieces about half an inch in size.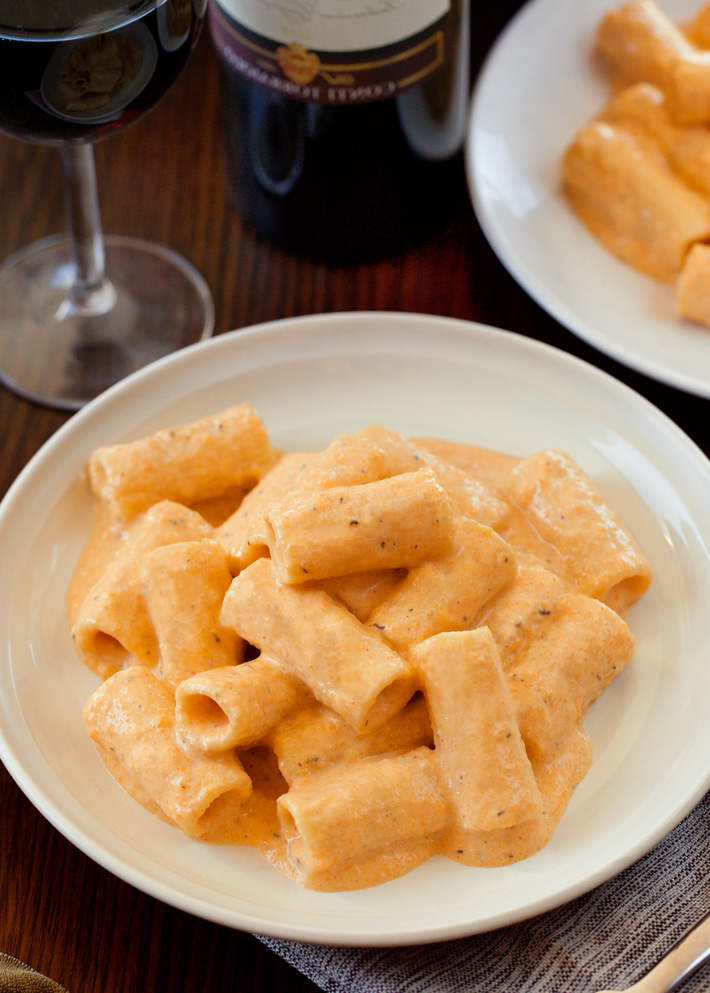 How to make the recipe
Line a baking sheet with parchment paper. Set aside.
In a large bowl, toss the cubed butternut squash with the shallots, oil or spray, half the salt, and a few shakes of ground pepper.
Arrange in a single layer on the parchment-lined tray. (The shallots will roast more quickly, so either wrap them in tin foil or just discard the few small pieces that may burn during roasting.)
Place the tray on the center rack of an un-preheated oven. Close the door, and turn the heat to 450 degrees Fahrenheit.
Bake for 35 minutes. Transfer the baked vegetables to a blender or saucepan, and add the milk of choice, cream cheese or coconut cream, remaining salt, thyme, nutmeg, and minced garlic.
Blend or use an immersion blender until the homemade butternut squash sauce is completely smooth.
Bring a pot of salted water to a boil, throw in the pasta, and cook according to package directions. Drain. For best results, do not rinse the pasta.
Heat the sauce until it reaches your desired serving temperature. Stir in the pasta. If adding a protein source, stir it in here as well.
Serve in bowls or on plates, garnished with nutritional yeast or Parmesan and optional fresh sage.
Serve the pasta with one of these Cauliflower Recipes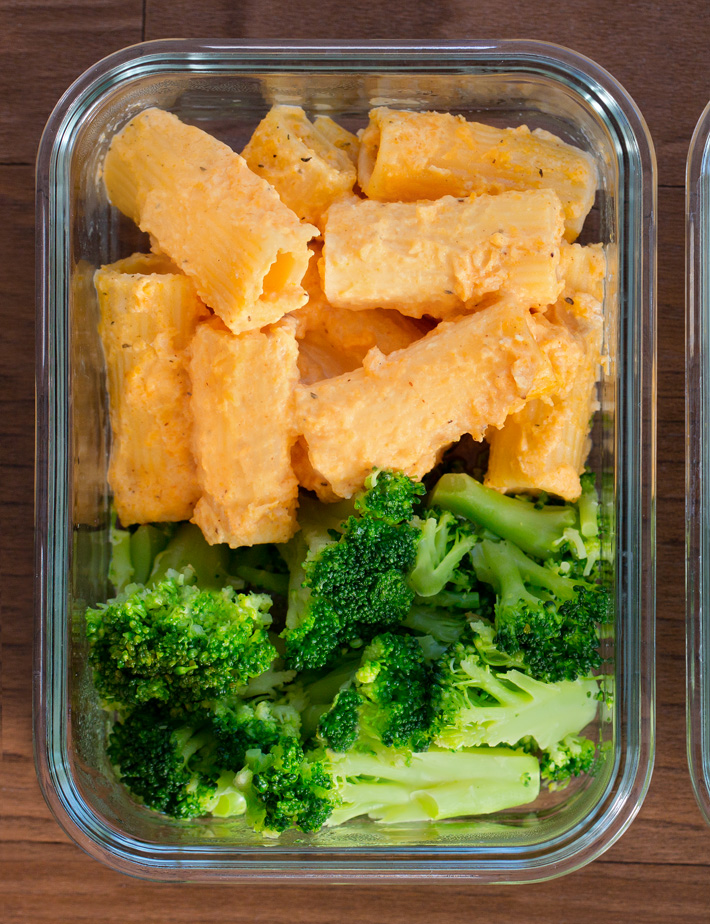 Butternut squash pasta recipe serving suggestions
Before serving, garnish with fresh sage or a sprig of dried rosemary if desired.
Roasted brussels sprouts, sautéed mushrooms, Avocado Salad, or grilled asparagus are all lovely side dish options for this cheesy winter pasta dish.
Or opt for a simple kale or spinach salad with cherry tomatoes, shredded carrots, toasted pecans or walnuts, and balsamic vinaigrette.
To make it a one dish dinner, stir in cooked protein of choice at the end.
If one or more of your guests are vegetarian, serve their portions before adding any bacon, sausage, tuna, shrimp, chicken, or other meat to the pot.
Storing and reheating leftovers
The butternut squash pasta sauce can be stored on its own or already on top of pasta.
Let the pasta and sauce cool before refrigerating in a pot with a lid or in lidded airtight meal prep containers – I used these glass meal prep containers.
Leftover pasta will last in the refrigerator for 3-5 days. It can also be frozen if you do not mind the somewhat mushy texture after thawing.
To reheat leftover servings individually, add a small amount of milk (or plant based milk) to each serving before microwaving. Or add the pasta to a saucepan with a little milk of choice and reheat on low, stirring frequently.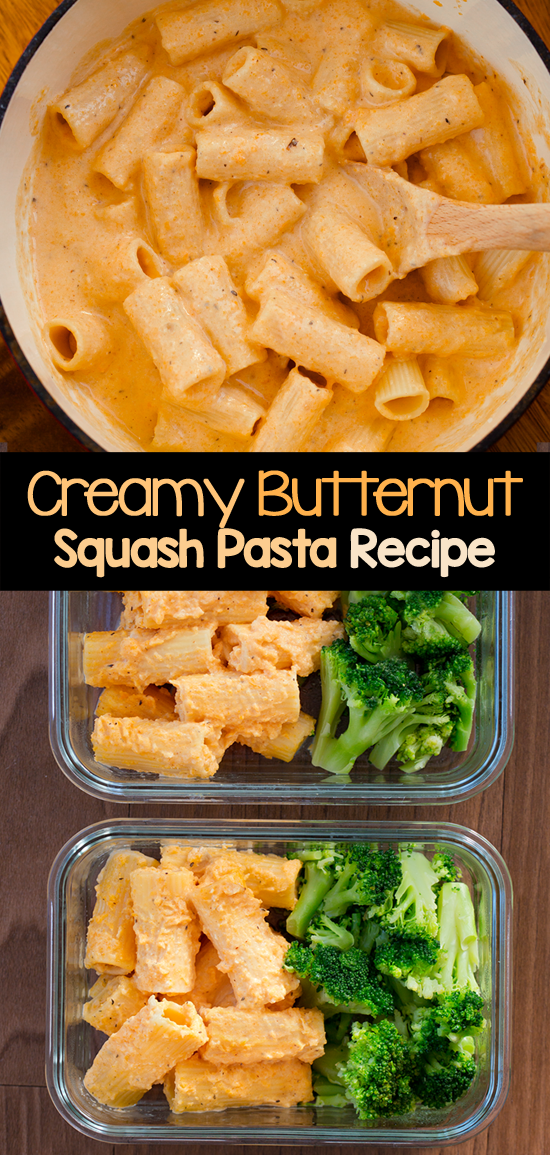 Butternut Squash Pasta
With a thick and creamy sauce, this roasted butternut squash pasta recipe is the perfect healthy fall dinner.
Ingredients
2

cups

chopped butternut squash

(320g)

3

shallots, or a small onion

1

tsp

salt, and pepper to taste

2

tbsp

olive oil or butter, or oil spray as needed

1

tbsp

minced garlic

1

tsp

dried thyme

1/4

tsp

ground nutmeg

1

1/4 cup

milk of choice

4

oz

cream cheese or coconut cream

8

oz

pasta

(or serve the sauce over vegetables or spaghetti squash)

optional fresh sage and Parmesan or nutritional yeast,

for serving
Instructions
Line a baking sheet with parchment paper, and set it aside. Peel the shallots and chop into large pieces. Toss the squash and shallots with oil or spray, half the salt, and a few shakes of ground pepper. Arrange in a single layer on the baking sheet, and place in an un-preheated oven. (You can either wrap the shallots in foil or just throw out the few small pieces that may burn during roasting.) Turn the heat on to 450 F, and bake 35 minutes. Purée all ingredients except the pasta and sage, either in a blender or with a hand blender, until thick and smooth. Boil the pasta according to package directions. Drain, but do not rinse. Heat the puréed sauce on the stove until desired serving temperature is reached. Taste the sauce, adding salt and additional seasonings if desired. Stir the al dente pasta together with the butternut squash sauce.

View Nutrition Facts
Delicious Easy Pasta Recipes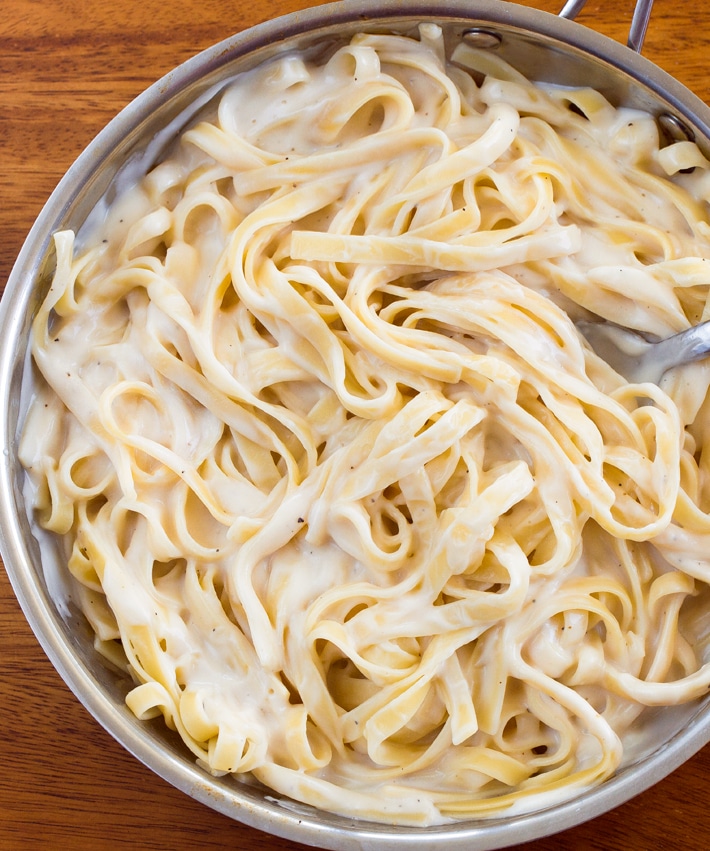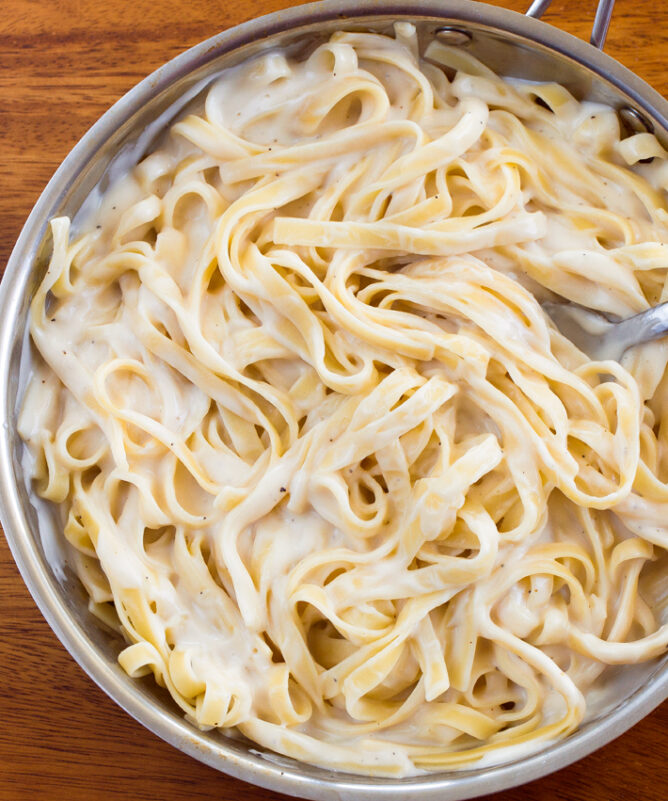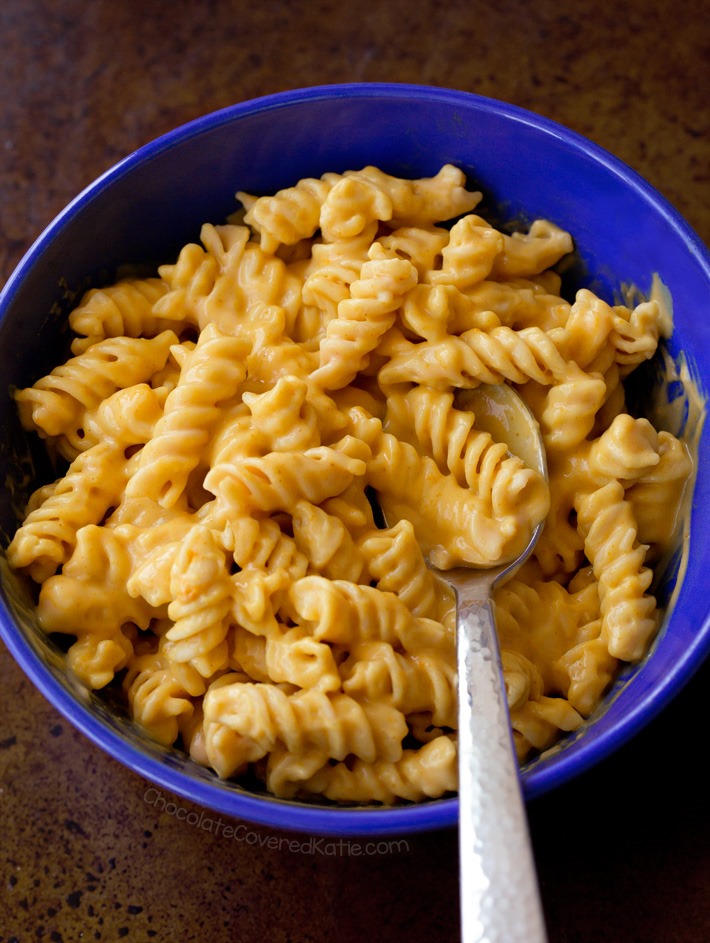 (Want to make butternut squash mac and cheese? Simply substitute the pumpkin with butternut squash in the recipe above.)