Low Fat Chocolate Muffins – Oil-free, egg-free, & they can even be sugar-free!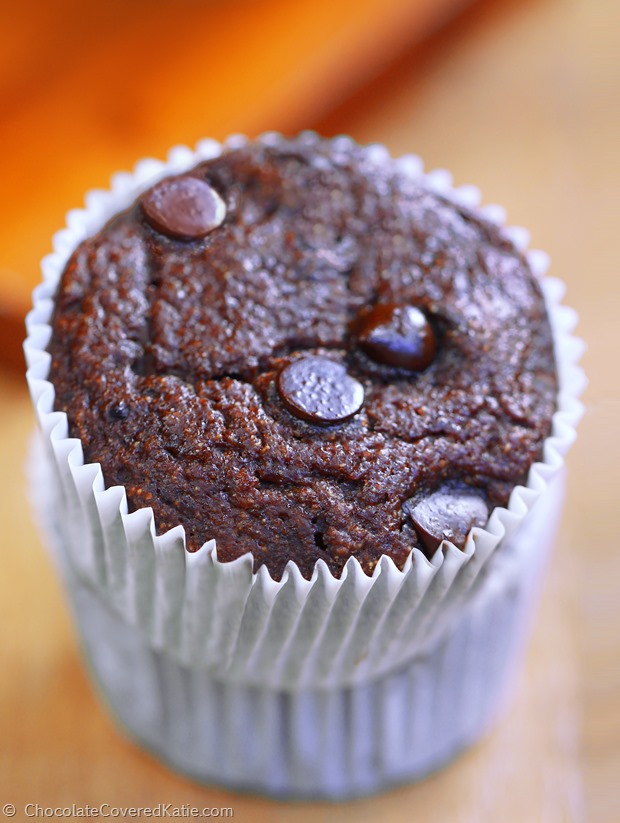 Unrelated note: A ton of people asked where I bought the spoons in my previous post.
If I remember correctly, I think they either came from Marshalls or Home Goods, and I bought them in a pack of four.
Now about these chocolate muffins…
One year in middle school, I decided to give up chocolate for Lent. I probably eat chocolate at least four times a day, and things were no different back then.
So voluntarily abstaining from my favorite food for more than a month was definitely a challenge.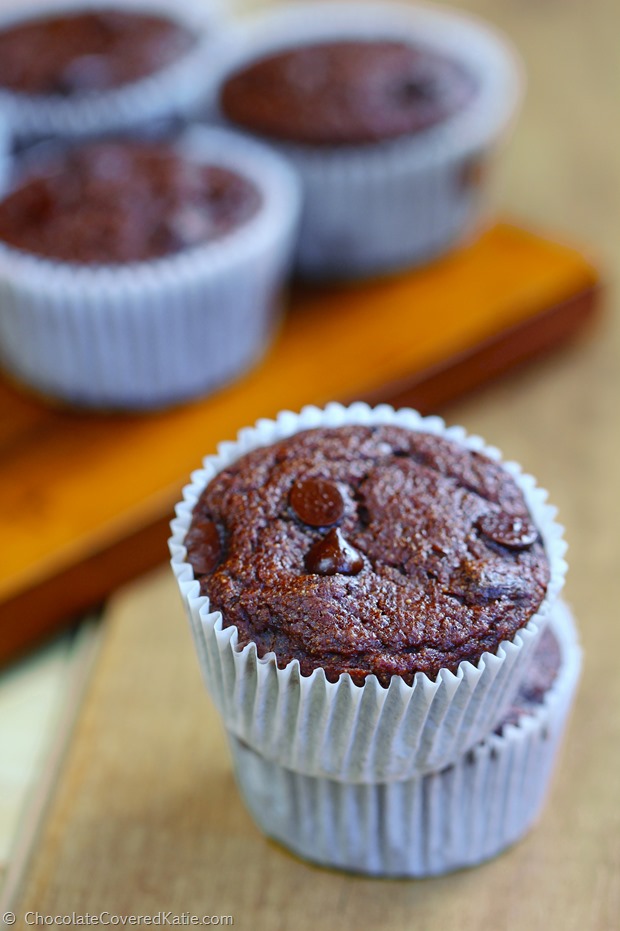 And—oddly enough—it wasn't chocolate ice cream, chocolate cookies, or chocolate cream pie I craved most during those 40 days.
It was the jumbo double chocolate muffins you could buy at Sams Club.

I'd have dreams about those muffins; dreams so realistic I would wake up in a panic, thinking I'd failed on my promise.
At the conclusion of Lent, the very first thing I did was buy a 12-pack of those jumbo chocolate muffins and eat every last chocolatey bite.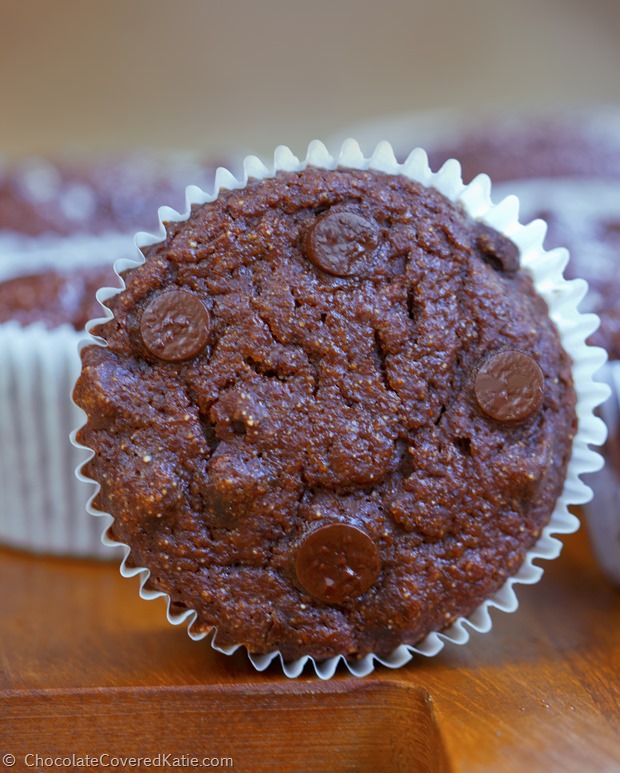 Today's low-fat chocolate muffins are a healthier homemade version of the Sams Club double chocolate muffins from my middle school days.
Gone are the 670 calories and entire day's worth of fat in traditional chocolate muffins.
To keep these muffins moist and fudgy without all the fat, I've replaced most of the oil with a combination of dairy-free milk and yogurt, including just a little oil as an option to give the muffins a bakery-style taste and texture while still being healthy.
If you're not trying to lose weight or watch your fat intake, feel free to use the oil option… and be sure to load them up with chocolate chips!! 😉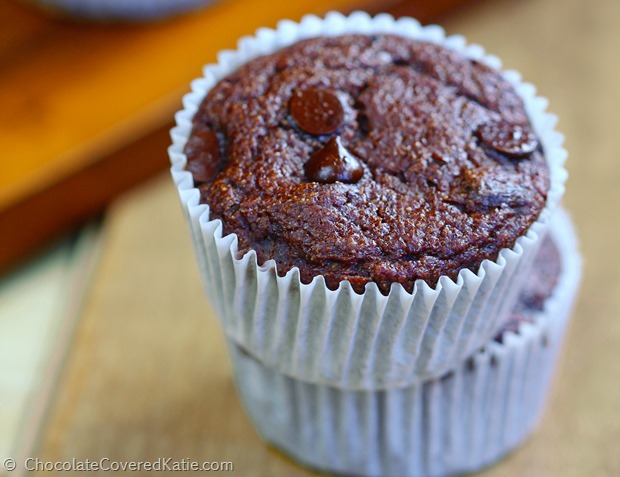 Low Fat Chocolate Muffins
(makes 6-7)
Adapted from Low Fat Blueberry Muffins
1/3 cup + 1 tbsp milk of choice
1 tbsp yogurt (I like Wholesoy)
3 tbsp oil OR additional yogurt
1 tbsp white or apple cider vinegar
2 tsp pure vanilla extract
3/4 cup spelt or all-purpose flour (or Bob's gf), loosely packed
1/4 cup cocoa powder
1 tsp baking powder
1/4 tsp + 1/16 tsp salt
1/4 cup sugar or xylitol
pinch stevia OR 3 additional tbsp sugar
1/2 cup chocolate chips, optional
Preheat oven to 350 F, and grease a muffin tin or line with liners. (If using the oil-free option, they stick to the liners the first day. The liners peel off easily after sitting a day, so you can either wait a day or bake sans liners.) Set aside. In a large measuring bowl, whisk together the first 4 ingredients and let sit at least 10 minutes. In a separate bowl, combine all remaining ingredients and stir well. Pour wet into dry, stir just until evenly combined, then portion into the muffin tins. If desired, you can press a few chocolate chips into the tops of the muffins as well. Bake 14 minutes or until domed and a toothpick comes out mostly clean from the center of a muffin. Store leftovers in the refrigerator, and they are best eaten or frozen after 2-3 days.
Link Of The Day: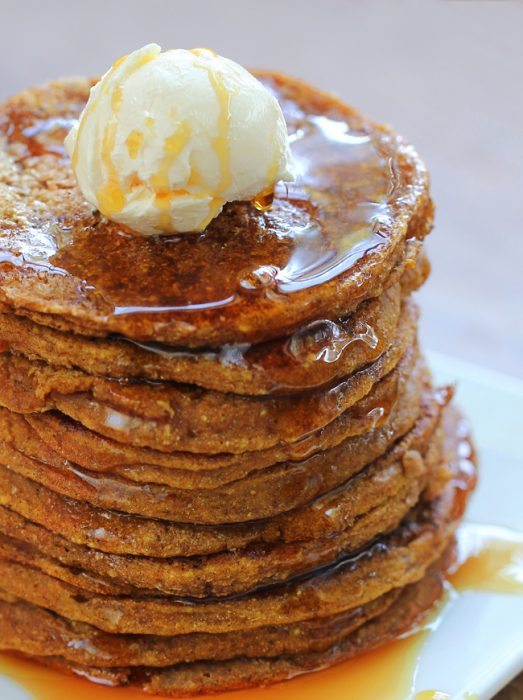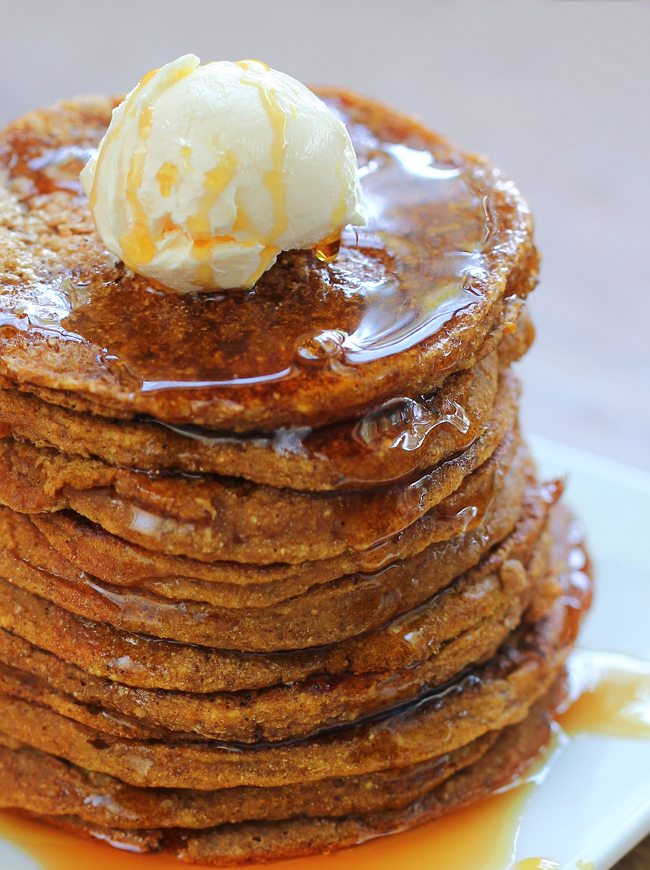 Sixteen fat, fluffy, irresistible pumpkin pancakes… for less than 250 calories!