Ooey gooey homemade cinnamon rolls, stuffed with sweet pumpkin pie filling – These delicious pumpkin pie cinnamon rolls are like a pumpkin lover's dream come true!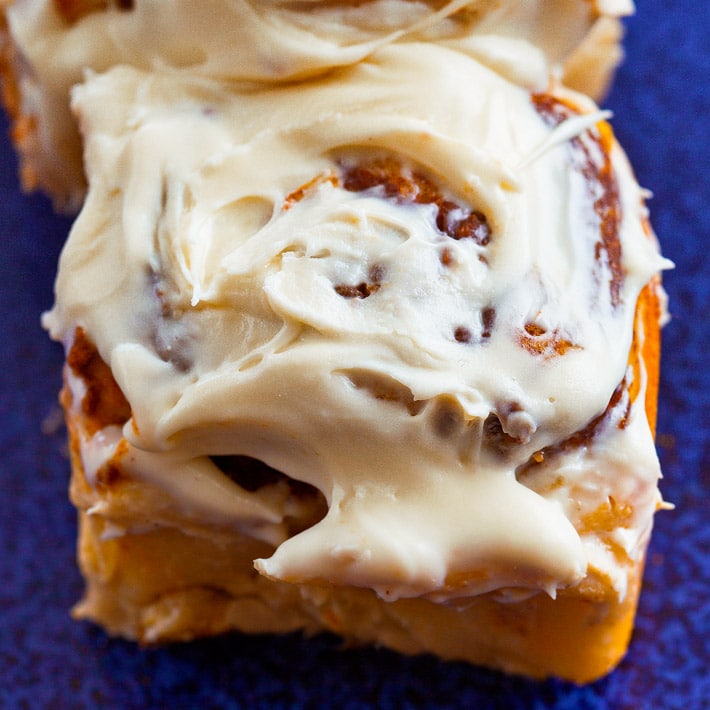 Wondering what to do with that can of pumpkin in your kitchen pantry?
Well now you know!
Make a batch of these fluffy pumpkin pie cinnamon rolls, because they are the perfect breakfast comfort food on a cool Fall morning.
Leftovers freeze well too, meaning you can enjoy homemade frosted cinnamon rolls any time a craving hits.
Just pull them out of the freezer to defrost the night before and bake in the morning until soft and hot. The recipe will make your entire kitchen smell like pumpkin pie.
You may also like: Vegan Chocolate Chip Cookies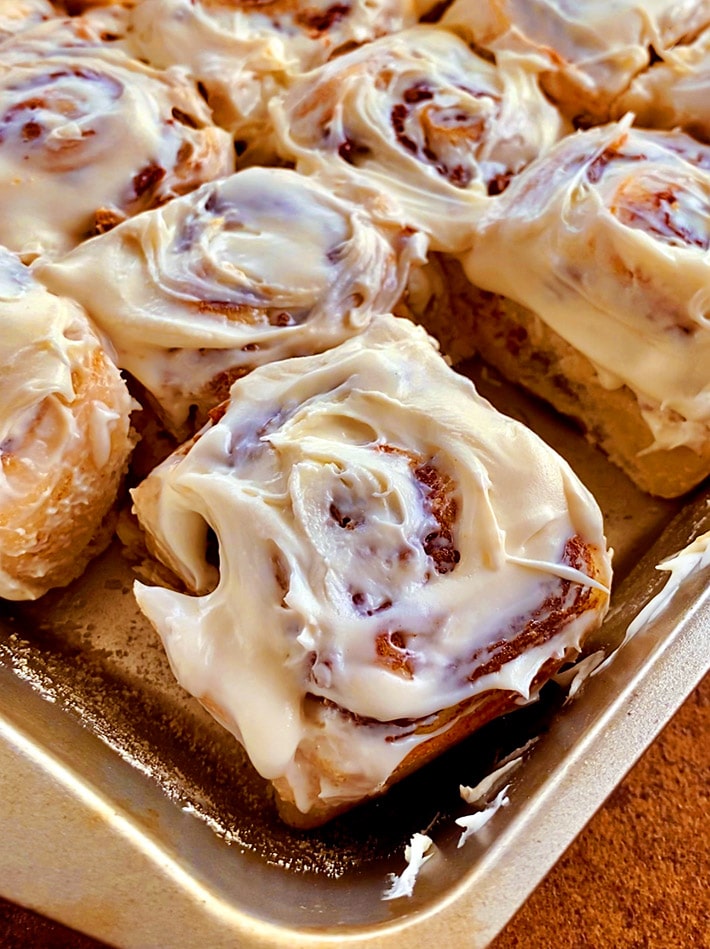 Pumpkin Cinnamon Bun Ingredients
For the dough: The trick to making the easiest pumpkin rolls is to use premade dough sold in the refrigerated section of many stores such as Whole Foods, Trader Joes, or Wegmans.
You can use from whole wheat, white, or gluten free varieties, and it's usually vegan. If you prefer, homemade pizza dough is also fine to use – I like this vegan pizza recipe.
For the pumpkin pie spice: Sometimes just called pumpkin spice, the mix can be found in the spice section of most grocery stores. Or you can omit it in this recipe and increase the cinnamon instead.
A third option is to make your own pumpkin pie spice by combining 1/2 tsp ground cinnamon, 1/4 tsp each of ground nutmeg and ginger, and 1/8 tsp ground cloves. There's no actual pumpkin in this spice; it gets its name because it is often used in making pumpkin pie (including this Healthy Pumpkin Pie).
For the sweetener: Feel free to use your favorite granulated sweetener here. Options include regular sugar or coconut sugar, date sugar or brown sugar, or xylitol or granulated erythritol for sugar free cinnamon rolls.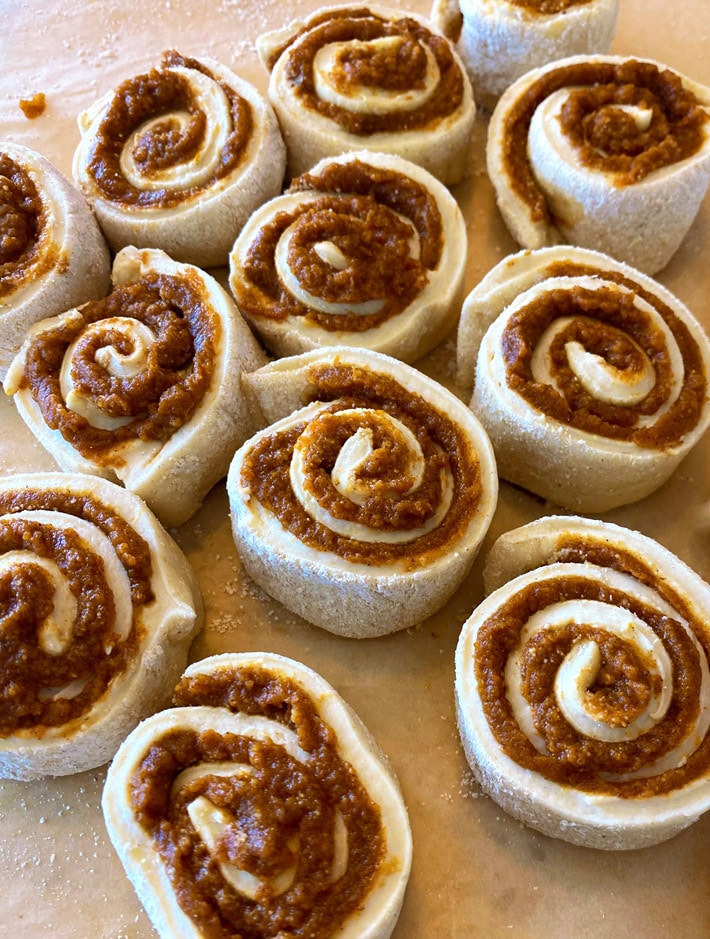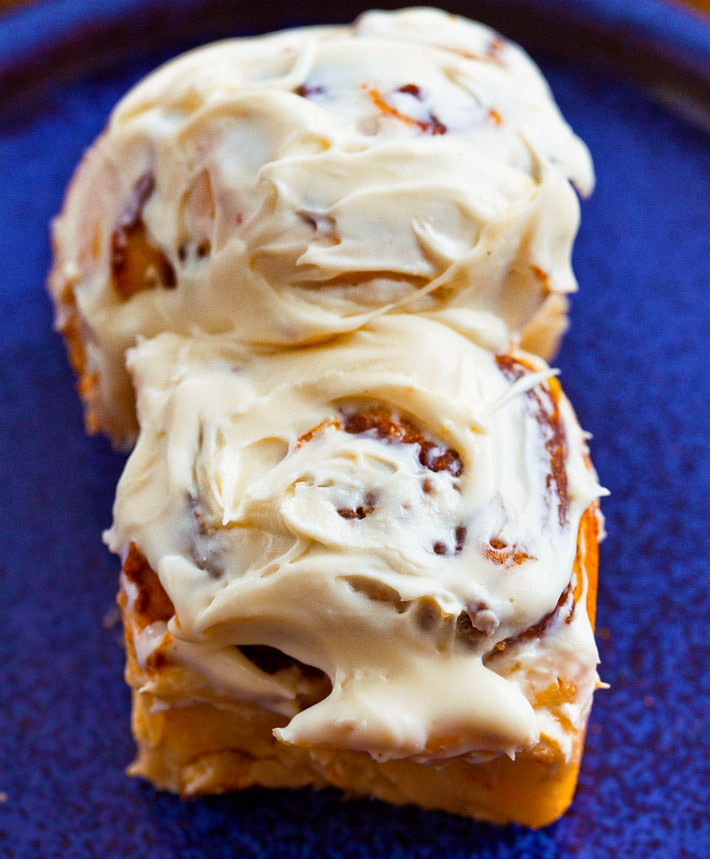 Pumpkin Roll Frosting Recipes
Here are a bunch of different ways you can frost the cinnamon rolls:
Cream Cheese Icing: Beat 8 oz room temperature cream cheese or vegan cream cheese with 4 oz butter or vegan butter, 2 cups powdered sugar (or sugar free sub), and 1 tsp pure vanilla extract. If needed, add a little milk of choice to thin it out.
Glaze Icing: Stir 1 1/2 cups powdered sugar (or sugar free sub) with 2-4 tbsp milk of choice. Whisk to form a glaze.
More Frosting Options: Top the buns with store-bought frosting, melted almond butter or coconut butter, or leave them un-iced for a healthy breakfast that tastes like a muffin. (You can also try these Pumpkin Muffins.)

How To Make Pumpkin Cinnamon Rolls
Start by rolling the dough out with a rolling pin into a thin rectangle on a floured surface (any flour is fine, even coconut flour).
If too sticky to roll, just add a little more flour. Make the rectangle around just under 1/4 of an inch thick.
If using butter spread or coconut oil, soften it until it has a similar texture to peanut butter (so not rock hard, but also not completely melted). Mix it with the pumpkin, sweetener, and spices to make the filling.
Spread the filling in a very thin layer over the rectangular dough. Then cut into long strips and roll each strip up tightly.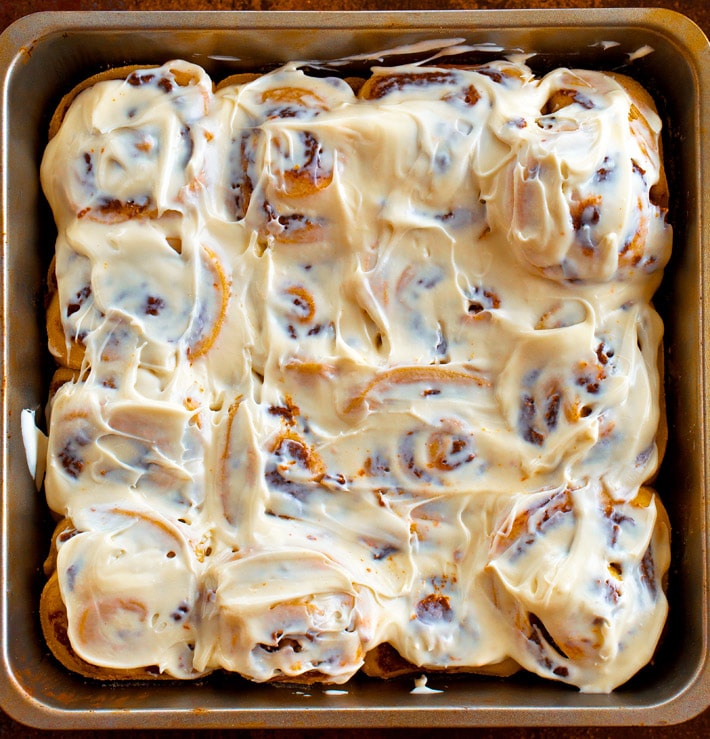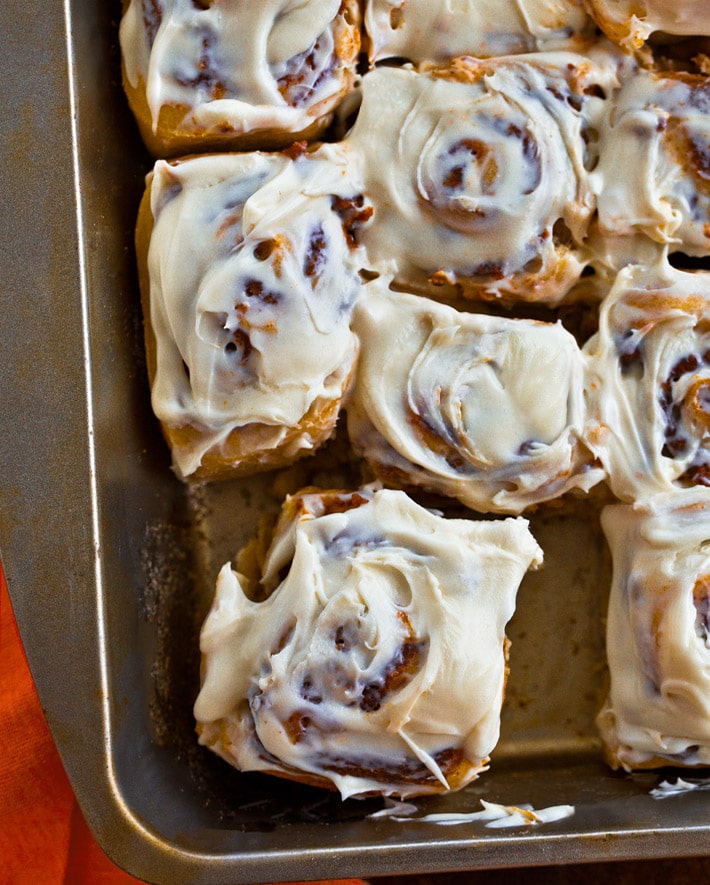 Place the pumpkin cinnamon buns in a greased baking pan.
Let the pan sit while the oven preheats to 400 degrees Fahrenheit, then bake on the center rack for 24 minutes or until the rolls are fully cooked. Frost as desired.
The pumpkin rolls go really well with this Frappuccino Recipe or some Whipped Coffee.
For a balanced healthy breakfast, try serving them with this Tofu Scramble.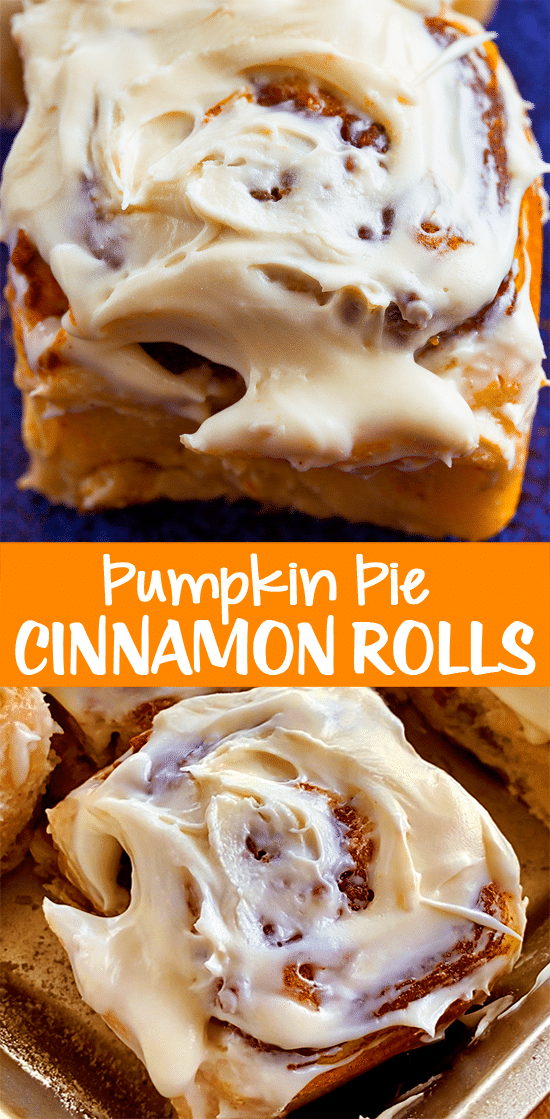 The recipe was adapted from these Easy Cinnamon Rolls and from my Vegan Cinnamon Rolls.

Pumpkin Pie Cinnamon Rolls
Stuffed with sweet pumpkin pie filling, these homemade pumpkin pie cinnamon rolls are a pumpkin lover's dream come true!
Yield
9
– 15 cinnamon rolls
Ingredients
16

oz

pizza dough

(see above for options)

1/2

cup

pumpkin puree

4

1/2

tbsp butter, coconut oil, or additional pumpkin

3

tbsp

granulated sweetener of choice

2

tsp

cinnamon, plus 1/2 tsp pumpkin pie spice or additional cinnamon

1/4

tsp

salt

(unless using salted butter)

optional handful raisins or crushed walnuts or pecans
Instructions
Roll the dough into a thin rectangle on a floured surface (any flour is fine). If it's too sticky to roll, just add more flour a little at a time. The rectangle should be around just under 1/4-inch. Soften the butter or oil if using, but do not melt. Mix together all ingredients except the dough in a bowl to make your filling. Spread in a thin layer over the dough. Cut into long strips, then roll up tightly. Place the rolls in a greased baking pan and let sit while you preheat the oven to 400 F. Bake 24 minutes or until dough is fully cooked. Frosting ideas are listed above.

View Nutrition Facts
More Fall Breakfast Recipes