Behold, a mint chocolate chip Thin Mint cheesecake to which all other cheesecakes aspire: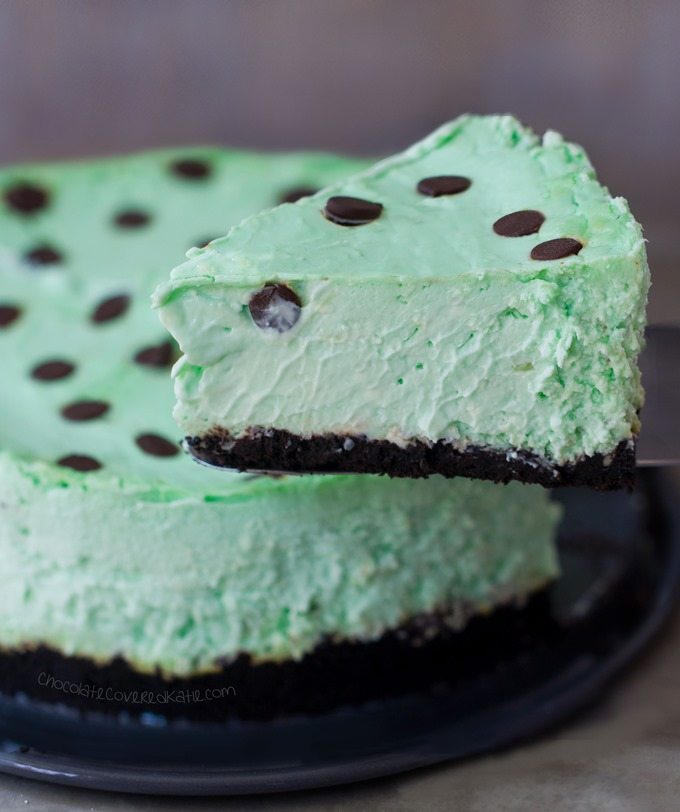 This creamy cheesecake can be all of the following:
Vegan
Low Carb
Gluten Free
Sugar Free
Soy Free
Egg Free
Nut Free
Low Calorie
No Food Coloring
Inspired by the popular Keto Cheesecake Recipe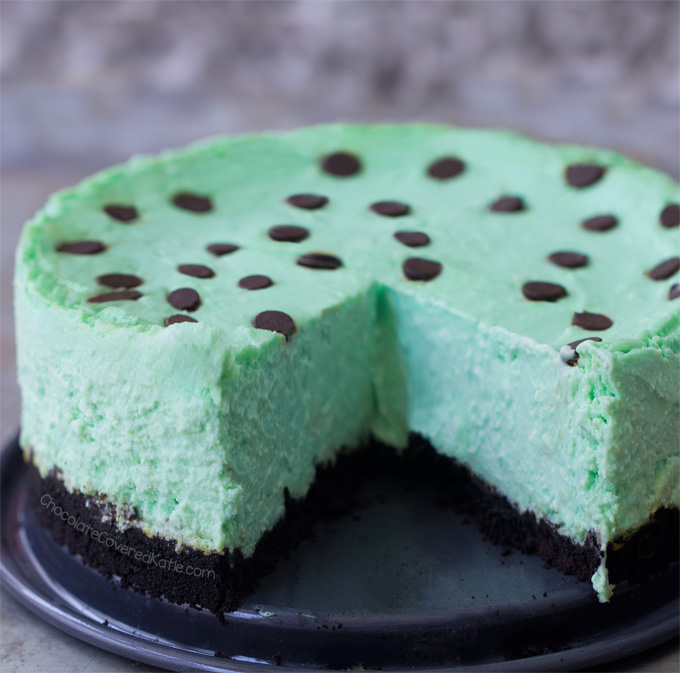 Imagine taking two of the most delicious foods in the world—Thin Mint girl scout cookies and NY style cheesecake—and magically combining them into one incredible dessert.
For anyone who loves Girl Scout Cookies and cheesecake, it is the ultimate treat.
You have options for the crust: Make it crustless, or use your favorite homemade or grocery store crust, or you can use crushed Thin Mint cookies!
If you're ambitious, you can even make your own with this recipe: Keto Thin Mints.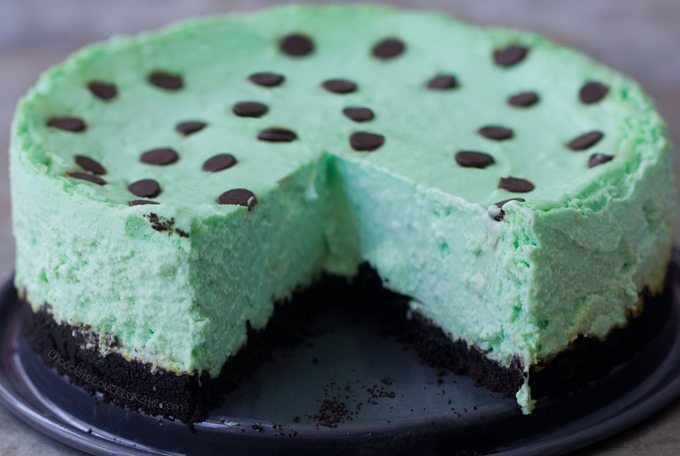 Leftovers (if there are any!) can even be frozen and thawed any time you're craving Thin Mints.
So basically, Girl Scout Cookie season never has to end!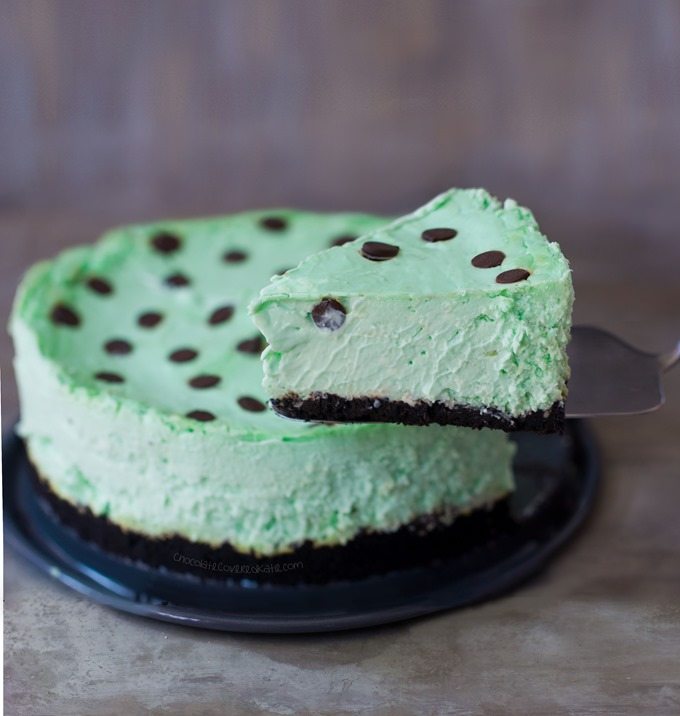 Tips For Baking Success:
Don't over-beat the batter, because over-mixing can introduce air bubbles that burst in the oven and cause cracking.
Once done baking, be sure to let the cheesecake cool gradually instead of moving it straight from the oven to the fridge, to avoid sudden temperature changes that could also result in cracking.
Be sure to get pure peppermint extract, not imitation. If you prefer just a slightly-minty cheesecake, use 1/4 tsp instead of the full amount.
Trending Right Now: Coconut Curry – The Best Easy Recipe

The recipe was adapted from this Vegan Cheesecake Recipe
Thin Mint Cheesecake
Everyone will love this Thin Mint cheesecake, with low carb and vegan options included!
Ingredients
24

oz

cream cheese or vegan cream cheese

2

cups

yogurt,

dairy free if desired

1/2

cup

sweetener of choice,

such as sugar, maple syrup, or xylitol

pinch

uncut stevia OR 2 tbsp additional sweetener

1

tsp

pure vanilla extract

1/2

tsp

pure peppermint extract

1

tbsp

cornstarch,

or 1/4 cup almond flour for keto

optional scant 1/4 tsp spirulina or natural food coloring

chocolate chips or sugar free chocolate chips as desired
Instructions
Be sure to get pure peppermint extract, not imitation. If you prefer just a slightly-minty cheesecake, use 1/4 tsp instead of the full amount.

Preheat the oven to 350 F. Fill a 9x13 pan halfway with water, and place it on the oven's lower rack. Bring the cream cheese to room temperature. With a blender or hand blender, beat all ingredients except the chocolate chips just until smooth. (Don't overbeat, which would introduce air bubbles that burst while cooking and thus cause cracking.) Add chips if desired. Transfer to an 8 or 9-inch springform pan, lined with a crust if desired – I mention a few crust ideas earlier in this post. Bake on the center rack for 30 minutes (9 inch) or 38 minutes (8 inch), without ever opening the oven. Then still DON'T open the oven door, but turn off the oven. Leave in the closed oven for 15 minutes. Remove—it will still look underdone—and let cool on the counter for 30 minutes before placing the still-underdone cheesecake in the fridge. Cover only very loosely. (Be sure not to put the cheesecake straight from the oven to the fridge, which would cause it to cool too quickly and crack.) Chill at least 6 hours, during which time it will magically firm up to the proper cheesecake texture. Store leftovers covered in the fridge for 3-4 days. You can freeze leftovers too!View Nutrition Facts
More Keto Friendly Desserts: