Buttery, flakey pie crust. Sweet pecan filling. These mini pecan pies will disappear in a flash and are totally vegan!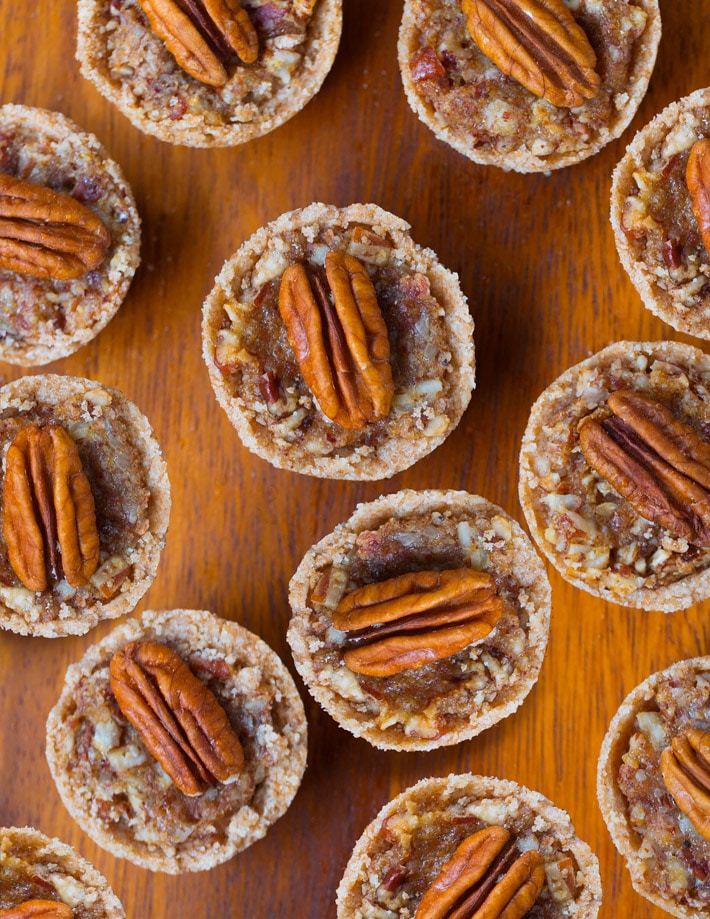 Each year during the holidays, so many of us run into the same dilemma: there are simply too many choices for dessert!
Do we want pumpkin pie? Or apple pie?
Sweet potato pudding? Or what about pecan pie???
Of course the obvious answer to all of these questions is "Yes!"
So today's bite-sized pecan tassies are a welcome addition to any Thanksgiving or holiday menu, because they enable you to have your pecan pie and still save room for all of the other desserts on the table.
If only all issues were so easy to solve.
Readers also love these Vegan Chocolate Chip Cookies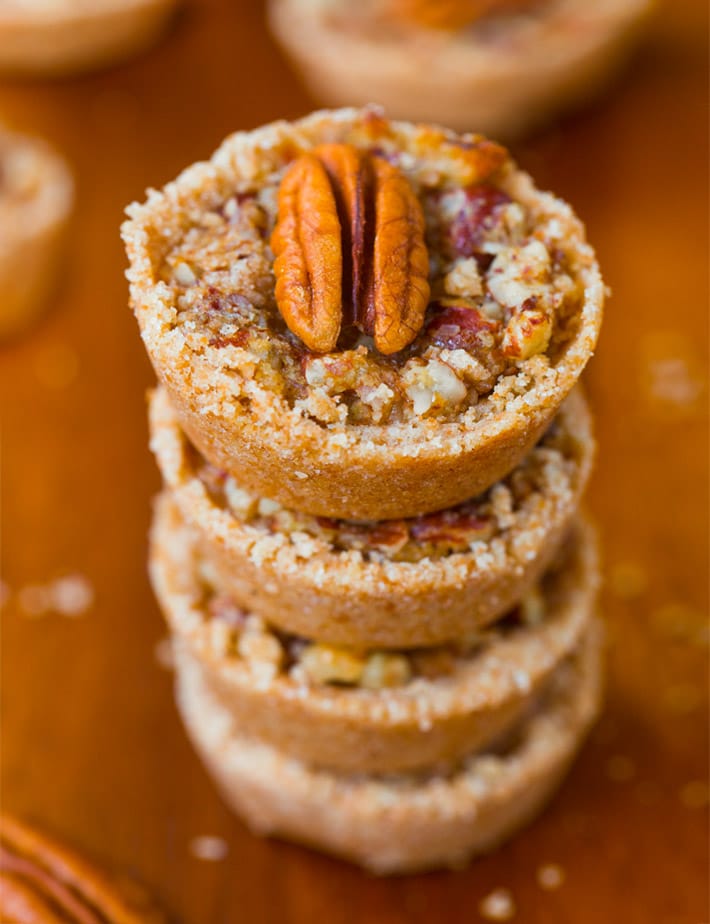 Pecan Tassie Ingredients
The vegan recipe calls for the following ingredients: chopped pecans, pure maple syrup or agave, ground flax, flour, sugar (unrefined if desired), baking powder, salt, vegan butter, and molasses.
Any molasses will work here, so use whatever you have on hand or can find at the store. I like using blackstrap molasses for its myriad health benefits – the sweetener is surprisingly high in both calcium and iron.
Vegan butter has come a long way from the hydrogenated margarine of the 1980s. Look for brands such as Melt, Earth Balance, or Miyokos, all of which can be substituted for dairy butter in an equal amount in recipes such as these cookies.
Trending now: Healthy Banana Bread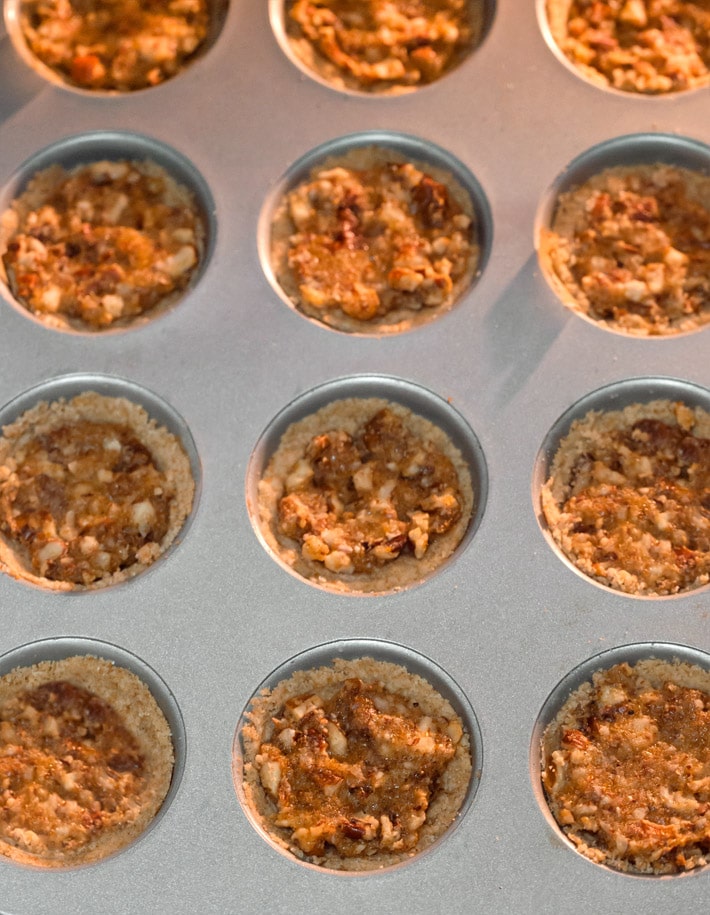 How to make the pecan cookies
To finely chop the pecans, either quickly pulse them in a food processor or with a mortar and pestle, or place them in a bag and use a rolling pin or the side of a soup can to crush them from inside the bag.
Preheat the oven to 350 degrees Fahrenheit, and grease a mini muffin tin. For easier removal later, I put a thin strip of parchment inside each tin.
Whisk all of the pecan filling ingredients together in a bowl, then refrigerate for at least fifteen minutes to thicken.
Meanwhile, combine the crust ingredients in a new bowl, completely breaking up the vegan butter until you achieve fine crumbles.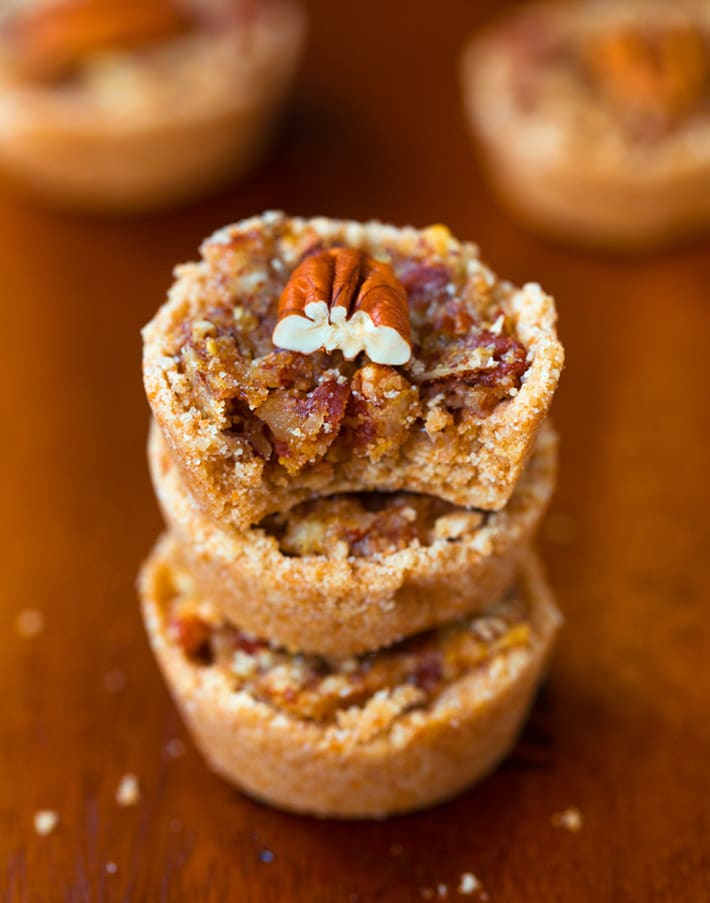 Press about 1 1/2 tablespoons of dough into the bottom of each muffin tin.
With a spoon or your fingers, make a shallow well in each center, then add about 1/2 tablespoon of the thickened filling to each well.
Bake the pecan tassies on the oven's center rack for 12 minutes. Let cool, then remove from the muffin pan.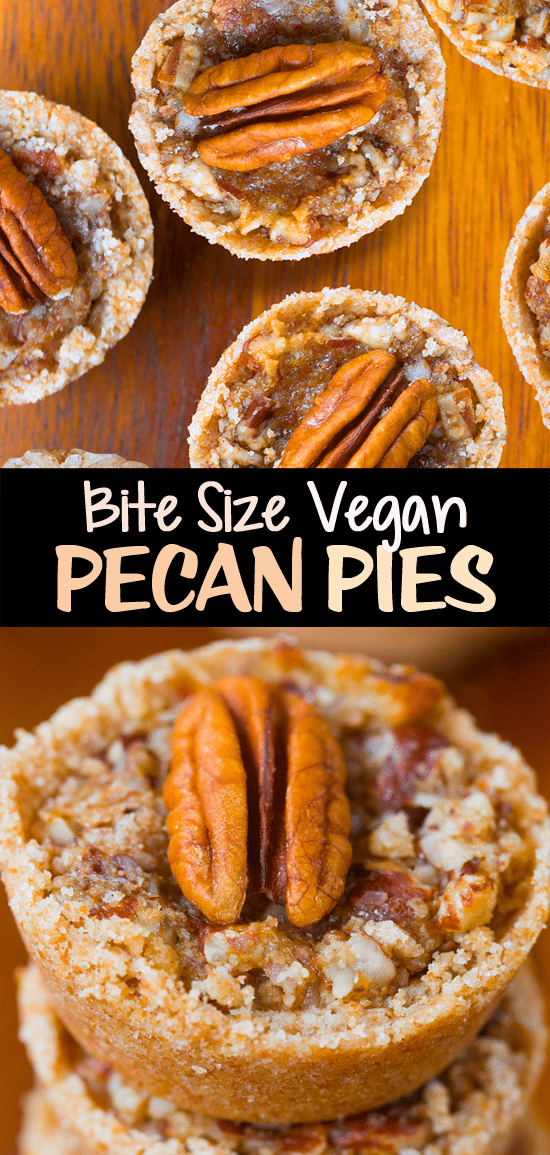 Vegan Pecan Tassies
With a flakey pie crust and sweet pecan filling, these vegan mini pecan pies will disappear in a flash.
Ingredients
1/2

cup

raw pecans,

chopped fine (50g)

1

tbsp

water

1

tbsp

ground flaxmeal

1

1/2 tbsp

agave or pure maple syrup

2

tsp

molasses

1/8

tsp

salt

optional 2 tsp vegan butter or oil
Pecan Tassie Crust
3/4

cup

spelt, white, or ap gf flour

1/4

cup

sugar, unrefined if desired

1/4

tsp

baking powder

1/8

tsp

salt

3

1/2 tbsp

cold vegan butter (or oil, see note below)
Instructions
*Using oil will yield a crispier crust, while using butter will yield a softer crust. To break up the pecans, I like to either use a food processor or place the nuts in a bag and then smash the bag with a rolling pin or side of a can until nuts are finely chopped.  

Preheat oven to 350 F. Grease a mini muffin tin. For easier removal, you can put a thin strip of parchment paper inside each tin if desired (see photo). Whisk together the first six ingredients (and 2 tsp spread or oil, if using for a richer flavor). Refrigerate at least fifteen minutes to thicken. Meanwhile, combine crust ingredients in a new bowl, completely breaking up the butter until fine crumbles form. Press 1 1/2 tbsp dough into the bottom of each mini muffin tin, using a spoon or your fingers to make a shallow well in each center. Add about 1/2 tbsp of the refrigerated filling to each well. Bake on the center rack, 12 minutes. Let cool before removing from the tins. 

View Nutrition Facts
More Vegan Fall Desserts