This classic vegan apple pie recipe is everything you could ever want in a homemade apple pie, with delicious flaky pie crust and sweet apple filling in each bite!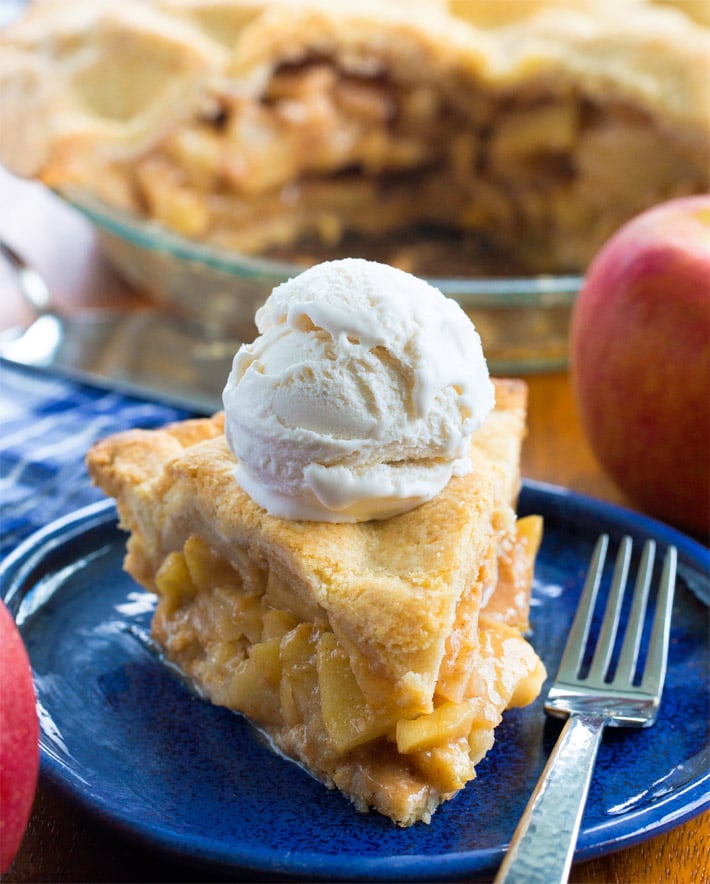 If you're looking for the perfect apple pie recipe to make for the holidays, this tried-and-true recipe will not let you down.
Because the pie is made with only traditional apple pie ingredients, it's a fantastic holiday dessert to make for both vegan and non vegan guests, and everyone will be asking you for the recipe!
One bite of this completely delicious vegan apple pie, and you will never go back to store bought or canned filling ever again.
Also try this popular Vegan Cheesecake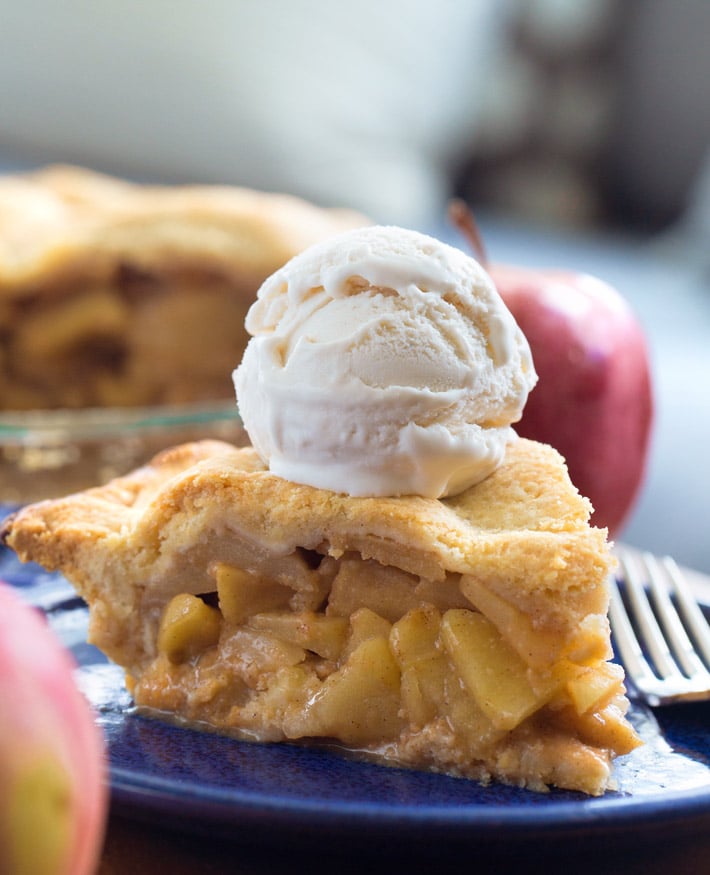 Apple Pie Topping Ideas
Whether it's Thanksgiving, Christmas, the Fourth of July, or a regular Sunday evening, the pie is right at home for any celebration or special occasion.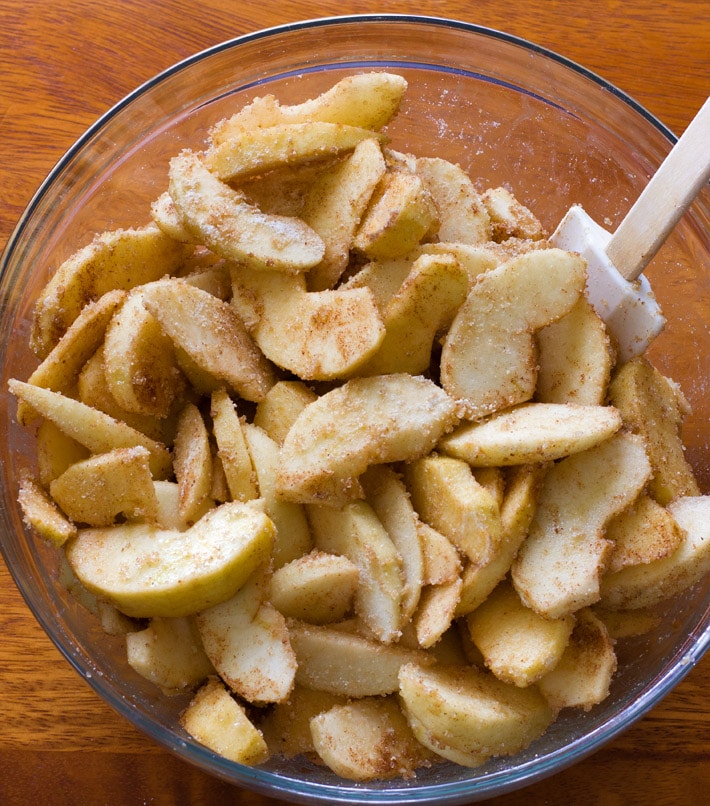 Vegan Apple Pie Ingredients
You will need the following to make the best vegan apple pie: sliced apples, ground cinnamon and nutmeg, salt, flour, granulated sweetener of choice, a double pie crust, and optional vegan butter or coconut oil.
Also have on hand a 9-inch pie pan, a large bowl for tossing the ingredients, and an optional apple peeler if you wish to remove the skins from the fruit before baking.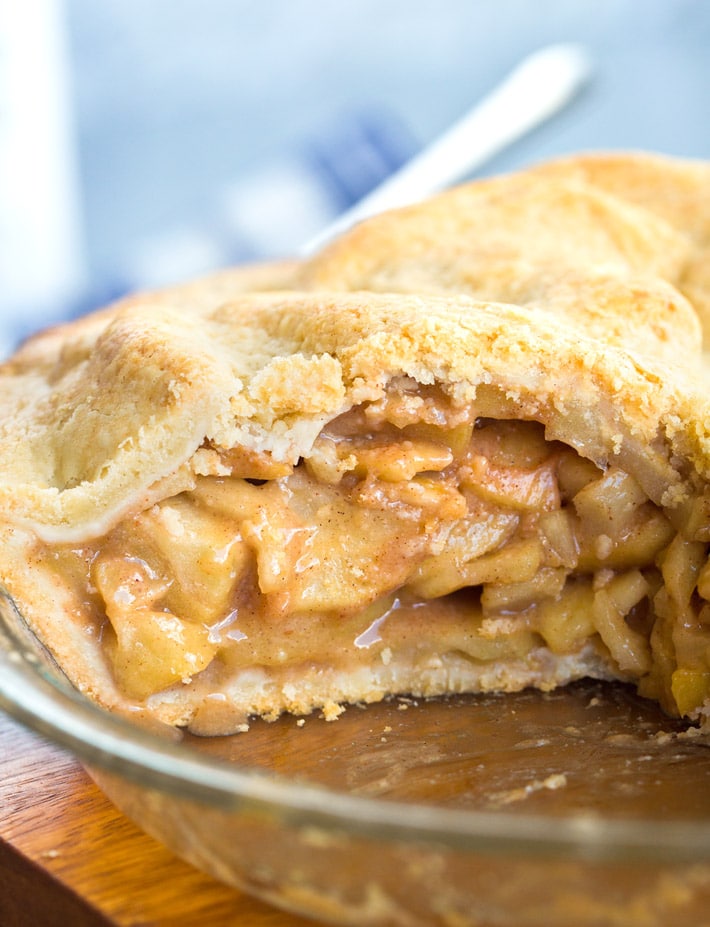 What kind of apples to use?
The type of apples you choose to use in a pie are important, because some apple varieties are not good at withstanding high heat and will turn to mush when baked.
Ideally, you want your apple pie filling to be tender yet crisp, and not too tart.
My favorite green or red apples for pie include Braeburn, Granny Smith, Jonagold, Honeycrisp, or Pink Lady apples.
And I'd recommend not using Red Delicious because of their mushy flesh and tendency to quickly turn brown.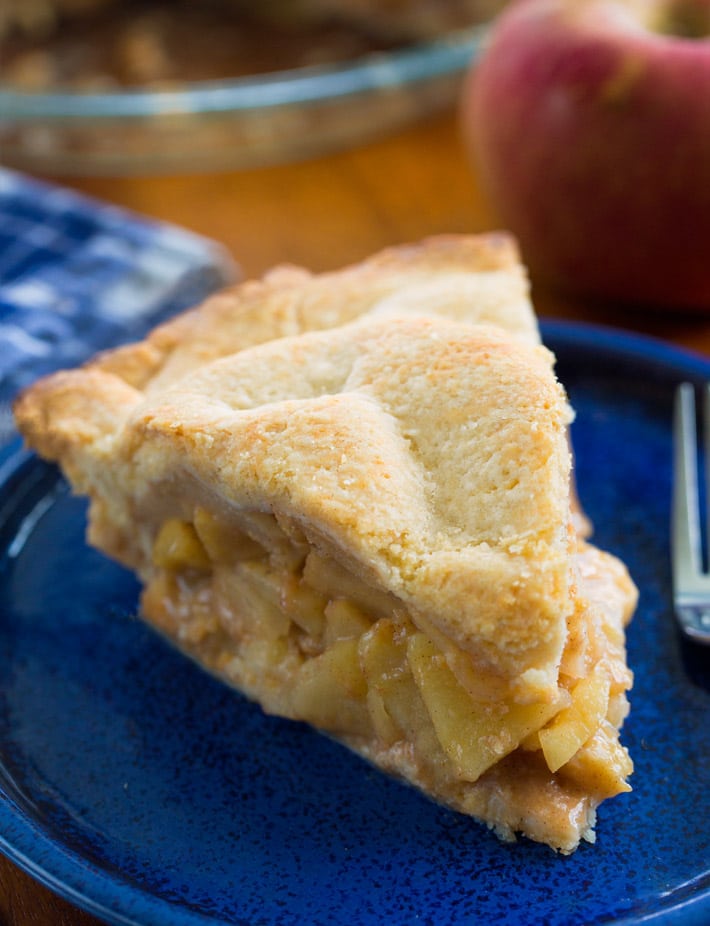 Can the recipe be sugar free or gluten free?
For a gluten free vegan apple pie, just be sure to use a gluten free pie crust and choose gluten free oat flour as the flour of choice in the filling. (I would think that a gluten free all purpose flour should also work in the apple pie filling, but I haven't tried it yet.)
The pie can be made with regular sugar, unrefined coconut sugar, or evaporated cane juice. Or you can go with either granulated erythritol or xylitol for a vegan sugar free apple pie.
Trending this week: Vegan Brownies – egg free recipe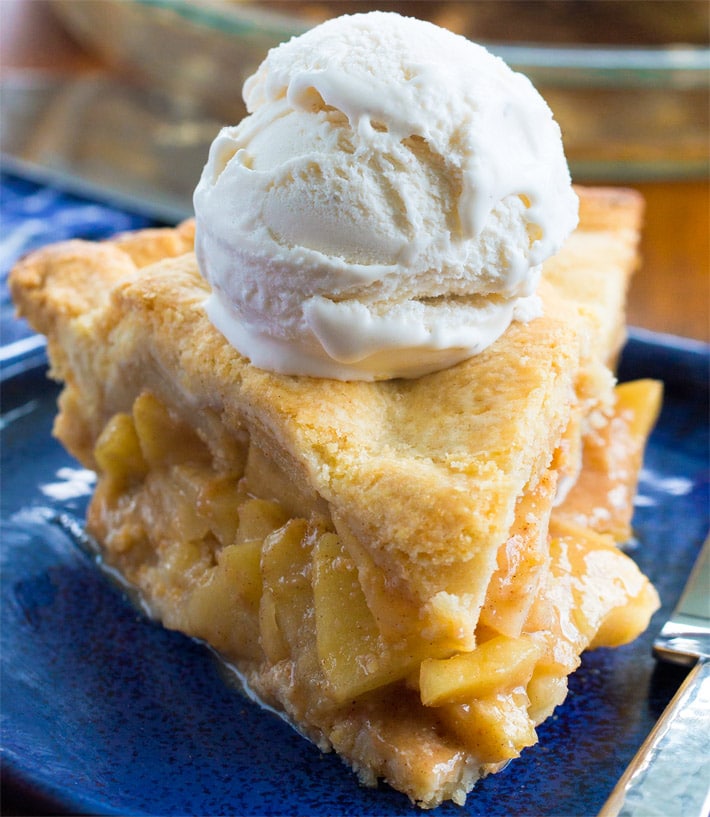 How to make vegan apple pie
Start by gathering all of your pie ingredients, and read through the recipe instructions.
Line a 9 inch baking pan with one of the two pie crusts, then set this aside. Preheat your oven to 425 degrees Fahrenheit.
Peel and slice the apples, toss in a large mixing bowl with all remaining pie filling ingredients, and transfer to the crust-lined pan.
The filling will tower over the top, which is what you want because the moisture and apple juice will release when baking and cook down. Place the second pie crust on top, and crimp the edges of the crusts together with your hands or a fork.
Cut a few slits into the top crust to allow steam to escape during baking. In order to prevent the edges from burning, I like to cover the outer rim of the pie pan with a ring of aluminum foil, leaving the center of the pie open.
Bake the pie on the oven's center rack for 40 minutes or until the crust is lightly browned and the apple filling is hot and bubbly. Let it cool.
Loosely covered, the apple pastry can sit out overnight. After that, leftover pie can be covered and refrigerated for up to five days. Or you can freeze individual slices for three to four months to thaw and enjoy in the future.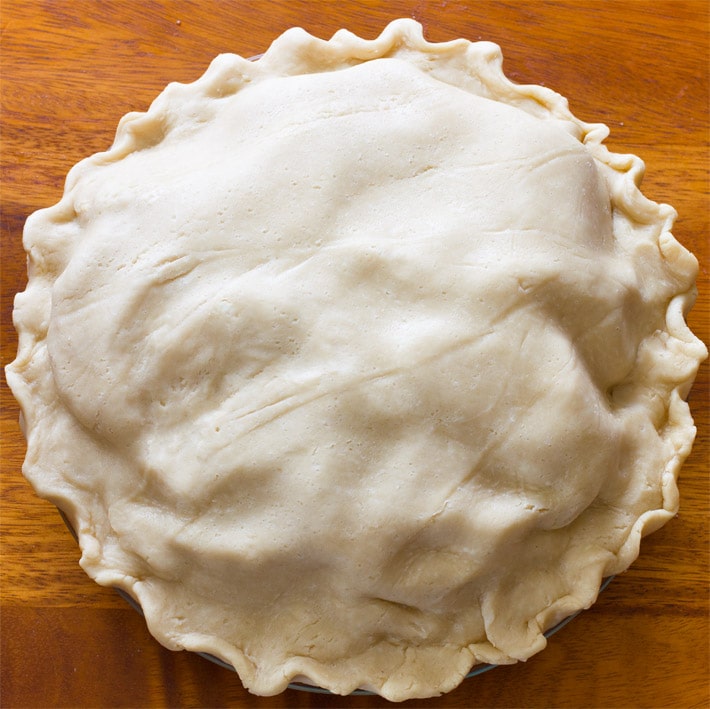 Vegan Pie Crust Recipes
The apple pie calls for a standard double pie crust.
Feel free to use your favorite store-bought pie dough, such as Wholly Wholesome traditional or whole wheat (both varieties are lard free and vegan), Safeway's Signature Select deep dish pie crusts, or Marie Callender's Frozen Pastry Pie Shells.
Or you can use the following double pie dough recipe:
Combine 2 1/2 cups all purpose flour with 1/2 tsp salt and 2 tsp sugar. Stir in 1/2 cup canola or vegetable oil to form small crumbs.
Stir in 1/4 cup cold water and form into a ball. Add more water if needed. Refrigerate around 15 minutes to cool, then divide into two equal balls.
Sprinkle flour over a clean counter or a sheet of wax paper, and place a second sheet of wax paper on top of one ball. Roll out thinly with a rolling pin. Remove the paper, and press the crust into a 9-inch pie pan.
Roll out the second ball of dough, and use this for the top of the pie. If you want to be fancy, you can cut the dough into strips for a lattice crust. I chose to make a regular crust this time.
Watch the step by step apple pie recipe video, above.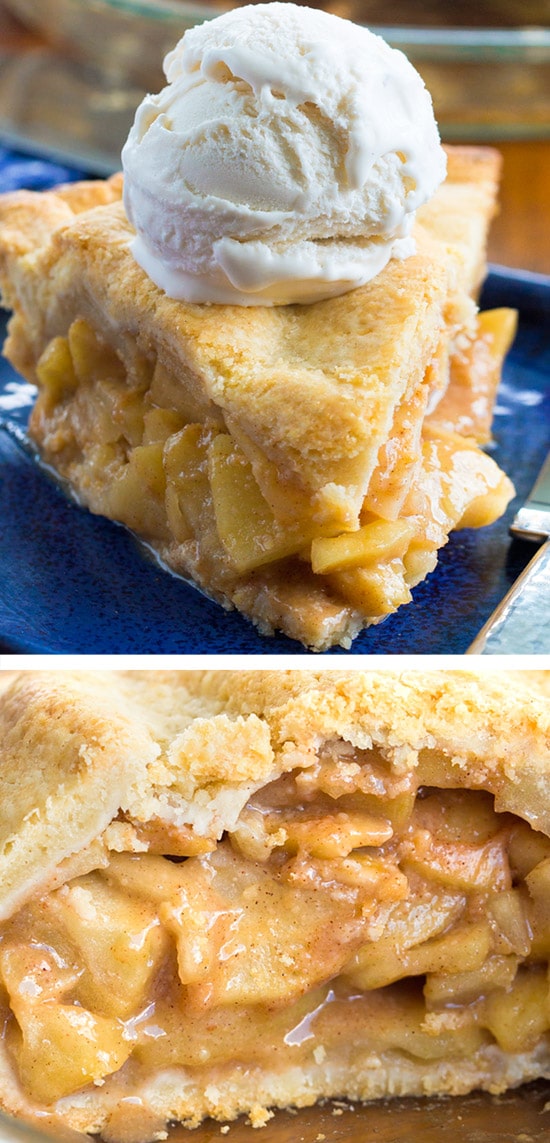 The recipe was adapted from my Healthy Apple Pie and this Vegan Pumpkin Pie.
Vegan Apple Pie
This classic vegan apple pie recipe is the perfect holiday vegan dessert, with sweet apple filling in each bite.
Ingredients
6

large apples

1/2

tsp

each: cinnamon and nutmeg

(or omit nutmeg and increase cinnamon to 1 tsp)

1/8

tsp

salt

1/4

cup

white, spelt, or oat flour

2/3

cup

sugar, unrefined if desired

optional 2 tbsp vegan butter or coconut oil,

for richness

1

double pie crust

(see above for options)
Instructions
Line a 9-inch pan with one of the pie crusts, and set aside. Preheat oven to 425 F. Peel and slice the apples (watch the video above to see a size visual). Toss in a large bowl with all remaining ingredients. Transfer to the crust – the filling should tower over the top. Place second crust on top, and crimp the edges of the two crusts together with your fingers or a fork. Cut a few slits into the crust to allow steam to escape. To prevent burnt edges, I like to cover just the outer rim of the pan with a ring of aluminum foil, leaving the middle of the pie exposed. Bake on the oven center rack for 40 minutes, or until crust is lightly browned and apple filling is hot and bubbly. Let cool. The pie can sit out overnight (loosely covered), or leftovers can be covered and refrigerated for up to 5 days. 

View Nutrition Facts
More Vegan Apple Recipes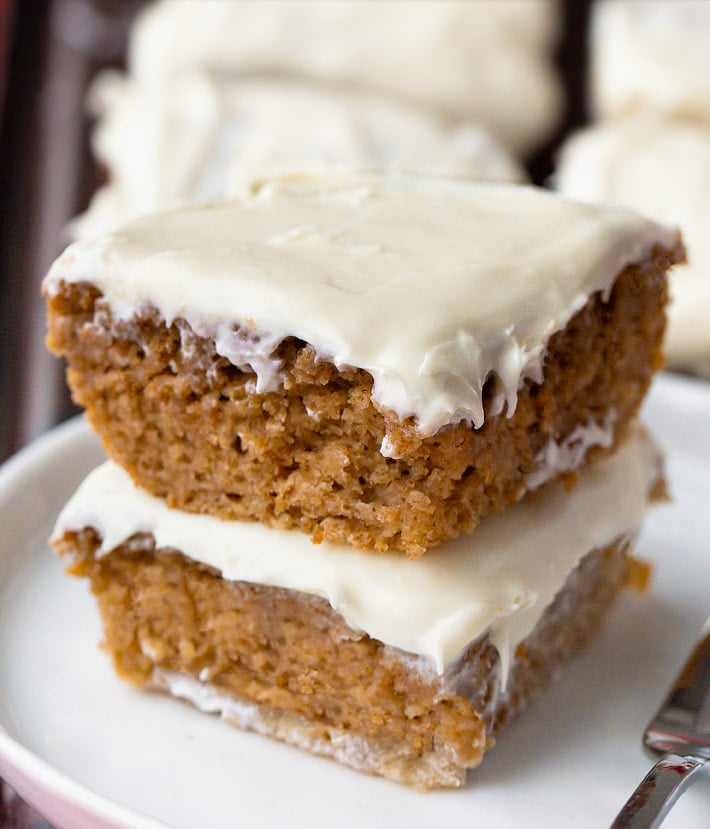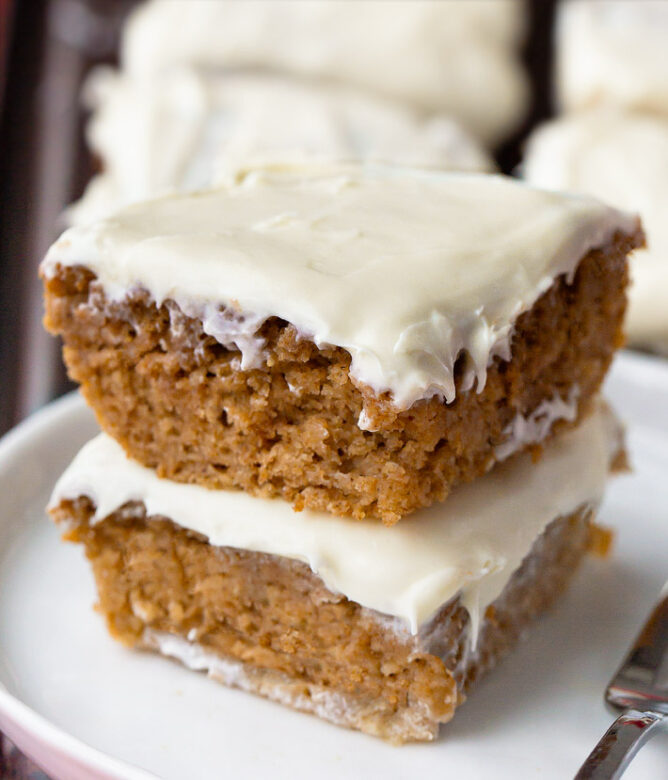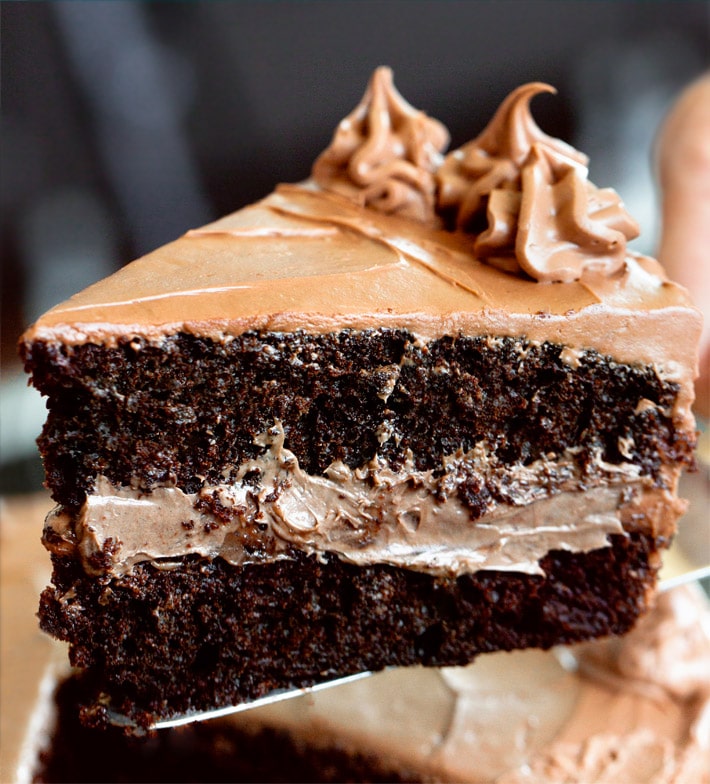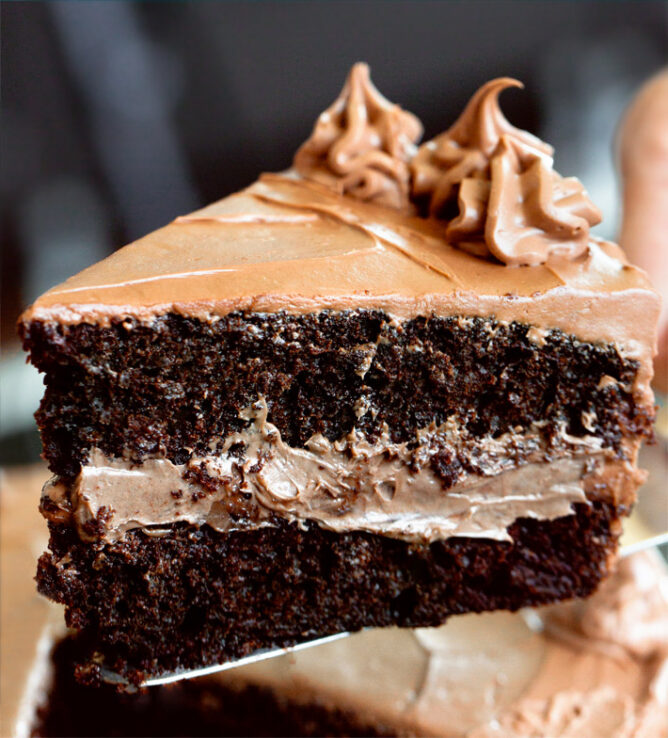 (Made with applesauce)