This healthy cornbread is completely flourless!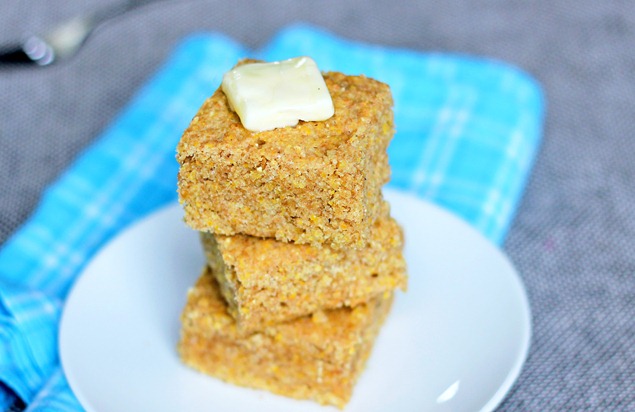 Southern Comfort Food
If you were to peek inside the kitchen pantry of my childhood, I guarantee you'd find at least one box of Jiffy corn muffin mix. Although we rarely ate packaged foods (my mom preferred to cook from scratch), the Jiffy mix was an exception.
Now that I'm grown up and living on my own, I haven't bought Jiffy in years. The mix is neither healthy nor vegan. (One of the main ingredients is hydrogenated lard!)
However, I craved it when I made my Sweet Potato Chili.
With temperatures dipping into the 20s, last week was a perfect time to experiment and create a healthy cornbread recipe. I went through three trials before coming up with the recipe below, which was a huge hit. My roommate describes it as being "totally, totally addictive. The best cornbread recipe ever."
If you make this healthy cornbread, I hope you'll feel the same way!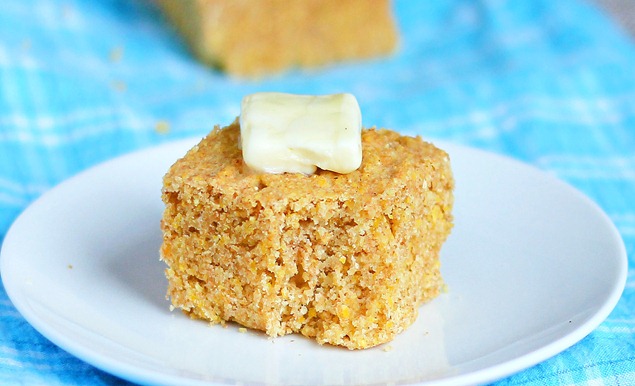 You know you want me…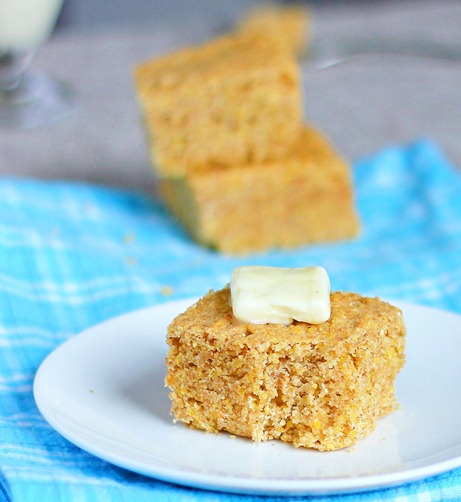 Totally Addictive Healthy Cornbread
(gluten-free!)
1 cup milk of choice (I used almond milk.)
1 tablespoon white vinegar
2 cups fine or medium cornmeal (I used whole-grain, but regular is ok.)
2 tbsp baking powder
1 tsp salt
1/2 tsp baking soda
1/4 cup evaporated cane juice or regular sugar (I like my cornbread southern-style, with zero sweetness, so I like to omit this. But everyone else who tried the recipe preferred the sweetened version. I'd recommend leaving it in, especially if you're making this recipe for the first time.)
1 and 1/2 packets NuNaturals stevia (or 2 more tbsp sugar)
11-oz can corn, drained (not unsalted)
2 tbsp coconut or canola/veg oil (see nutrition link below, for a fat-free option)
1/4 cup applesauce
Healthy Cornbread Recipe: Mix the vinegar with the milk, and set aside. Combine dry ingredients and mix very well. In a separate bowl, combine the oil, applesauce, corn (pulverized if you wish), and milk-vinegar. Then pour the wet into dry and mix until just mixed. Pour into a greased 8×8 dish and cook at 420 F (preheated) for about 25 minutes. Let cool at least 15 minutes before trying to cut, or it will crumble. (Side note: true southern cornbread is supposed to be crumbly. If you prefer cake-like cornbread, click the "calories and nutrition facts" link below, as I've posted my non-crumbly healthy cornbread recipe on the linked page.)
View Healthy Cornbread Nutrition Facts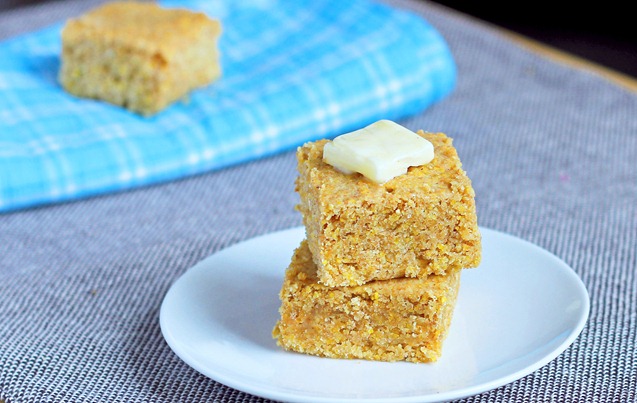 What do you like to eat when it's cold out?
One of my favorites: 5 Minute Chocolate Oatmeal.
I also love chili, hot soup or stew, and caramelized roast veggies. Oh, and anything chocolate. Chocolate is a year-round thing!