This secretly healthy avocado ice cream recipe is rich, smooth, and so unbelievably creamy. Just one taste, and you will never believe the ingredients!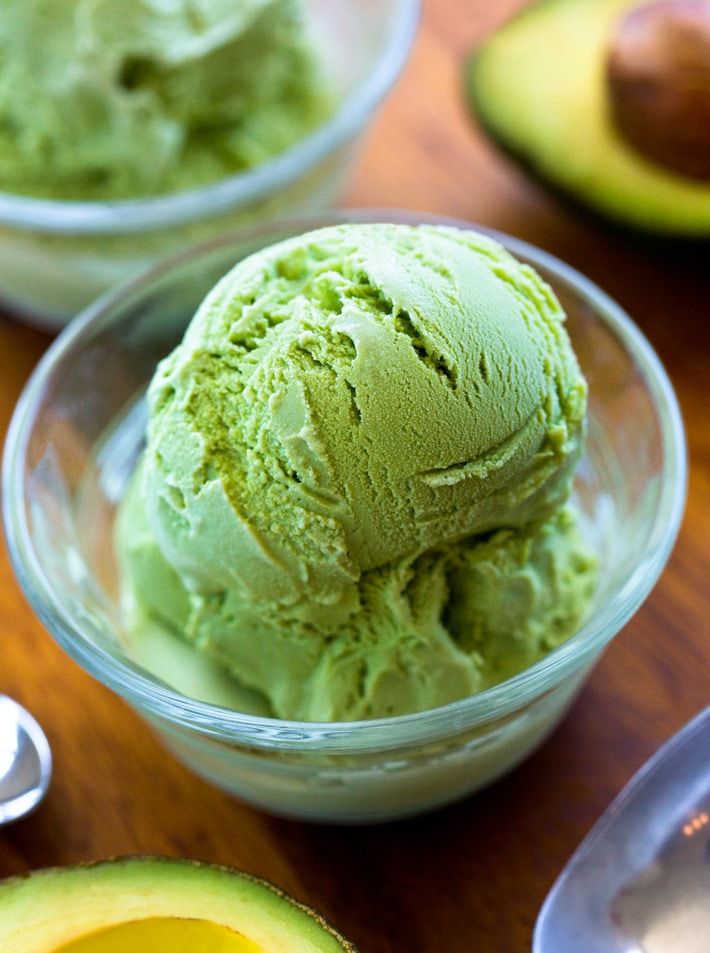 The recipe can be dairy free, gluten free, paleo, keto, and vegan.
And unlike many other avocado ice cream recipes, this one calls for no eggs, no sweetened condensed milk, and no banana!
Yes, it is an unusual flavor not often seen at your local Baskin-Robbins or Ben & Jerry's. But if you're feeling adventurous, definitely give it a try.
The sweet and creamy texture of this ice cream is sure to win you over!
Also try this dairy free Almond Milk Ice Cream
Watch the avocado ice cream recipe video above
Avocado ice cream flavors
Chocolate Ice Cream: Blend three tablespoons of unsweetened or Dutch cocoa powder into the avocado ice cream mixture.
Mint Chocolate Chip: Add one fourth teaspoon of pure peppermint extract before blending. Stir a handful of chocolate chips into the ice cream at the end.
For an avocado free version, try this Mint Chocolate Chip Nice Cream.
Vanilla Bean: Replace the vanilla extract in the recipe below with half a teaspoon of vanilla bean paste or the flecks inside half of a small vanilla bean pod.
Coconut Avocado Ice Cream: Use canned coconut milk or coconut cream instead of heavy cream. Top with shredded coconut or Coconut Whipped Cream.
Chocolate Chip: Blend a third cup of regular sized or mini chocolate chips into the healthy ice cream, or stir the chocolate chips in after blending.
Banana: For avocado nice cream, simply blend one banana into the mixture. If desired, you can omit the sweetener in the recipe below and add a few dates instead.
Lime: Traditional avocado ice cream is often made with lime juice. Feel free to add two teaspoons of lime juice to this recipe and an optional teaspoon of lime zest.
Other Flavors: Try blending in a half teaspoon of instant coffee or a tablespoon or two of peanut butter, almond butter, or this Homemade Nutella Recipe.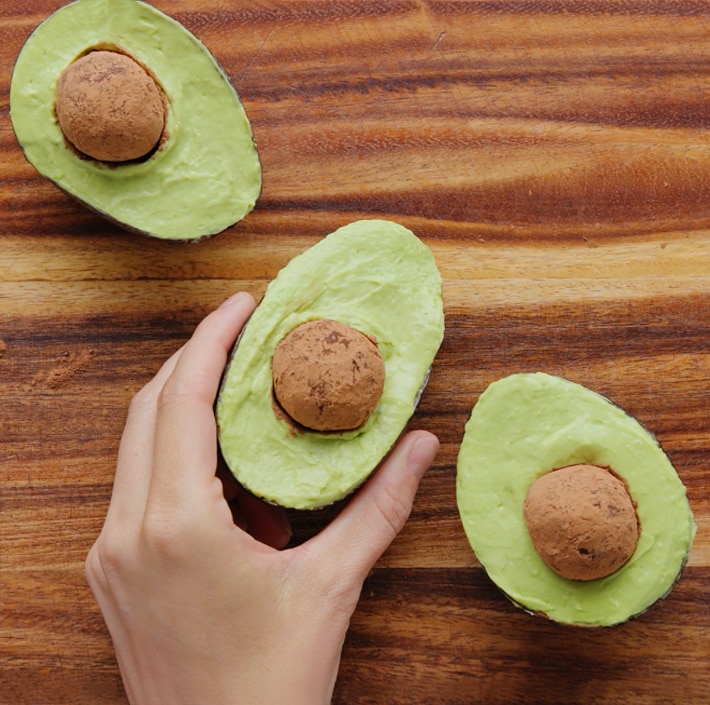 What does avocado ice cream taste like?
Thick and creamy, the frozen dessert honestly tastes more like vanilla than avocado.
You can taste a slight avocado flavor if you know it's in there (so don't make this if you don't like avocados). But mostly, it tastes like a rich and melt-in-your-mouth delicious vanilla ice cream that happens to be green.
Adding one of the optional ingredients listed above, such as cocoa powder, peppermint extract, or lime juice, will further mask any avocado flavor.
If you don't want any coconut taste, use the coconut free option. Vegan heavy whipping cream works for a dairy free recipe with no coconut.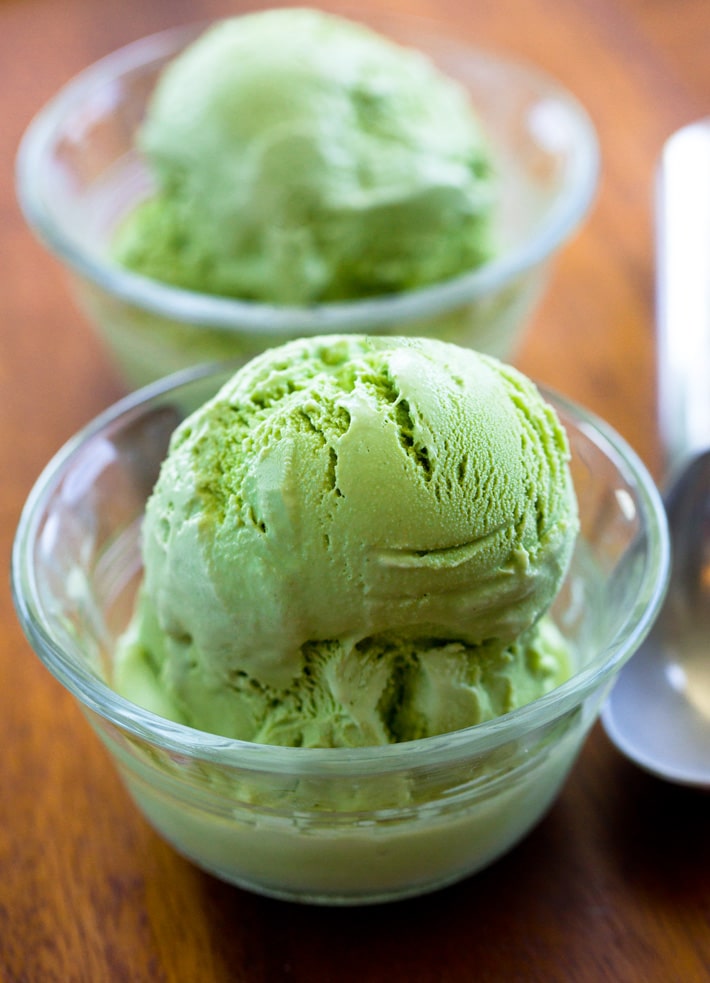 Avocado ice cream origins
Eating avocado for dessert is popular in places such as Brazil and many countries in Asia. I first encountered avocado ice cream for sale at a local grocery store, while I was living in the Philippines.
We are catching on in the United States. Stop by your local Target or Whole Foods, and you may see a brand called Cado. This non dairy avocado ice cream company offers flavors like cookies & cream, salted caramel, lemon, cherry amaretto, java chip, and chocolate mud pie.
There's even a luxury gelato shop in Selfridges in London called Snowflake that makes avocado gelato (avolato) served in the avocado shell with a vegan nut butter stone.
My version below calls for either store bought or homemade chocolate truffles for the pits. Feel free to substitute something else with a similar shape if you wish.
Still feeling adventurous? Make Buffalo Cauliflower Wings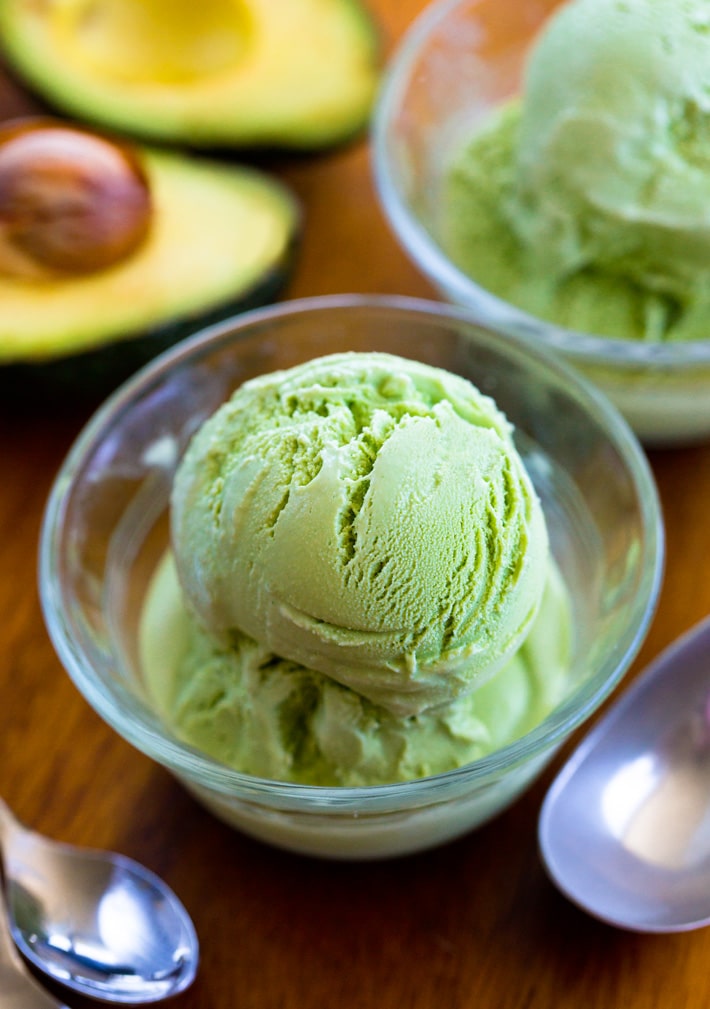 Here are the ingredients you need
To make the egg free ice cream, you will need: two ripe avocados, canned coconut milk or heavy cream, sweetener of choice, and vanilla extract. That's it!
The cream: You can use heavy cream (or Silk heavy whipping cream for vegan). Or use coconut cream or canned full fat coconut milk instead. Nondairy creamer also works.
Sweetener options: Pretty much any all purpose sweetener goes, from sugar or pure maple syrup, to honey or agave, to stevia or erythritol for sugar free ice cream. If using stevia, use only the amount equivalent in sweetness to one fourth cup of sugar.
The avocados: Squeeze the fruit very gently. They are ripe if they yield slightly to the pressure but do not feel mushy. Use ripe avocados for this recipe.
If your avocados are not ripe yet, wait a few days. Or place them in a brown paper bag with an apple, banana, or kiwi, and they should ripen more quickly.
Leftover coconut milk? Use it up in this Coconut Ice Cream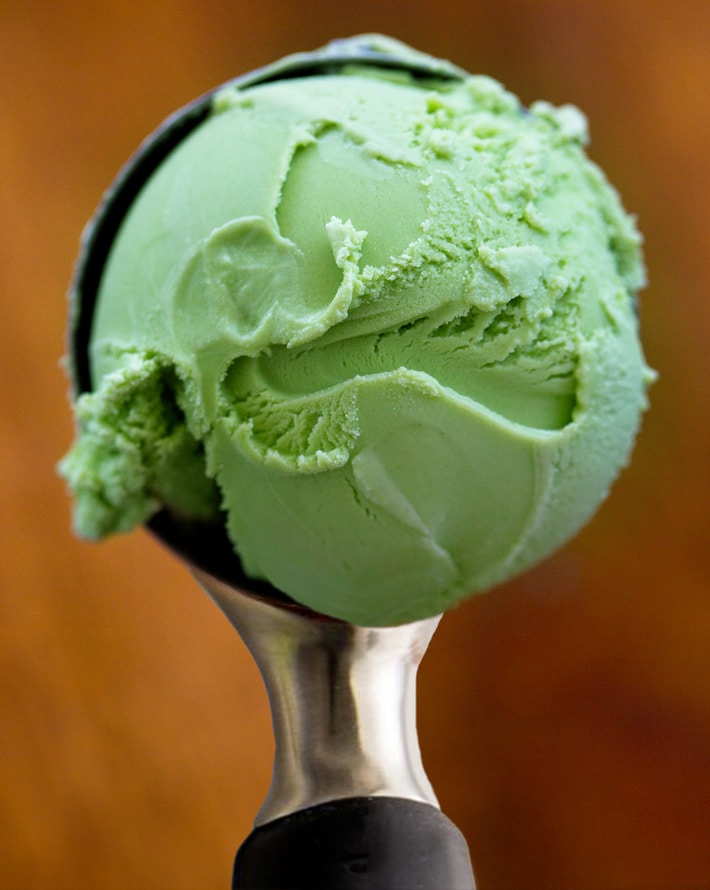 How to make the avocado dessert
If using an ice cream machine, freeze it ahead of time according to the manufacturer's directions for your specific machine.
Start with ripe avocados, and scoop out the flesh. Blend this in a blender or a food processor with the cream or coconut milk, sweetener of choice, pure vanilla extract, and any optional add-ins to make different flavors.
For a thicker ice cream, transfer the mixture to an ice cream maker and churn according to the instruction manual for your machine. Or you can make the avocado ice cream without an ice cream maker by simply transferring the mixture to a bowl, covering the bowl, and freezing for an hour or two until firm enough to scoop out.
I used the ice cream maker method for the photos.
In the video above, I used the no ice cream maker bowl method and served the frozen confection inside of the avocado shells, with edible chocolate avocado pits pressed into each center.
The recipe can be served in shells, cups, glasses, or cones. Top with your favorite ice cream toppings, such as whipped cream and cherries, chocolate syrup or fudge sauce, rainbow sprinkles, or crushed cookies, like these Keto Peanut Butter Cookies.
Because there are no artificial ingredients or preservatives, homemade avocado ice cream is creamiest the day it is made.
If you do not mind a somewhat icy texture, leftovers can be stored in a covered airtight container in the freezer for up to a month. Thaw for a half hour before eating.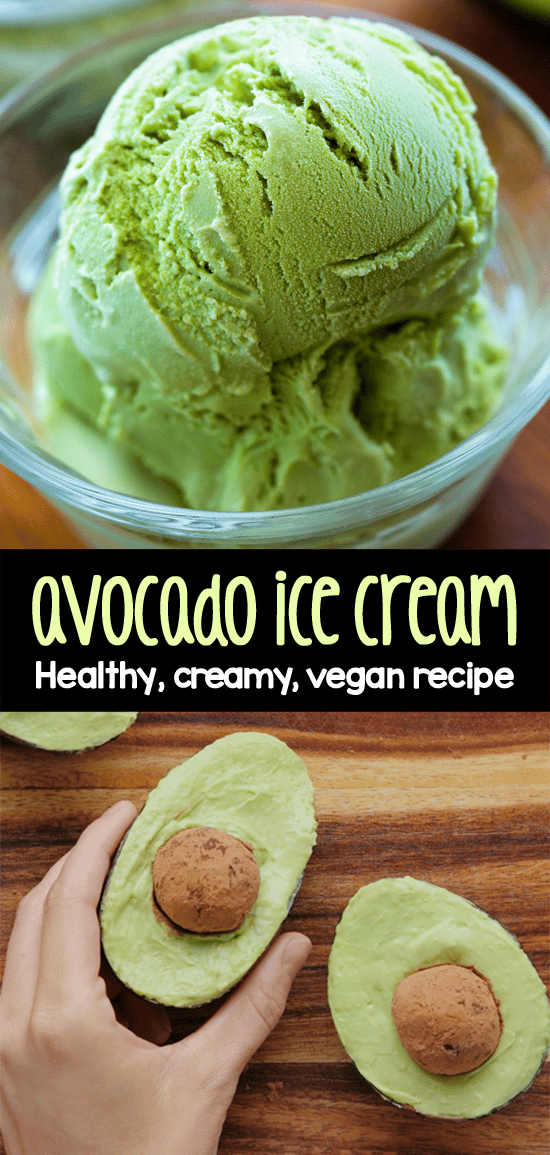 Avocado Ice Cream
This healthy avocado ice cream recipe is rich, smooth, and unbelievably creamy.
Ingredients
2

avocados

1

cup coconut milk or heavy cream

1/4

cup

sweetener of choice

1/2

tsp

pure vanilla extract

optional Chocolate Truffles

optional 1/4 tsp pure peppermint extract

(more flavor ideas are listed above)
Instructions
Be sure to start with ripe avocados. Scoop out avocado flesh. Blend with the cream or coconut milk (canned full-fat coconut milk), sweetener, vanilla, and optional ingredients. Now you can either transfer to an ice cream maker and churn according to manufacturer's directions or transfer to a bowl, cover, and freeze for an hour or two until firm enough to scoop out. If desired, portion into avocado shells and place a chocolate truffle in the middle.

View Nutrition Facts
Easy Avocado Recipe Ideas