With just three ingredients, this easy chocolate peppermint fudge is the perfect recipe to make for the holidays!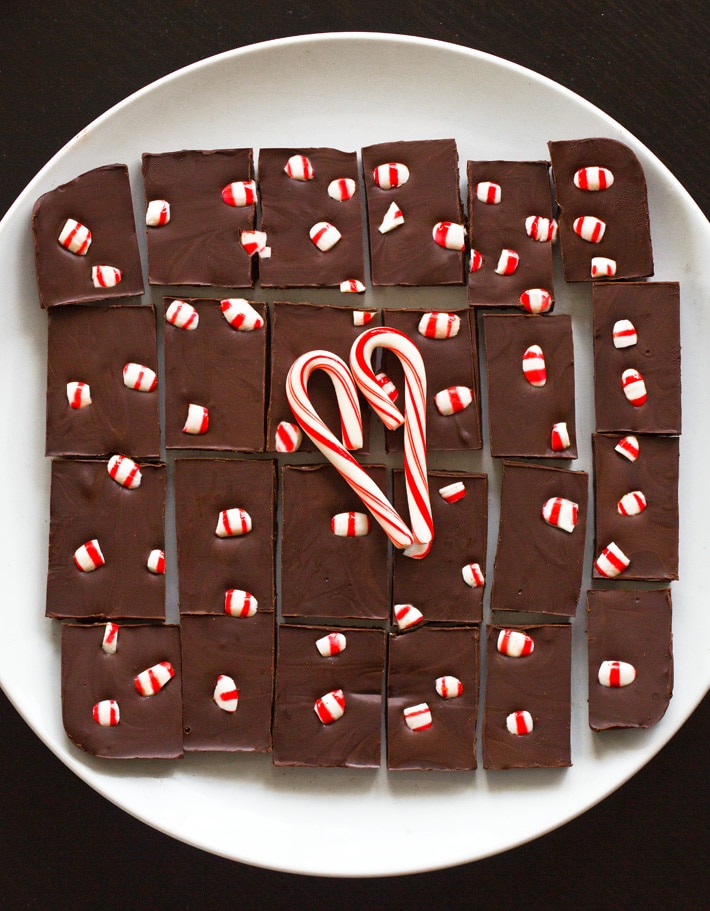 If you're looking for a classic holiday dessert that your family and party guests will love, look no further than this homemade chocolate peppermint fudge recipe.
It's smooth, rich, and chocolatey, with a texture that melts in your mouth.
The best part about this holiday chocolate fudge is its simple ingredients. You may already have everything on hand to make it today!
Also be sure to try these Black Bean Brownies
Above, watch the chocolate peppermint fudge recipe video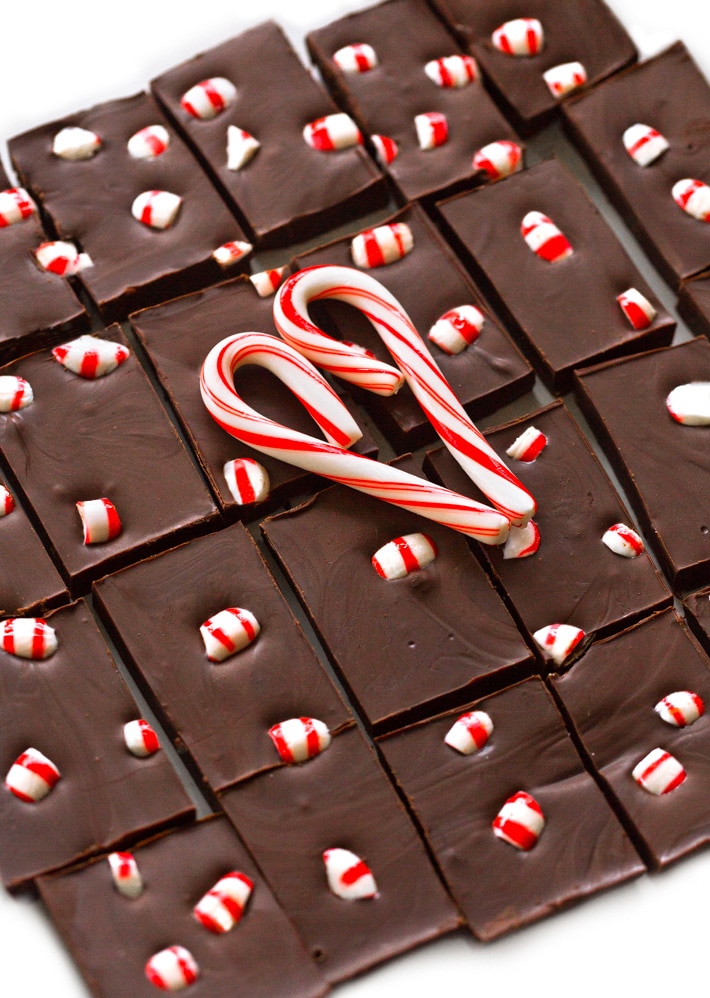 Chocolate peppermint fudge ingredients
Here's what you'll need: chocolate chips or chopped chocolate bars, nut butter or coconut butter, and pure peppermint extract.
The recipe can be dairy free, vegan, gluten free, paleo, sugar free, and keto friendly, with no corn syrup, no sweetened condensed milk, and no heavy cream required.
Just like with my Vegan Peppermint Cookies, make sure to use pure peppermint extract, not mint extract or imitation peppermint.
I like almond butter, cashew butter, or macadamia nut butter because these have a more neutral flavor than peanut butter. For tree nut free chocolate peppermint fudge bars, use softened coconut butter or coconut oil.
For a vegan holiday dessert, look for dairy free chocolate chips or bars. You can use semi sweet or dark chocolate, depending on your personal preference.
Add leftover chocolate chips to this Vegan Pumpkin Bread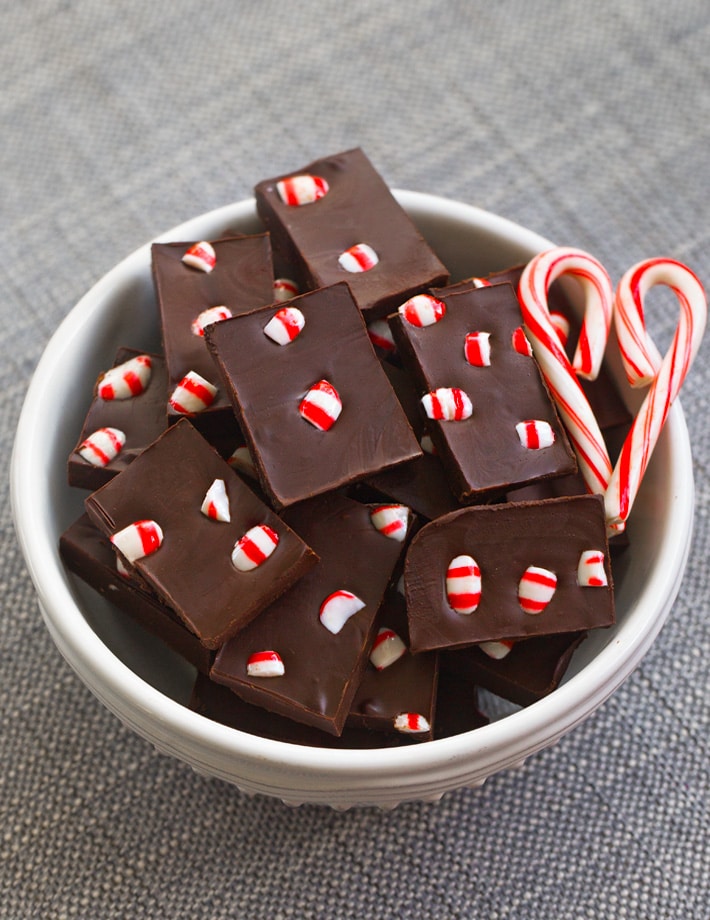 Decorating the holiday fudge bars
If you're feeling artistic, have fun garnishing the bars with crushed candy canes or peppermints, Hanukkah or Christmas sprinkles, or red and white sprinkles.
For a healthier option, add pomegranate seeds, shredded coconut, cacao nibs, hemp seeds, chia seeds, or finely chopped walnuts on top of the peppermint chocolate bars.
Of course, it's also perfectly fine to leave the bars plain, without any toppings.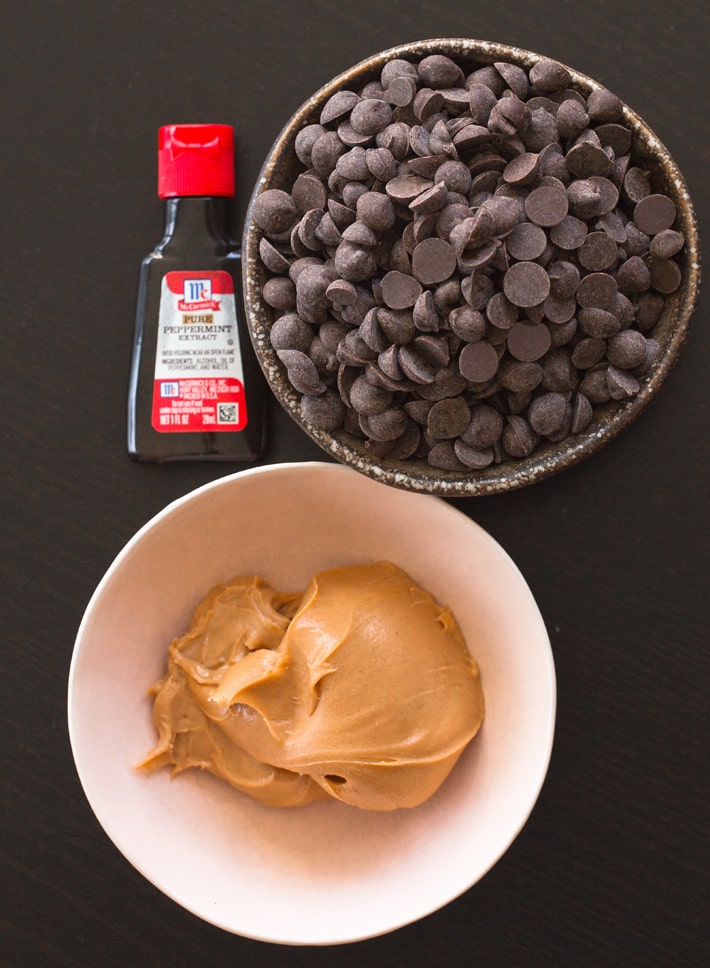 How to make chocolate peppermint fudge
Line the bottom of an eight inch pan with wax paper or parchment paper.
If using natural nut butter or rock hard coconut butter, gently warm up the nut butter until it is easy to stir.
Melt the chocolate, either using the double broiler method or by carefully heating it in the microwave. To melt chocolate chips or chopped chocolate in a microwave, heat them for twenty seconds in a microwave safe bowl. Stir, then heat in ten second intervals, stirring after each to ensure the chocolate does not burn.
Combine the melted chocolate and softened nut butter. Add the pure peppermint extract, and stir everything together until smooth.
Spread the chocolate evenly into the prepared pan. Freeze for ten minutes, or refrigerate a few hours until it's firm enough to slice into squares or bars.
The recipe was adapted from my Keto Candy Bars and these Chocolate Truffles.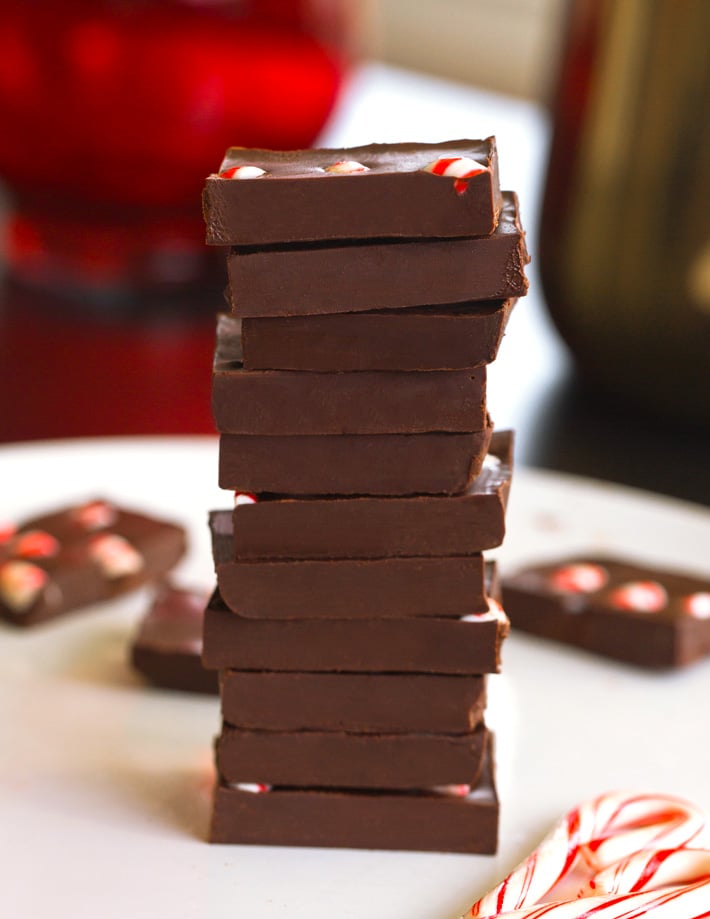 Chocolate fudge slicing tips
The chocolate mixture will firm up to a sliceable texture once chilled.
If the pan is left in the refrigerator or freezer too long and the chocolate becomes too hard to cut, just leave it out on the counter to soften for a few minutes or until you are easily able to run a knife through the chocolate.
Storing homemade chocolate peppermint fudge
With the exception of the coconut oil version, these chocolate peppermint bars can be left out on the counter in a cool dry place and will hold their shape.
Coconut oil fudge will slowly begin to melt at room temperature, so store the bars in the fridge or freezer if using coconut oil.
You can definitely package these bars up and bring them to a party. To ensure they do not melt en route to their destination, I like to freeze the bars until I'm ready to leave.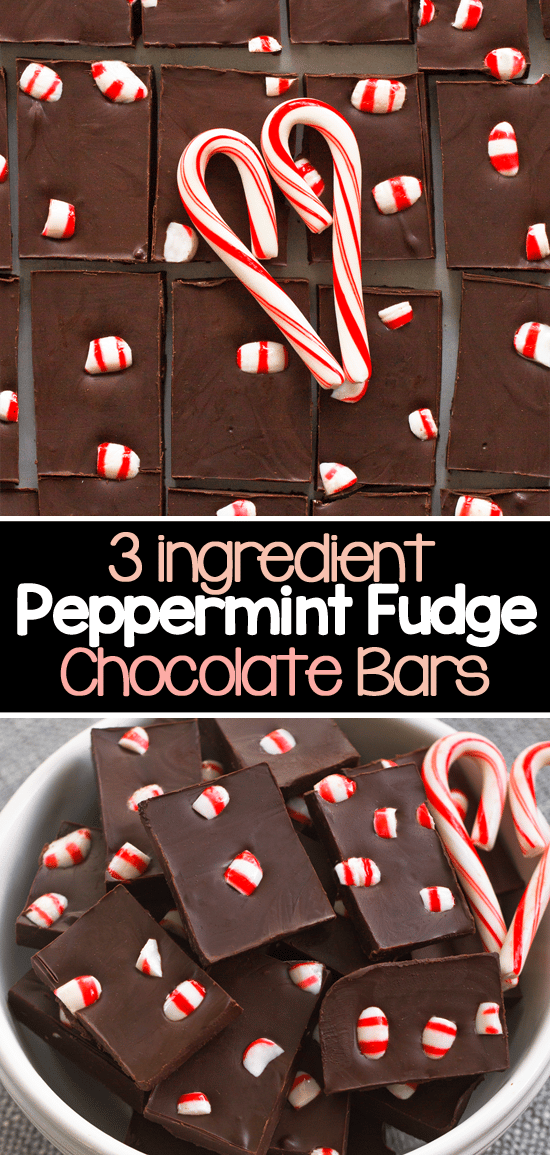 Chocolate Peppermint Fudge
This three ingredient chocolate peppermint fudge is the perfect easy recipe to make for the holidays.
Instructions
Line an eight inch pan with parchment or wax paper. If nut butter is not stir-able, gently warm it to soften. Melt the chocolate chips (Google how to melt chocolate if unsure, because it's easy to burn). Stir all ingredients until smooth. Smooth evenly into the pan. Freeze for ten minutes or until firm enough to slice. The bars can stay out at room temperature if it's not too warm outside or in your home. To keep them super firm, I store leftovers in the refrigerator or freezer.

View Nutrition Facts
More Easy Holiday Treats