With a buttery crumble crust and sweet apple filling, these homemade apple crumble bars are soft, chewy, and absolutely delightful any time of the year.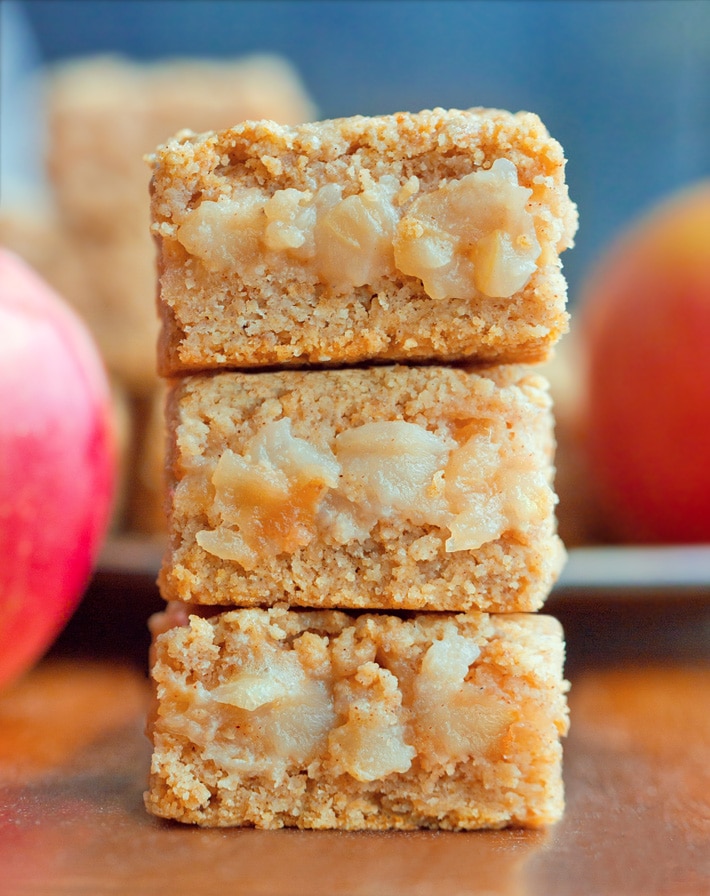 The best apple crumble bars
These are pretty much guaranteed to disappear at parties!
Imagine all the deliciousness of traditional hot apple crumble, conveniently packed into a bar, with cinnamon apples pressed between a shortbread crust and crumble topping.
If you are looking for a simple and delightful seasonal dessert that isn't pumpkin, be sure to give these classic baked apple crumble bars a try.
Also make these Healthy Chocolate Chip Cookies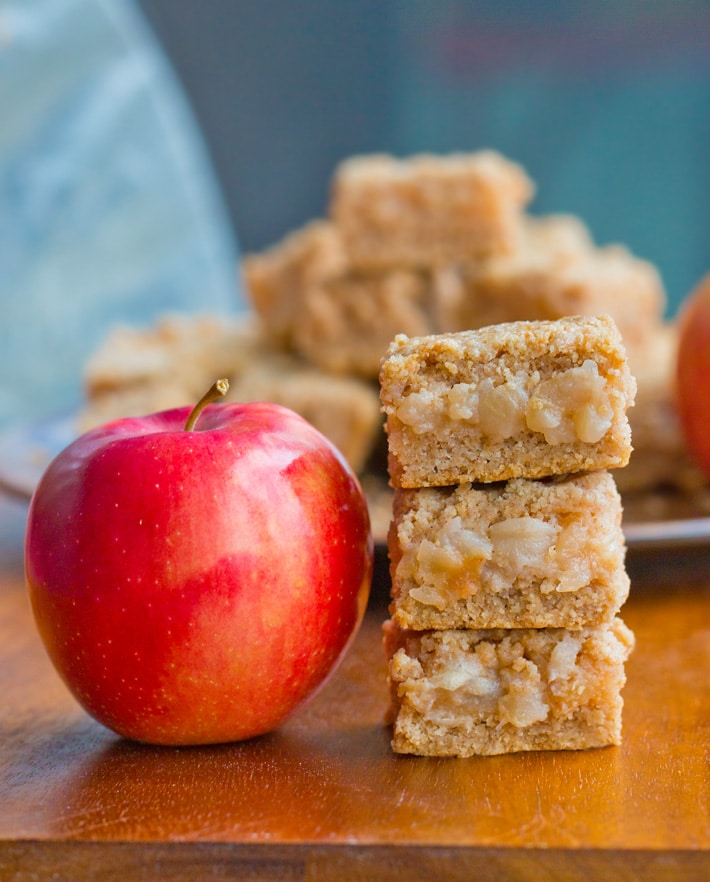 I've now done raspberry, blackberry, blueberry, peach, and cherry pie versions of the recipe, but apple might just be my favorite flavor.
There's just something so cozy and comforting about the apple cinnamon combination paired with the rich crust and topping.
It's a perfect dessert, not just for the Fall season, but also for Thanksgiving, Christmas, Fourth of July, or any time you are craving apple pie!
Readers also love this Brownie in a Mug
Apple crumble bar ingredients
For the recipe, you will need flour, ground cinnamon, baking powder, salt, sweetener, a fat source, cornstarch or arrowroot, and diced apple.
The recipe works with white all purpose flour or with spelt flour or oat flour for healthy whole grain apple bars. I have not tried the bars with whole wheat flour and do not recommend using coconut flour or almond flour.
If you do not wish to use refined sugar, feel free to swap it out for an equal amount of unrefined coconut sugar, date sugar, or sugar free granulated erythritol or xylitol.
To sweeten the apples, you can use pure maple syrup, honey, agave, or any other all purpose liquid or granulated sweetener.
As a fun flavor variation, you can also stir in a handful of shredded coconut, finely chopped walnuts, or raisins with the diced apples.
The pastry crust can be made with butter, coconut oil, or even softened almond butter. For low fat apple crumble bars, replace three tablespoons of the fat with milk of choice.
As mentioned earlier, some or all of the apples can easily be swapped out for blackberries, cherries, blueberries, peaches, mango, or other fruit of choice.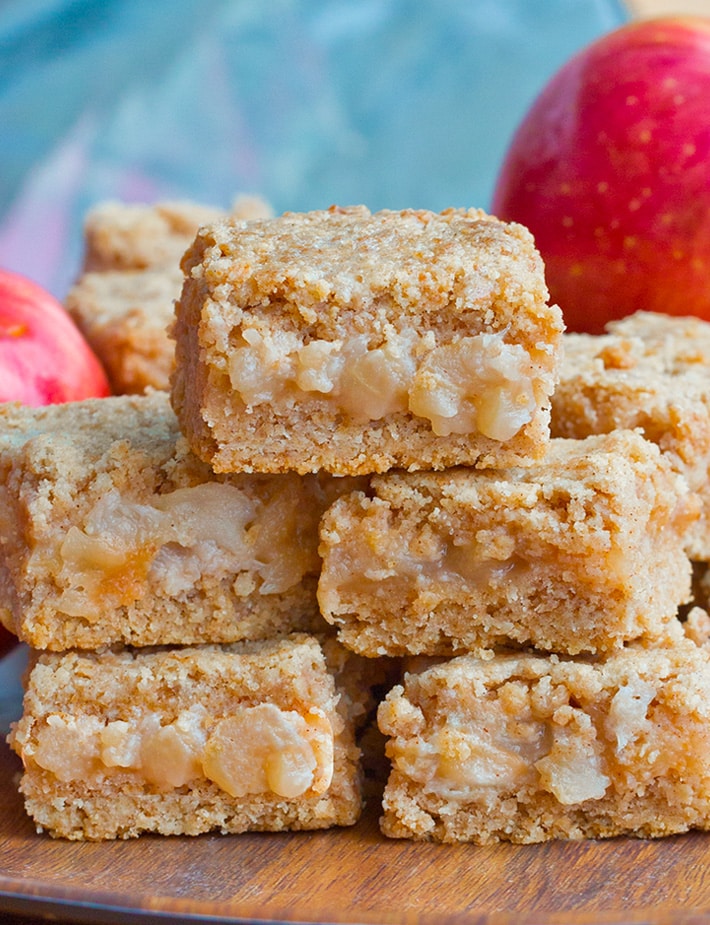 Caramel apple crumble bars
If you are feeling really decadent, sprinkle a layer of finely chopped salted caramels on top of the apple layer before adding the crumble topping.
While these salted caramel apple bars might not be the healthiest option, they are a melt-in-your-mouth decadent autumn treat to enjoy in moderation and are always super popular at parties.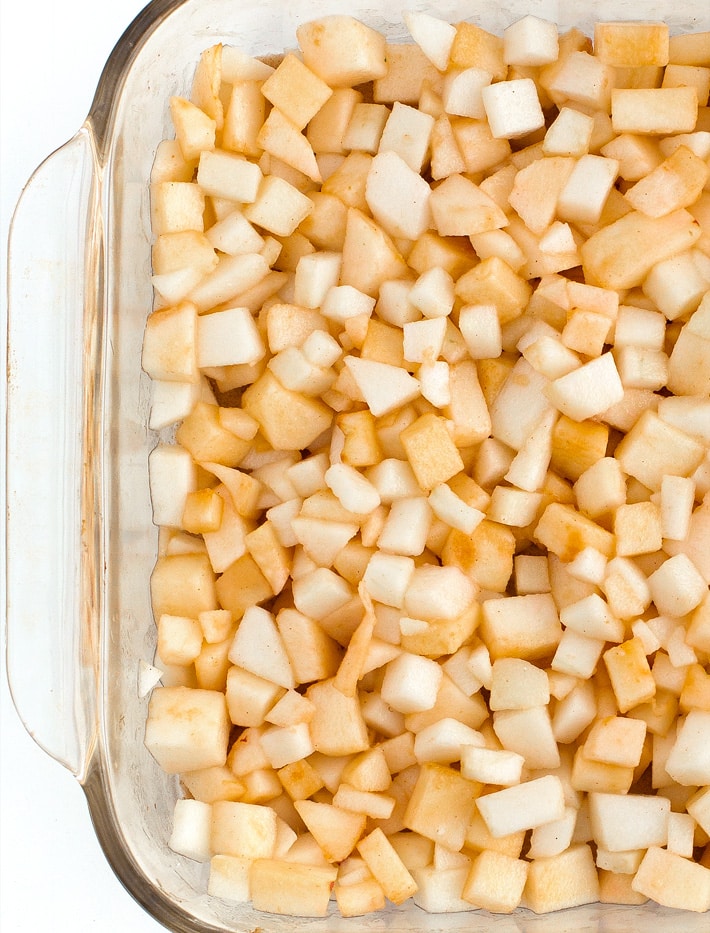 How to make apple crumble bars
Gather the ingredients, and preheat the oven to 350 degrees Fahrenheit.
Line an eight inch square baking pan with parchment paper, or grease it well. Then set this pan aside.
In a large mixing bowl, stir the cinnamon, flour, sugar, salt, and baking powder. Stir in the butter or oil and optional milk of choice. Also add a fourth teaspoon of salt if using oil or unsalted butter.
Press about two thirds of this pastry dough very firmly into the bottom of the prepared baking pan to form a pie crust. Reserve the remaining dough.
Toss the peeled and diced apples with the cornstarch and liquid sweetener. Spread this easy apple pie filling evenly over the crust.
Sprinkle the reserved dough on top, and press this crumb topping down firmly.
Place the pan on the oven's center rack. Bake for 50 minutes. Let cool before slicing, during which time the bars will firm up.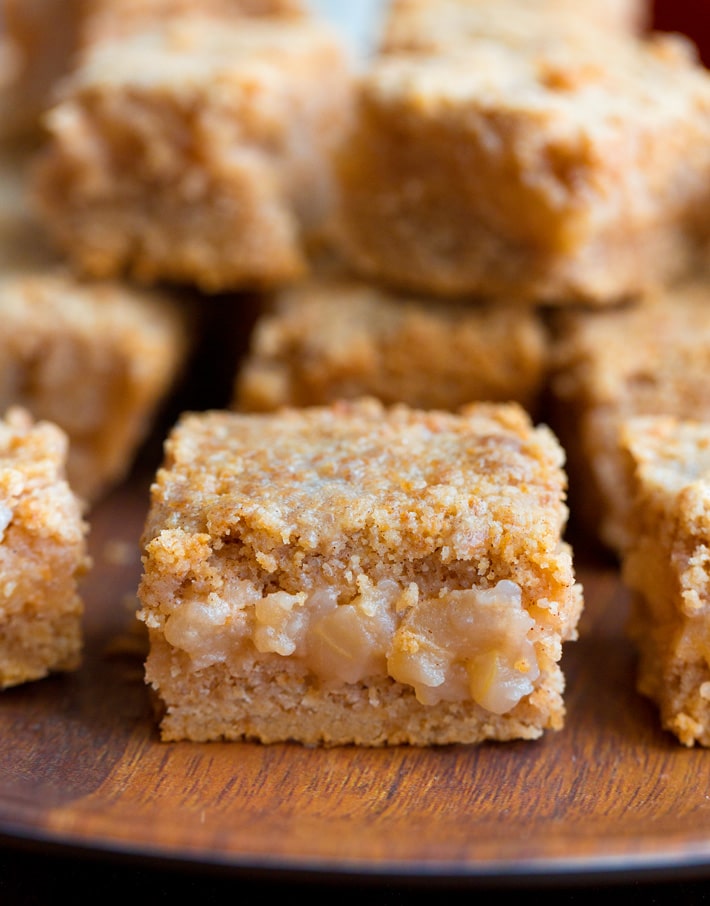 Storing the apple bars
Leftovers can be covered and stored on the counter overnight, with a small opening to allow moisture to escape and thus prevent against gummy bars.
After a day, refrigerate the apple crumble bars in an airtight container for freshness.
Or freeze the bars, with a layer of parchment paper in between each bar so they do not stick together. Thaw frozen bars before serving.
This recipe makes about twenty to twenty five apple crumble slices. I cut them into twenty five apple squares for the pictures.
The bars were adapted from my Strawberry Oatmeal Bars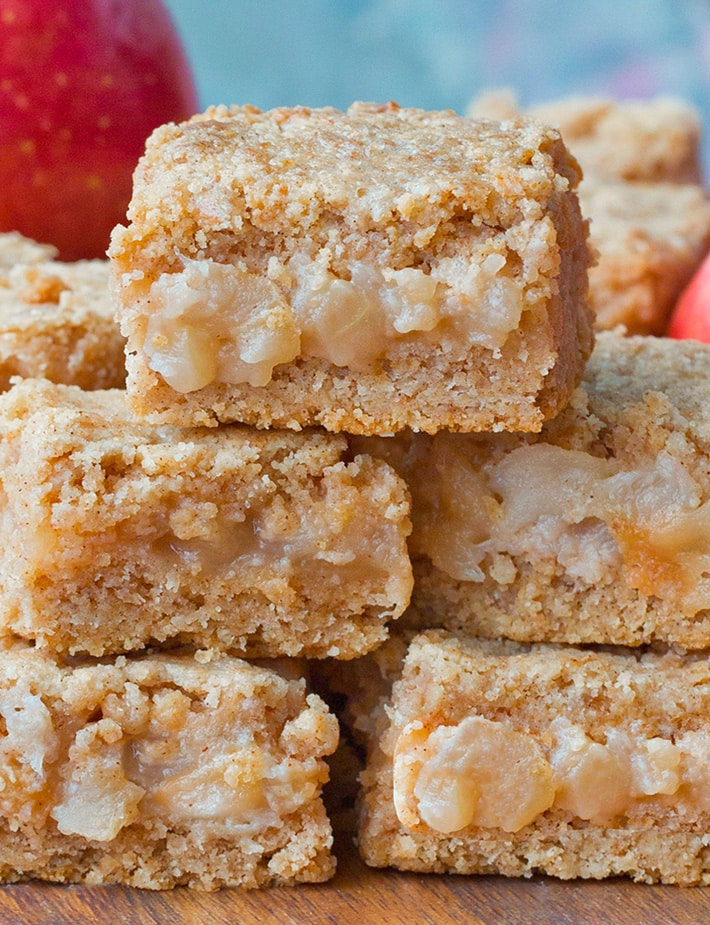 Is the recipe vegan, gluten free, or keto?
For vegan apple crumble bars, simply choose a plant based butter spread or go with the coconut oil or almond butter. The bars are already naturally egg free.
Use certified gluten free oat flour to make gluten free apple crumble bars. I have not tried all purpose gluten free flour here, but please feel free to experiment!
While this recipe is not low carb or keto friendly, I do have many other keto dessert options, including Keto Cookies, Keto Cake, and Keto Cheesecake.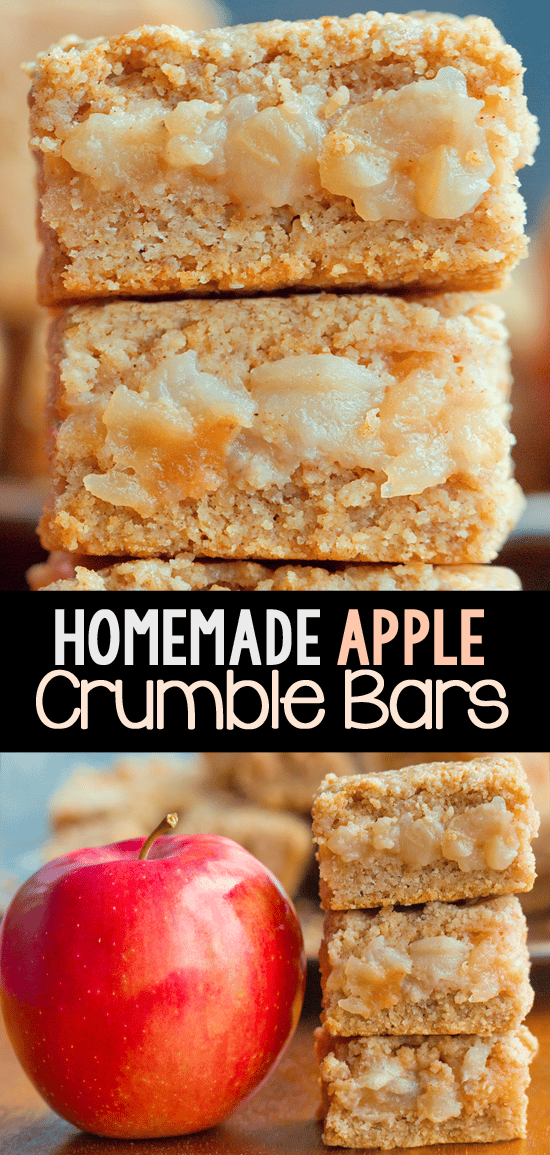 Apple Crumble Bars
These sweet homemade apple crumble bars are a delightful dessert any time of the year.
Ingredients
2

cups

spelt, white, or oat flour

1

1/2 tsp

cinnamon

3/4

tsp

baking powder

1/4

tsp

salt

2/3

cup

sugar, unrefined if desired

3/4

cup

butter, coconut oil, or almond butter

(150g)

3

tbsp

milk of choice or additional butter

3

1/4 cup

diced apple (2 large or 3 medium)

1

tbsp

cornstarch or arrowroot

2

tbsp

pure maple syrup, or sweetener of choice
Instructions
Preheat the oven to 350 F. Stir the first five ingredients together, then cut in the butter or stir in the oil. (Also add an additional 1/4 tsp salt if using oil or unsalted butter.) Press about 2/3 of the dough firmly into the bottom of an 8×8 pan lined with parchment paper. Toss the apples with the cornstarch and liquid sweetener, then spread this over the crust. Sprinkle remaining dough evenly over everything, and press down. Bake 50 minutes, then let cool before slicing into bars.

The coconut oil version (which is shown in the photos) will be more crumbly, so I recommend chilling the bars before cutting for cleaner slices.

View Nutrition Facts
More Apple Dessert Recipes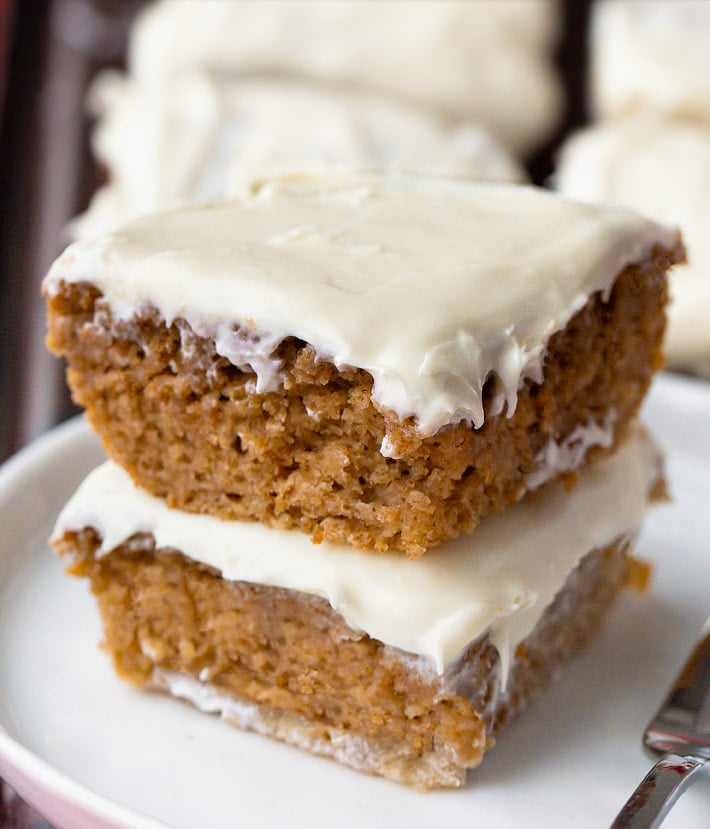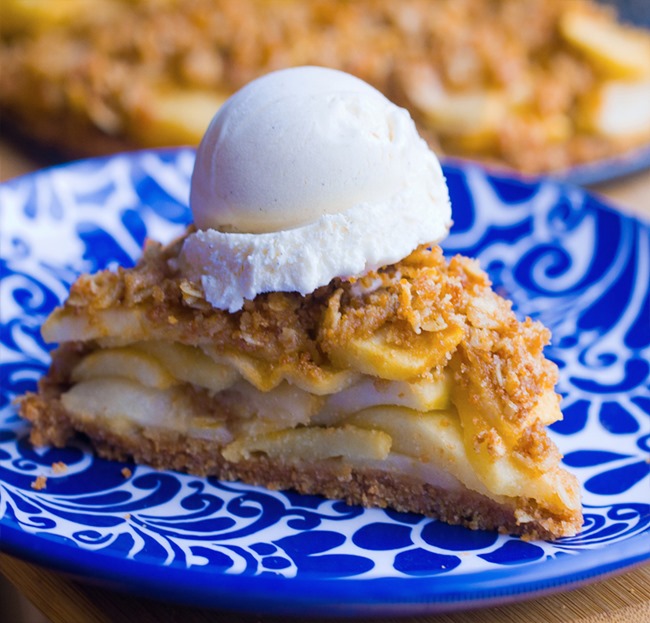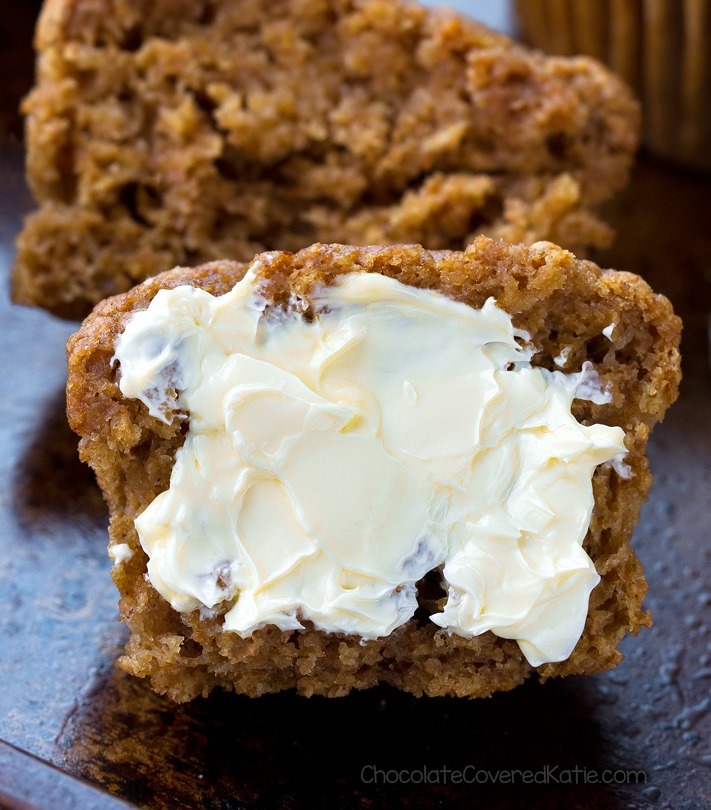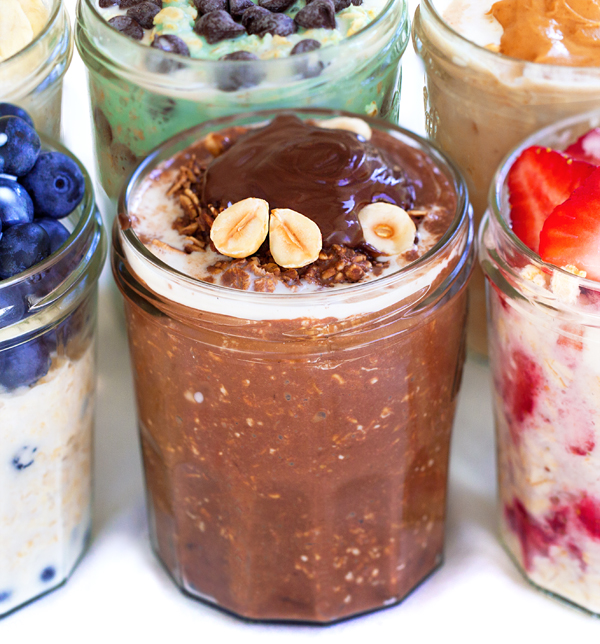 Overnight Oats (including an apple cinnamon version)