These no bake chocolate chip cookie dough balls are completely impossible to resist!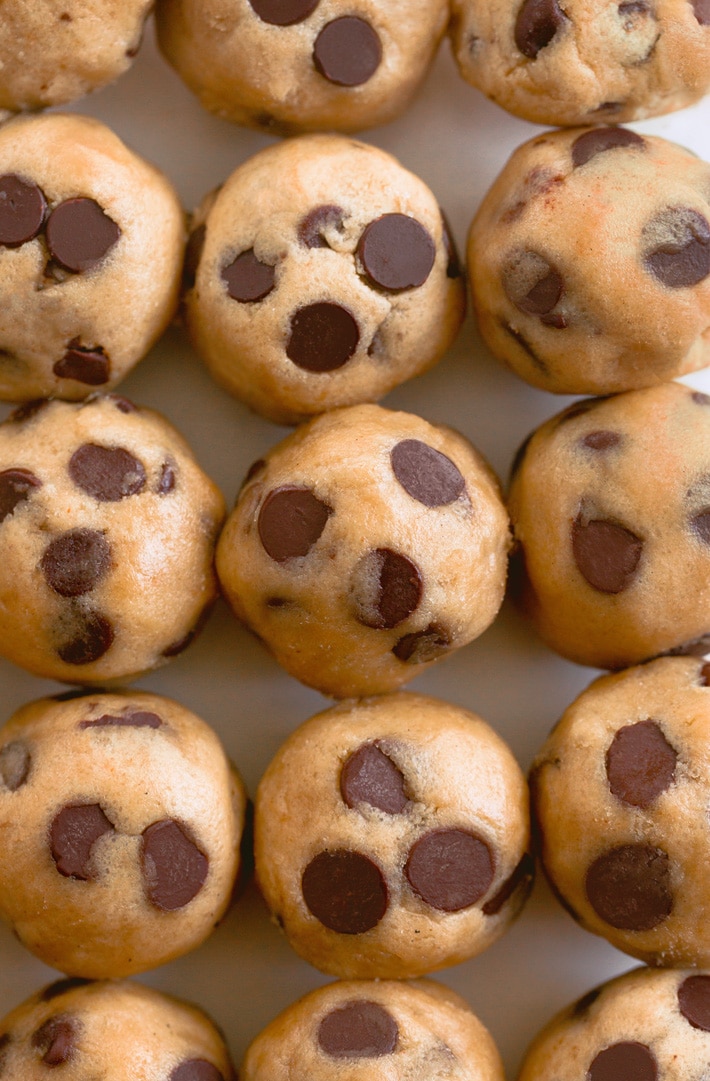 Secretly healthy cookie dough balls, no eggs required.
Whip up a batch whenever you are craving soft, gooey, and delicious chocolate chip cookie dough. The entire recipe takes just five minutes from start to finish!
Seriously, what are you waiting for???
Also try these Vegan Chocolate Chip Cookies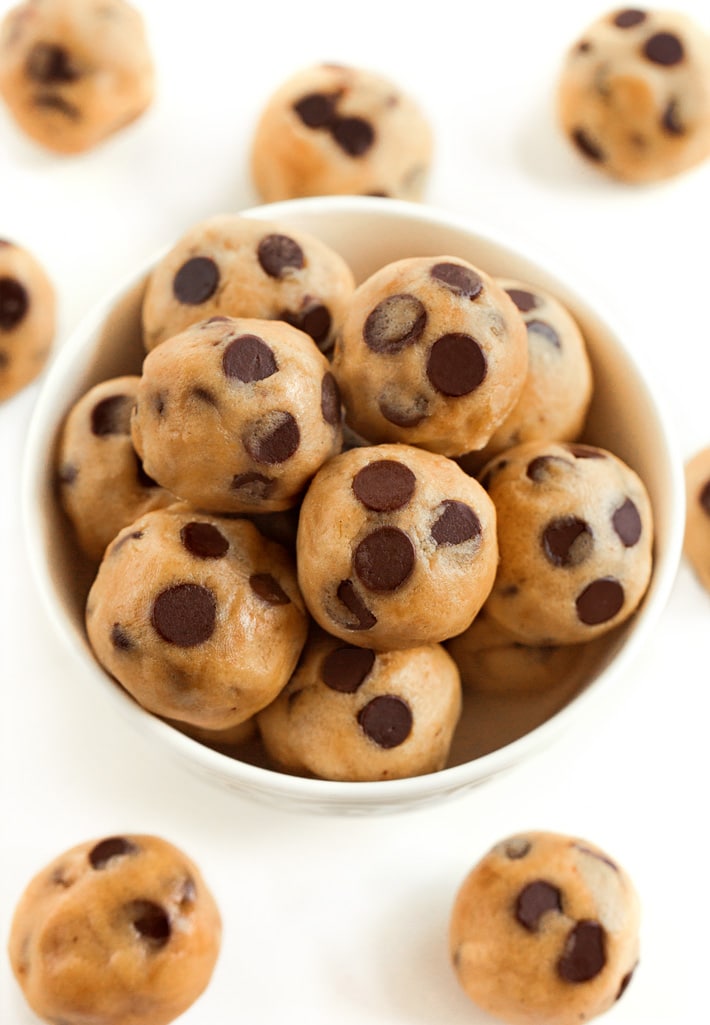 Healthy chocolate chip cookie dough balls
Cookie dough balls are the perfect portable healthy snack.
Grab a few on your way out the door, or pack them into a lunchbox. There's no wrong way to eat these babies!
They are great on car trips too.
And the cookie dough balls can be flourless, dairy free, egg free, vegan, gluten free, sugar free, soy free, and high in protein.
The best part is how quick they are to make, no need to ever turn on an oven!
Add them to Homemade Frozen Yogurt or Coconut Milk Ice Cream for an easy and eggless cookie dough ice cream.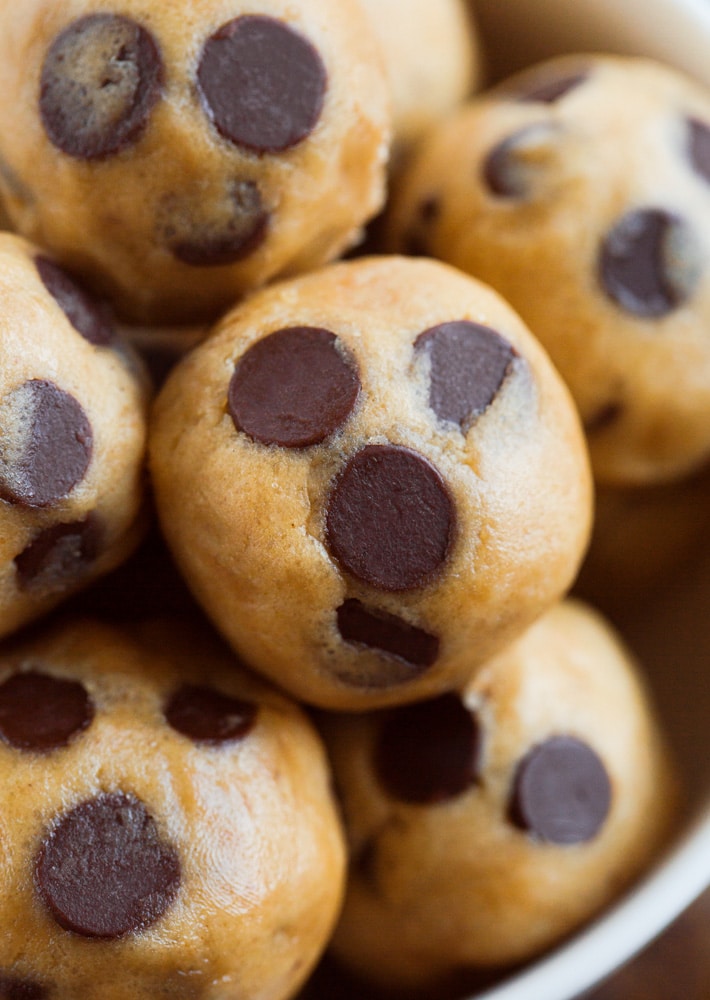 Cookie dough ball ingredients
The recipe calls for just five ingredients: chocolate chips, sweetener of choice, a pinch of salt, nut butter of choice, and oat flour or protein powder.
The nut butter can be cashew, macadamia, peanut butter, or almond butter. For nut free cookie dough balls, try pumpkin seed butter or sunflower butter.
You can use any all purpose sweetener, such as regular or unrefined sugar, honey or pure maple syrup, or erythritol for sugar free cookie dough balls.
If using liquid sweetener instead of granulated, add more oat flour as needed to achieve a cookie dough texture.
Feel free to go with your favorite plain or flavored protein powder if you do not wish to use oat flour. Adjust the sweetener amount if using a sweetened protein powder.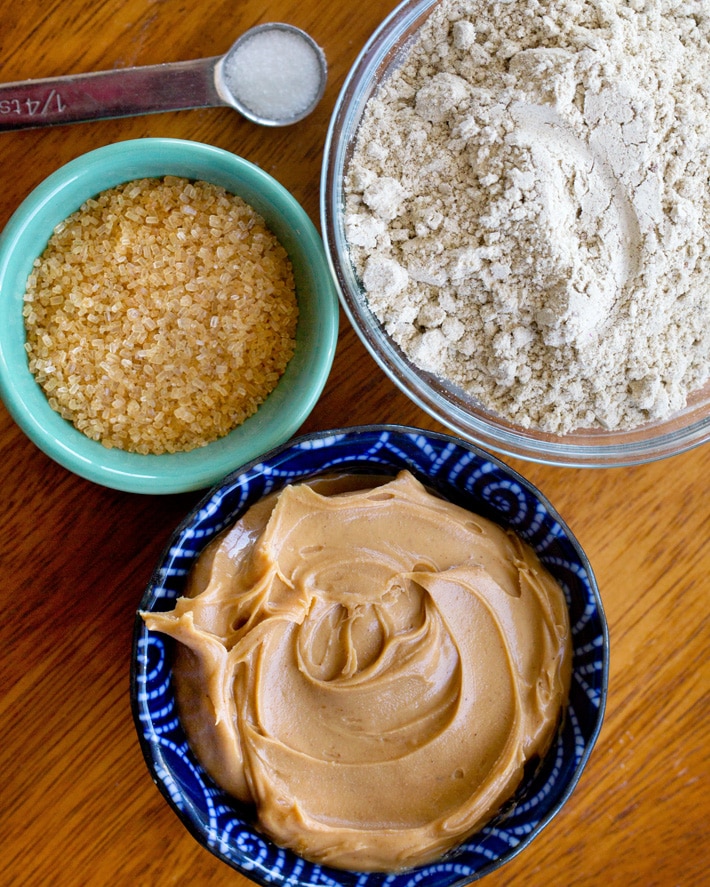 How to make the cookie dough bites
Start by stirring everything together in a medium sized mixing bowl until it turns into a soft cookie dough texture.
Break into pieces, and roll into balls with your hands or a cookie scoop.
Enjoy the no bake cookie dough bites now, or you can bake them if you prefer.
For baked cookie dough balls, preheat the oven to 325 degrees Fahrenheit. Place the dough balls on a greased or lined cookie sheet, and bake for eight minutes.
Recipe storage tips
These chocolate chip snack balls go quickly!
However, if you do happen to find yourself with leftovers, store them in an airtight container on the counter for up to two days or in the refrigerator for up to three weeks.
Want instant cookie dough whenever a craving hits? Transfer the balls to a lidded container and place a sheet of parchment paper between each layer of cookie balls so they won't stick together.
Freeze the container for up to four months or so, and take a cookie dough ball straight from the freezer whenever you wish.
This week's trending recipe: Oreo Cupcakes
Above, watch the cookie dough ball recipe video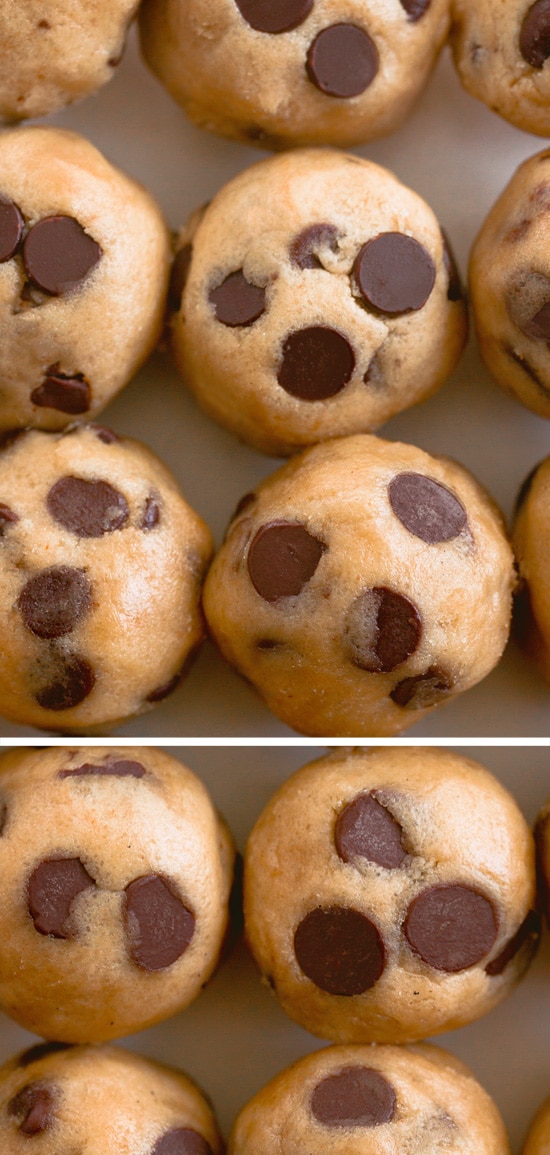 Cookie Dough Balls
These no bake chocolate chip cookie dough balls are a healthy snack that's impossible to resist!
Ingredients
1/2

cup

nut butter of choice

1/2

cup

oat flour or protein powder

2

tbsp

sweetener of choice

1/8

tsp

salt

1/4

cup

chocolate chips
Instructions
To make the cookie dough balls, stir all ingredients to form a cookie dough texture. Break into pieces and roll into balls. Enjoy the no bake cookie dough balls, or you can also bake them if you prefer at 325 F for 8 minutes.

*If using liquid sweetener instead of granulated, add more oat flour as needed to achieve a cookie dough texture. Feel free to go with your favorite plain or flavored protein powder if you do not wish to use oat flour, and adjust the sweetener amount if using a sweetened protein powder.

View Nutrition Facts
More No Bake Snack Ideas