Whip up these flourless blender muffins for a super healthy breakfast or snack. The recipe can be gluten free, grain free, oil free, dairy free, vegan, and refined sugar free, with no eggs required!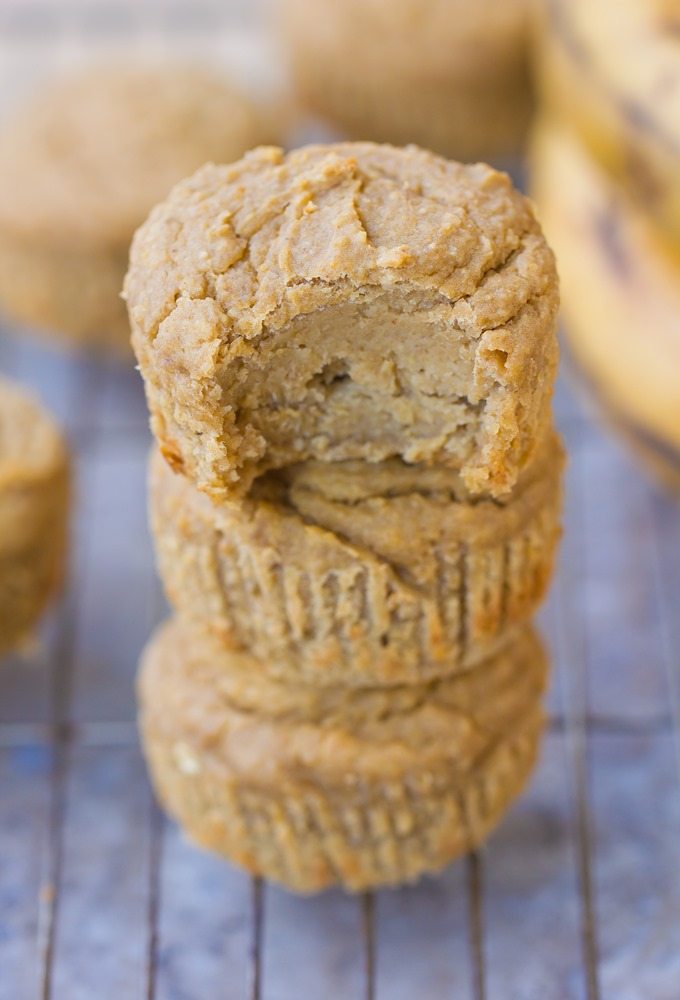 These delicious soft and moist flourless oatmeal blender muffins are at least one hundred times better than ordinary bakery muffins.
Their addictive fudgy texture is absolutely unreal!
I've already made the recipe over a dozen times, and my blender literally has not been put away in over a month. It's like eating cookie dough in the shape of a muffin.
As soon as I go through one batch, I'm immediately back in the kitchen making more blender muffins!
You may also like these Applesauce Muffins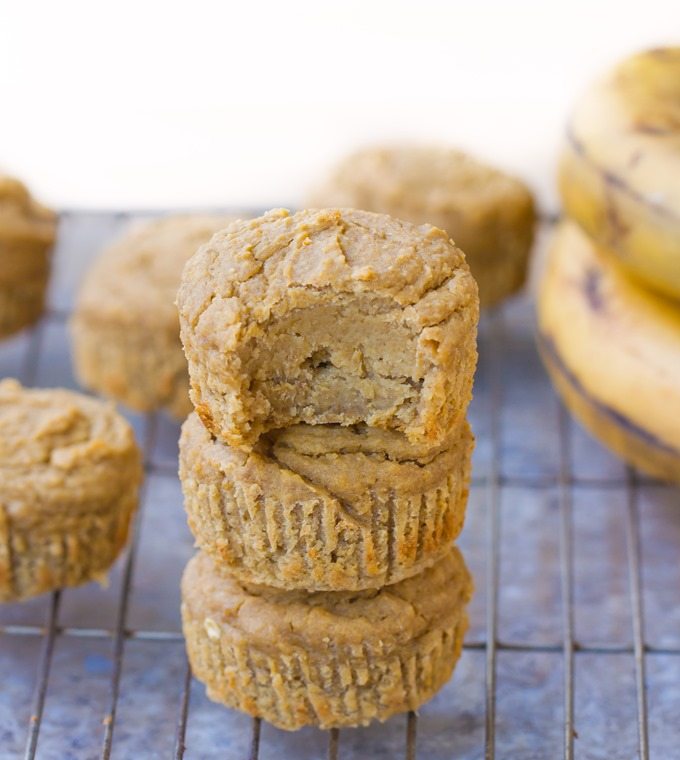 Healthy flourless blender muffins
Honestly, I am completely obsessed with these muffins.
If you try them, you will probably become obsessed with the recipe too.
They are the perfect "anytime" healthy snack – at breakfast, lunch, afternoon tea, dinner, dessert, or when you're suddenly hungry at midnight or find yourself raiding the fridge at two in the morning…
Are there any meals I've forgotten?
If so, these blender muffins go well with those meals too.
And they're portable, meaning you can easily take them in the car, throw a couple into a lunchbox for your kids, or pack them to enjoy on a hike or a picnic.
Also try my Healthy Chocolate Chip Cookies
Watch the flourless blender muffin recipe video above
Banana blender muffin serving ideas
The blender muffins taste great plain or topped with peanut butter, almond butter, pumpkin butter, mashed banana, or Homemade Nutella.
Serve them for breakfast, snack, or dessert. Or enjoy the muffins as part of a savory meal, instead of dinner rolls or cornbread alongside soup or chili.
If I still haven't convinced you to drop everything and try out a batch of these muffins right away, they also freeze well!
In my mind, that takes their awesomeness to a whole new level because it means you can have an easy and healthy snack even on days where you may be too busy to make a new recipe from scratch.
My freezer is filled to the top with healthy meals and snacks I've made in advance for such occasions when I want something filling and healthy without having to wait.
Readers are in love with these Sweet Potato Brownies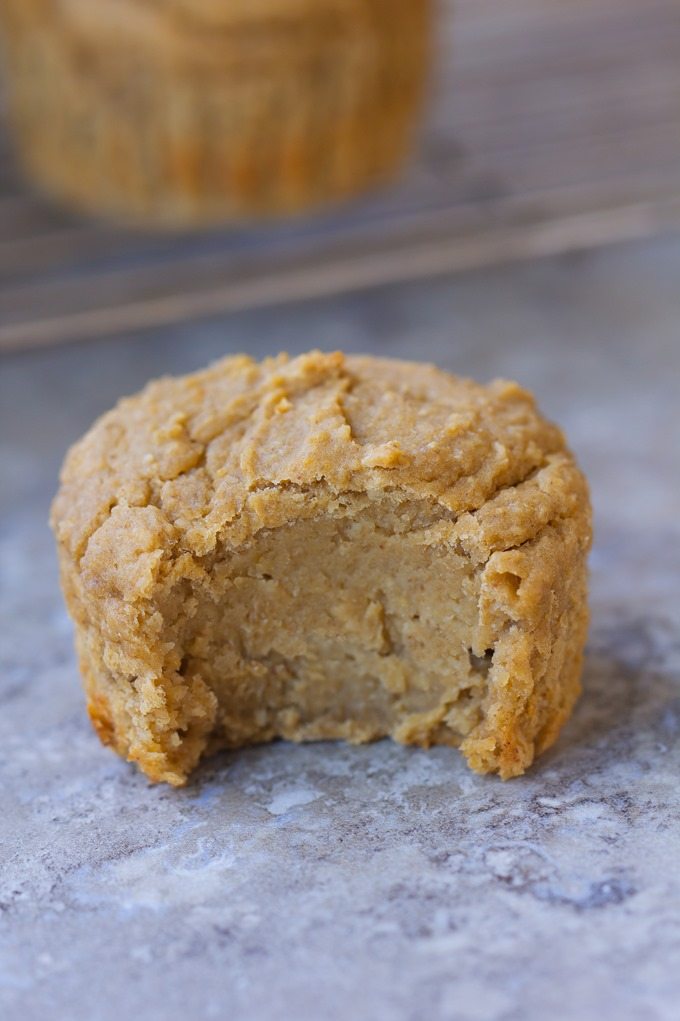 Oatmeal blender muffin ingredients
The recipe calls for quick oats or almond flour, mashed banana, white beans or chickpeas, pure vanilla extract, baking powder, salt, and baking soda, nut butter or another fat source, sweetener, and optional cinnamon.
To make the blender muffins without banana, you can sub an equal amount of roasted sweet potato puree (here's how to cook sweet potatoes).
Or substitute a third cup of applesauce or yogurt, or half a cup of canned pumpkin puree and add three tablespoons of sugar to make up for the difference in sweetness between banana and pumpkin.
Try adding a pinch of ginger, cardamom, pumpkin pie spice, or apple pie spice!
The almond flour or quick oats can be replaced with an equal amount of quinoa flakes. Or you can pulse rolled oats a few times in a blender to make your own quick oats.
Feel free to use garbanzo beans (chickpeas) or white beans like cannellini or great northern. If you prefer a muffin recipe without beans, try these Pumpkin Muffins, Healthy Blueberry Muffins, Oatmeal Muffins, Bran Muffins, Peanut Butter Muffins, Banana Muffins, or the paleo and low carb Keto Blueberry Muffins.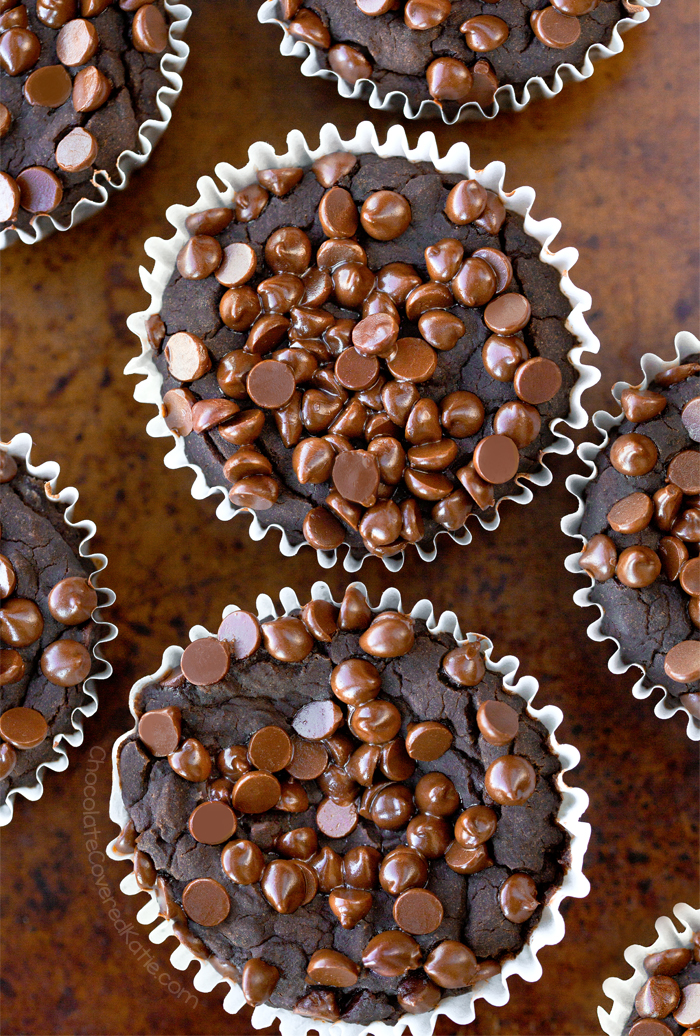 For a chocolate version, try these Chocolate Blender Muffins
How to make the recipe
Read through the recipe, and gather all of your ingredients.
Preheat the oven to 350 degrees Fahrenheit. Line a muffin tin with seven or eight liners, and set this pan aside.
Drain the beans. Rinse them very well to remove the canned bean flavor. Pat dry.
In either a blender or a food processor, combine all ingredients until smooth. If you are using a blender without a tamper (i.e. not a Vitamix or similar machine), stop a few times to stir the muffin mix with a spoon so it will blend evenly.
Smooth the batter about three fourths of the way up into the prepared muffin cups. Do not overfill, or they will rise and then sink in the centers.
Bake for twenty minutes on the center rack, then remove the muffin pan from the oven. The muffins should look underdone; they will firm up as they cool.
Once cooled, I like to refrigerate overnight, very loosely covered with paper towels, during which time they firm up even more. After sitting a day, the taste and texture are even better, and the liners peel off much more easily too.
Store leftovers in the refrigerator for optimal freshness. They will last up to three days refrigerated or a month or two in the freezer. Thaw frozen muffins before serving.
Mini blender muffins
If you wish to make the recipe into mini muffins instead of larger ones, portion the blender muffin batter into lined or greased mini muffin tins.
Follow the same instructions below, baking for just ten minutes instead of twenty.
This week's trending recipe: Chocolate Zucchini Bread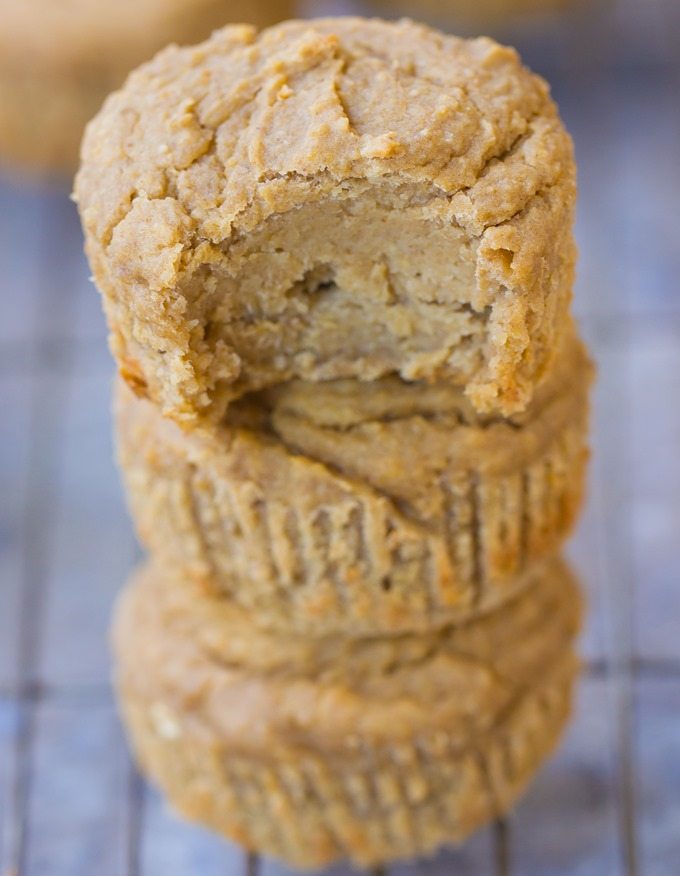 And now I am the girl you see at Trader Joe's who is balancing three bunches of bananas and four cans of great northern beans in her arms.
(I should really learn to take a basket when I shop at Trader Joe's. Somehow I always end up buying more than I came in for…)
The muffins are also great for bringing to a rooftop brunch.
I've gotten my friends hooked on them as well.

Blender Muffins
These fudgy flourless blender muffins are a healthy breakfast or snack recipe that can be gluten free and vegan.
Ingredients
1/2

cup

quick oats or almond flour

(or try these Keto Muffins)

3/4

tsp

baking powder

1/4

tsp

salt

1/8

tsp

baking soda

1/2

cup

mashed banana

or sweet potato puree

1

can chickpeas or white beans,

or 250g cooked beans

1/4

cup

peanut butter or allergy-friendly sub

1/4

cup

pure maple syrup, honey, or agave

2

tsp

pure vanilla extract

optional handful mini chocolate chips,

crushed walnuts, shredded coconut, pinch cinnamon, etc.
Instructions
Preheat the oven to 350 F. Drain and rinse the beans well, then pat dry. This is important to get rid of any canned bean taste. Blend all ingredients until smooth in a blender or food processor. (If your blender has no tamper, stop occasionally to stir ingredients with a spoon to ensure even blending.) Transfer the batter to a muffin tin with liners. Bake on the center rack for 20 minutes, then let cool. The muffins firm up as they cool and firm up even more if you very loosely cover them and let sit overnight on the counter or in the fridge.

As mentioned earlier, these muffins are supposed to be fudgy, not fluffy and floury like traditional muffins. Not everyone will be a fan of the texture, but if you like my black bean brownies, then you will probably like these as well! Muffins last for 3-4 days refrigerated or 2-3 weeks frozen.

View Nutrition Facts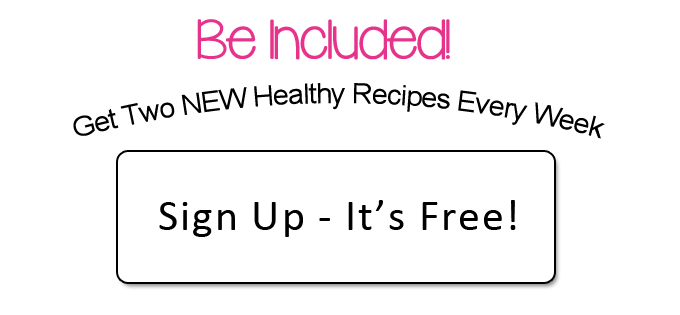 More Easy Blender Recipes