Sweet and buttery hot apple crumble bars.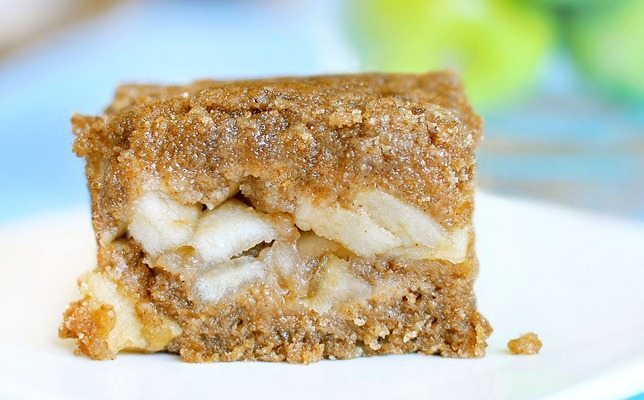 They are guaranteed to quickly disappear at parties!
It's all the deliciousness of apple crumble, packed into a bar!
I've done raspberry, mixed berry, and cherry pie versions, but the apple version for last night's Halloween party might be the best flavor yet. Although I'd first planned to bring my Healthy Chocolate Chip Cookies, I wanted to make something festive and had gone crazy at Whole Foods the other day when organic Pink Lady apples were on sale. Somehow, apple chocolate chip cookies just didn't sound very good.
Then again, I don't think I've ever tried the chocolate-apple combination. Why is that? Why do we have chocolate-covered strawberries and chocolate-raspberry truffles, yet no one seems to do anything with chocolate apples? This might be worth looking into…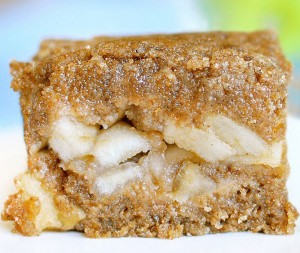 Apple Crumble Bars
(Can be gluten-free!)
1.5 cup whole-wheat pastry flour (or white flour, spelt, or oat flour)
1/2 tsp baking powder
1/4 tsp salt
1/2 cup coconut sugar, brown sugar, or sucanat
pinch stevia OR 1 additional tbsp brown sugar
1 1/4 tsp cinnamon
1/4 cup plus 3 tbsp cold buttery spread, such as Earth Balance (See calorie link below for a fat-free option. And I know a few readers have successfully made this with coconut oil, but I haven't tried it.)
2 tbsp milk of choice
2 cups peeled, chopped apple (8oz)
2 tsp cornstarch or arrowroot
3 tbsp pure maple syrup or agave
1 tsp pure vanilla extract
Stir together the first eight ingredients, making sure to break the butter up really well so that little crumbs form. Scoop 2/3 of the dough into a 4×7, oiled glass dish (or any small pan), and press down firmly. In a separate bowl, stir together the other ingredients. Layer them into the pan, then top with the rest of the dough from the first pan and press down a bit. Bake for 45 minutes at 350 F, then cool at least 30 minutes before cutting into bars. Store uncovered, unless you want a soft crust (in which case, you should cover completely with saran wrap).
View Apple Crumble Bars Nutrition Facts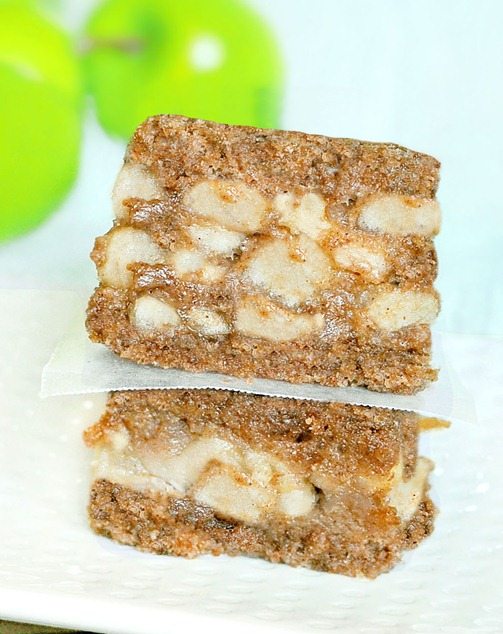 Question of the Day:
What kinds of apples do you like best?
Pink Lady apples are definitely my favorites. But I usually like Fujis and Galas, too. And Granny Smiths, but only when they're cold. Red Delicious apples are my least-favorites; I always seem to get mushy ones.
How I plan to use my leftover apples: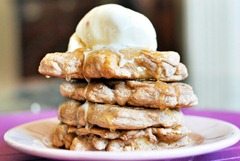 Apple Pie Pancakes
And then I'll probably just eat the rest plain. Or maybe I need to experiment and come up with a healthy caramel-apple recipe…