These soft and sweet cinnamon sugar snickerdoodle blondies are so completely delicious, you will never believe the secretly healthy ingredients in the recipe!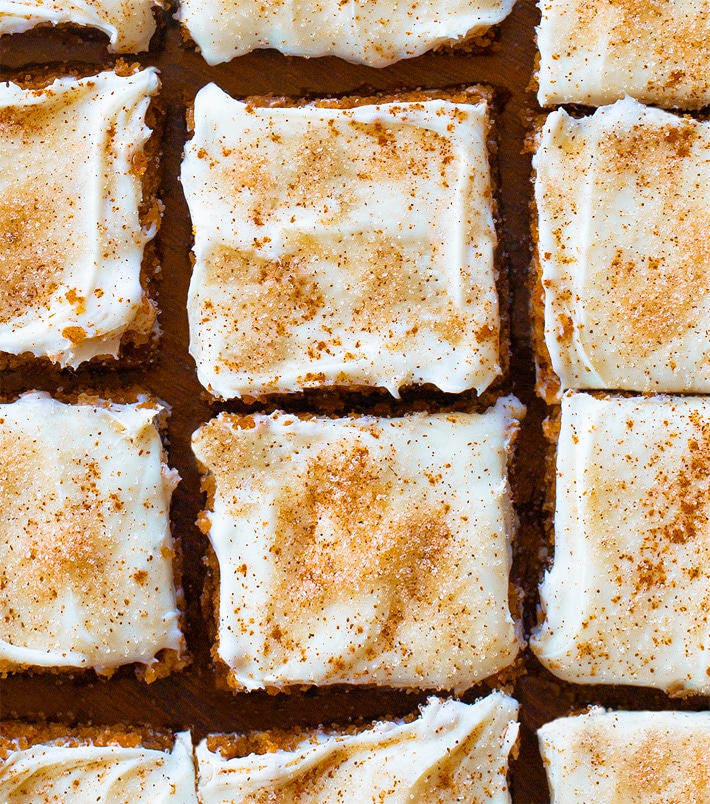 Guests of all ages love this unbelievable snickerdoodle blondie recipe.
The homemade blondies can be dairy free, egg free, gluten free, soy free, nut free, sugar free, and vegan. I've made and served them so many times, and people who aren't on any type of special diet love them too!
You may also like this Applesauce Cake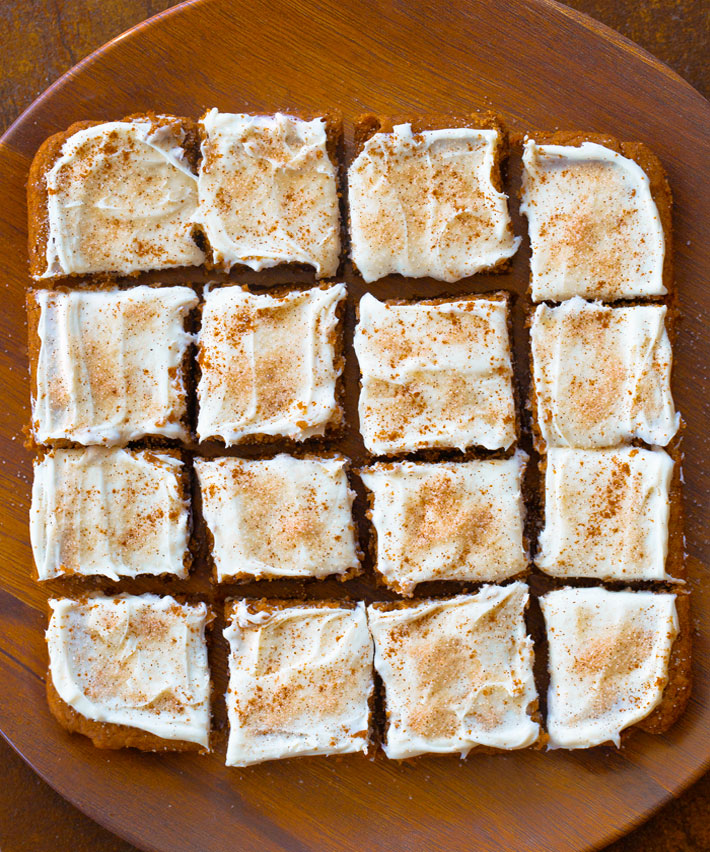 Vegan snickerdoodle blondie ingredients
Beans – the recipe works with chickpeas or white beans (such as cannelini, white kidney, or great northern). If you prefer keto bars, try these Keto Candy Bars.
Sweetener – these can be made with regular or brown sugar, coconut or date sugar, or granulated erythritol or xylitol for a sugar free dessert.
I did once try making a batch with stevia, to mixed results. Some testers liked them, while others did not. So go that route at your own risk.
Fat source – try almond butter, cashew butter, coconut butter, macadamia nut butter, sunflower butter for nut free, vegetable or coconut oil. As with the aforementioned stevia recipe, my trials with fat free blondies using an equal amount of applesauce or mashed banana were met with mixed results.
Also try these Vegan Snickerdoodles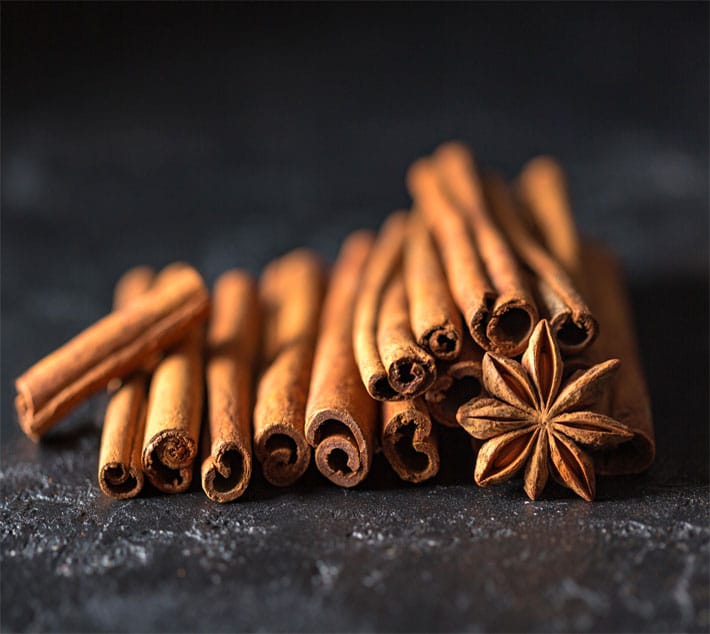 How to make the snickerdoodle blondies
If you're using canned beans, be sure to rinse and drain them very well.
(Use the drained liquid to make Vegan Marshmallow Fluff!)
Preheat the oven to 350 degrees Fahrenheit, and grease an 8×8 baking pan or line it with parchment paper.
Blend all of the blondie ingredients until it resembles smooth cookie dough. I used and recommend a food processor for best texture and even blending, although some readers say they have used a blender with good results. (If you do have to use a blender, make sure to stop the machine and stir the batter occasionally.)
Smooth the snickerdoodle dough into the prepared baking pan, and place on the oven's center rack. Bake 28 minutes, the remove from the oven and let cool.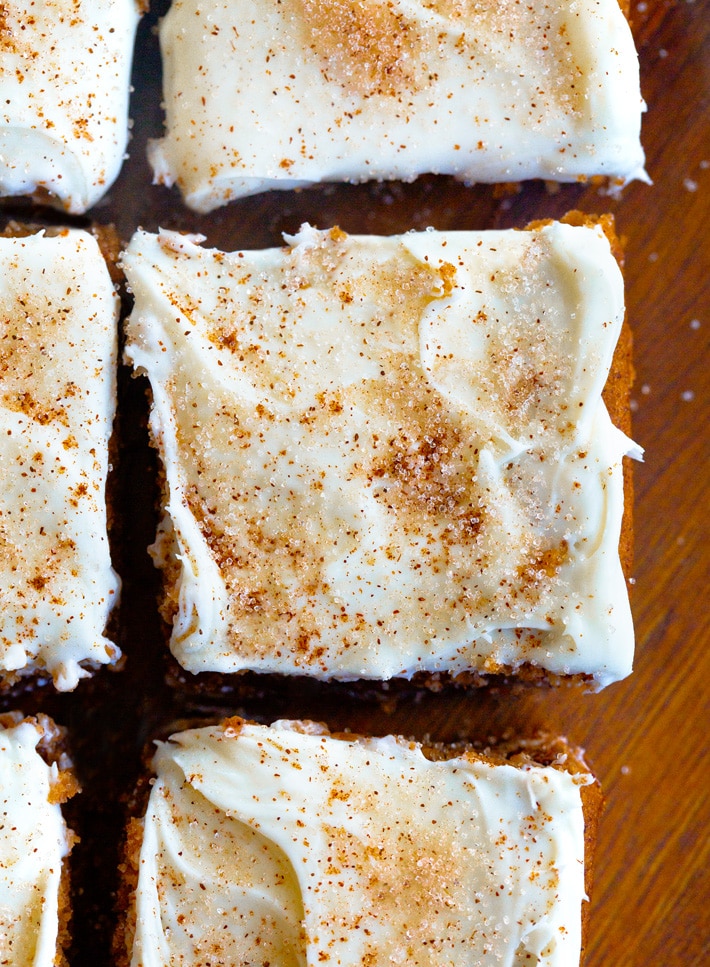 Snickerdoodle bar storage tips
I like to store leftovers in the fridge for freshness, although they can be left out on the counter overnight, loosely covered so some of the moisture can escape.
The bars are also fine to leave out unrefrigerated at a party or event.
After three or four days, freeze any remaining leftovers for up to three months in an airtight container, with wax paper or parchment paper in between each layer of bars so they do not stick together. Thaw before eating.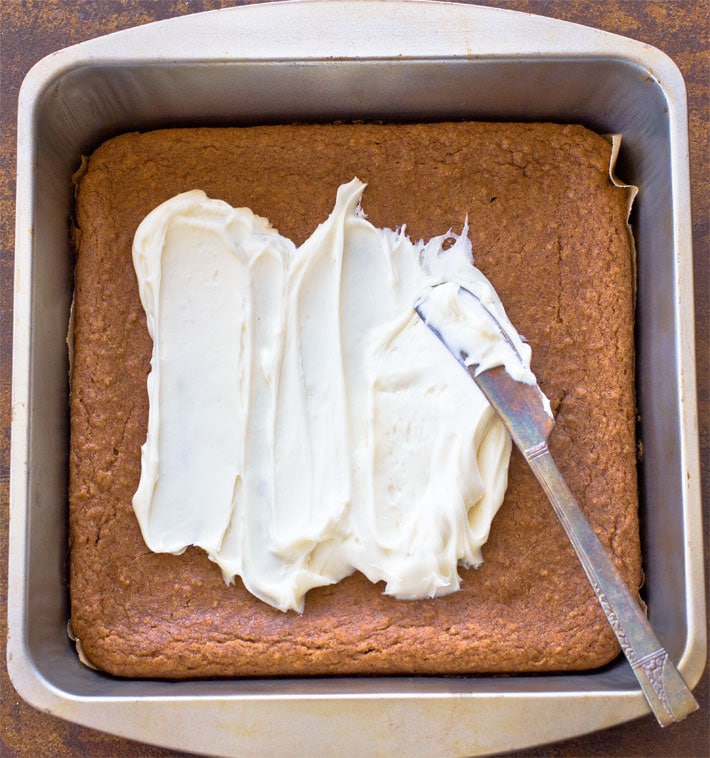 Frosting the snickerdoodle blondies
These snickerdoodle blondies are perfectly sweet on their own and do not need any frosting. I chose to ice them mostly so they'd be more visually appealing!
However, you definitely can frost the snickerdoodle bars if you wish, with powdered sugar, store bought vanilla frosting, or melted coconut butter.
Or use the following cream cheese icing recipe: Whip 8 ounces of packaged or homemade cream cheese or Vegan Cream Cheese with 4 ounces of butter or vegan butter, 2 cups of powdered sugar, and 1 teaspoon of pure vanilla extract. Sprinkle cinnamon sugar over top if desired.
Above, watch the snickerdoodle blondie step-by-step recipe video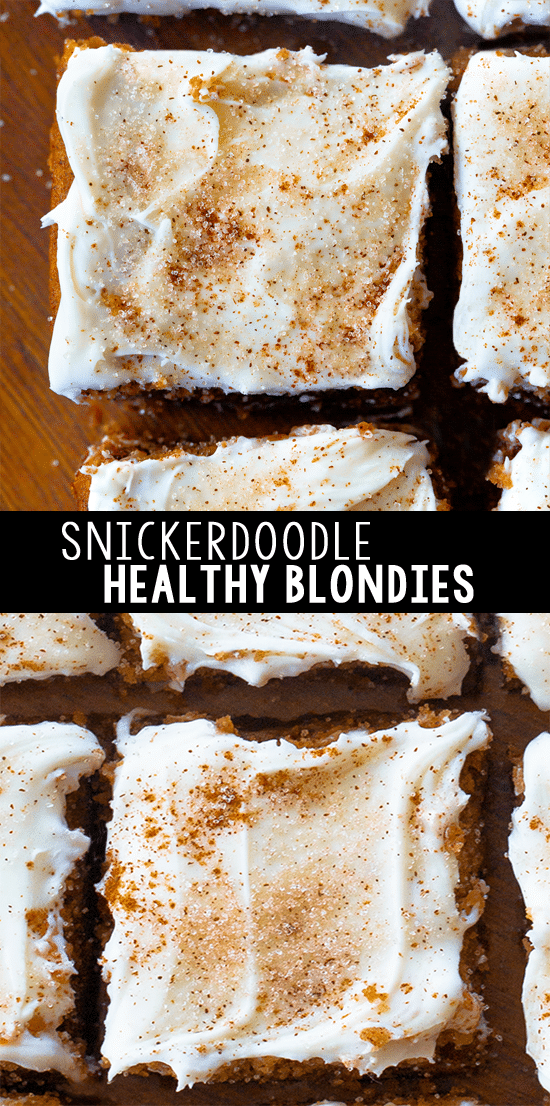 Snickerdoodle Blondies
These soft and sweet cinnamon snickerdoodle blondies are secretly vegan and great for dessert.
Ingredients
1

can

chickpeas or white beans, or 1 1/2 cups cooked

2

1/2 tsp

cinnamon

1

tsp

baking powder

1/4

tsp

each: salt and baking soda

3/4

cup

granulated sugar of choice (Substitutions are listed above)

3

tbsp

almond or cashew butter, or coconut oil

1

1/2 tsp

pure vanilla extract

1/4

cup

quick oats, flaxmeal, or almond flour

optional handful chopped walnuts, raisins, etc.

optional frosting

(recipe above)
Instructions
Preheat the oven to 350 degrees F. Drain and rinse the chickpeas very well. Blend all ingredients until very smooth in a high quality food processor (see notes above about using a blender). Smooth into a greased or parchment-lined 8-inch pan. Bake 28 minutes – they will look a little underdone when you take them out, because they firm up as they cool.  

View Nutrition Facts
More Healthy Cookie Bar Recipes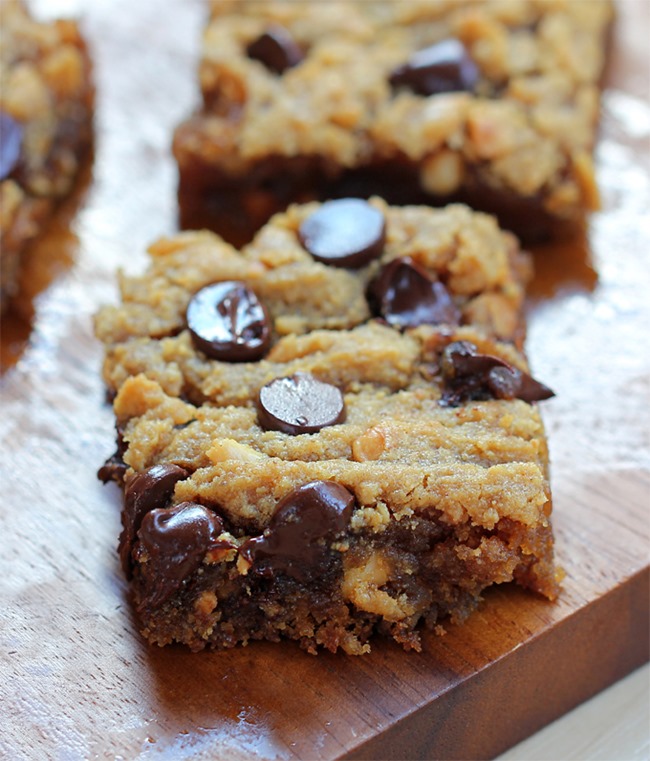 Chocolate Chip Peanut Butter Bars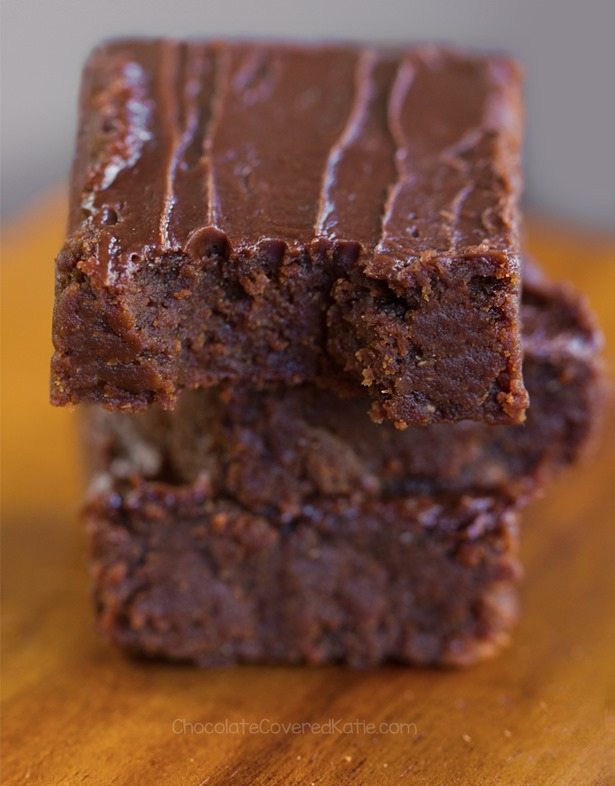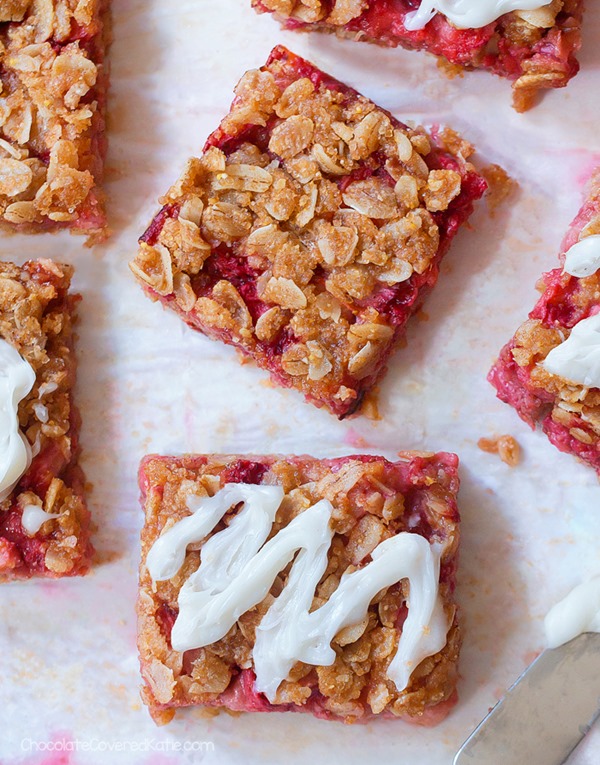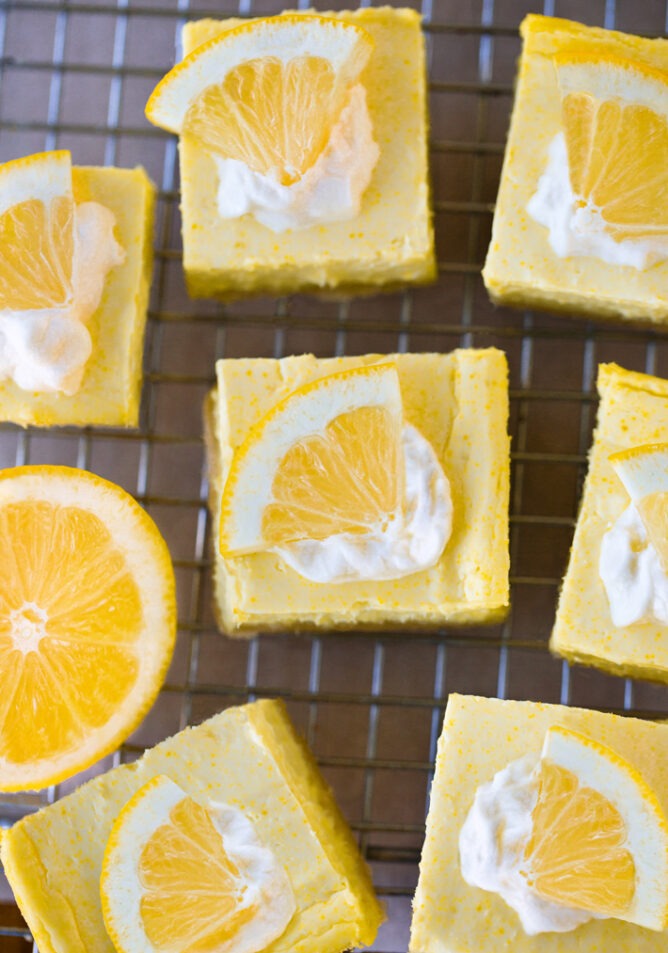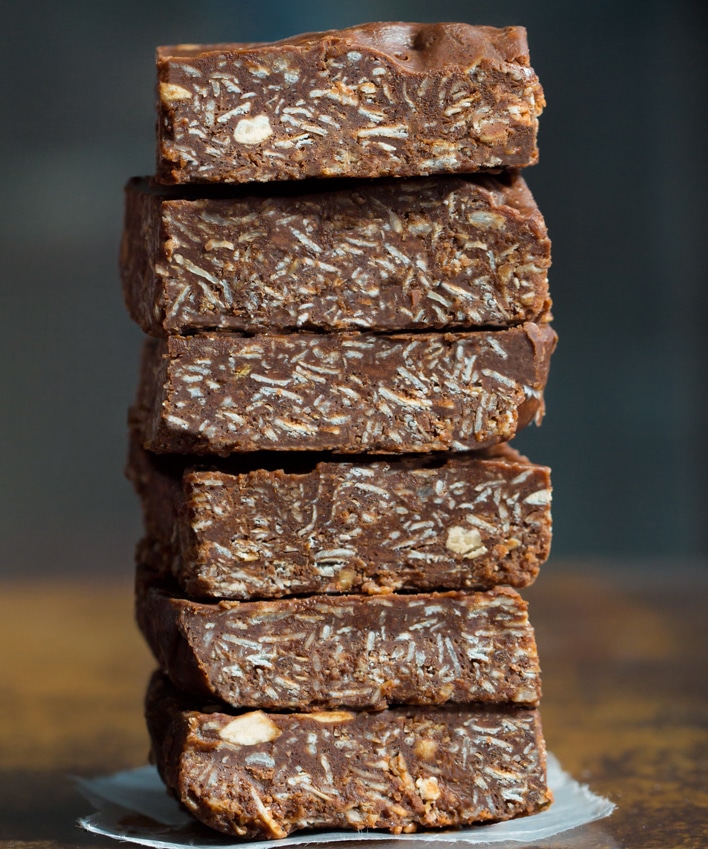 Chocolate Oatmeal No Bake Bars