I have the best job.
Not everyone's job description includes making snickerdoodle blondies.  But yesterday morning, I was forced to do just that.
When I threw the idea out on social media, there was such an excited response that I just couldn't let everyone down. And so, still in my pjs, I set about making a gigantic mess in the kitchen.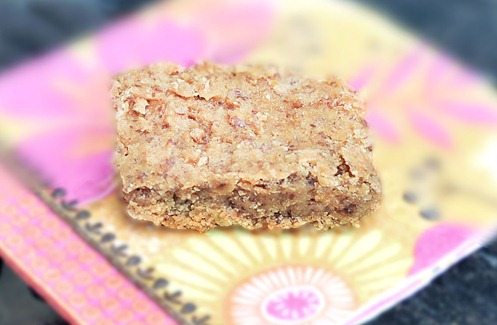 I think I ate about a third of the pan by myself…
And that's not including the copious spoonfuls of batter that found its way into my mouth.
I liked the batter so much it's going to get its own recipe post (soon). But for today, you're stuck with more blondies.
Adapted from this recipe: Chocolate-Chip Blondies.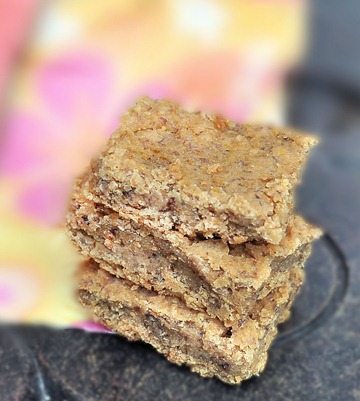 Snickerdoodle Blondies
1 1/2 cups chickpeas or white beans (1 can, drained and rinsed) (250g after draining)
3 tbsp nut butter of choice (or other fat source) (see nutritional-info link below for fat-free option)
3/4 tsp baking powder
1-2 tsp vanilla extract
1/8 tsp baking soda
heaping 1/8 tsp salt
3/4 cup coconut sugar or brown sugar (or sucanat)
1 tbsp applesauce
1/4 cup ground flax or quick oats (20g) (see nutritional-info link below for substitution options)
2 and 1/4 tsp cinnamon
optional ingredients: walnuts, raisins
Preheat oven to 350 degrees. Blend all ingredients until very smooth in a food processor (not a blender), and scoop into a greased (or parchment-lined) 8×8 pan. Bake for 30-35 minutes. You want the blondies to look a little undercooked when you take them out, because they'll firm up as they cool, and you don't want them to get hard.
Love snickerdoodles, but not in the mood for blondies?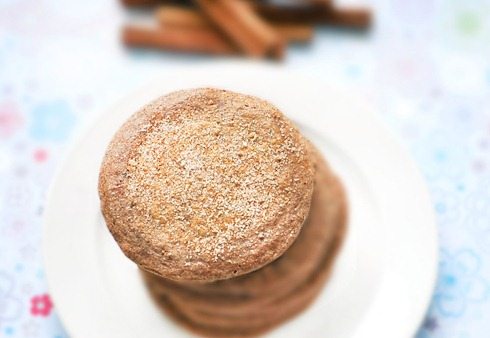 Why not try some healthy Snickerdoodle Pancakes?
Question of the Day:
What is your dream job?
When I was very little, I had my entire life figured out. I was going to be a Veterinarian and save all the animals in the world. That changed in sixth grade, when they put my first dog to sleep. Although I knew it was a good act, I also knew I could never do it. (As it turns out, science isn't my strongest subject anyway.)
I spent the rest of middle and high school unsure of what I wanted to "be" when I grew up. I figured I'd probably end up as an editor or lawyer, or maybe a Spanish teacher. Even as I started college, I was clueless. (And this scared the heck out of me!) But sometimes I believe things have a strange way of working out.
You might remember how upset I was about my college story.
And yet, if everything had worked according to plan, I'd possibly be some high-end lawyer, with a degree from UPenn, making a ton of money and hating every second of it. Maybe not; but I can't imagine being happier than I am right now!
*Serves herself another blondie*