With the same soft texture and holiday flavor as the popular Starbucks recipe, these homemade vegan cranberry bliss bars are an absolutely delightful treat!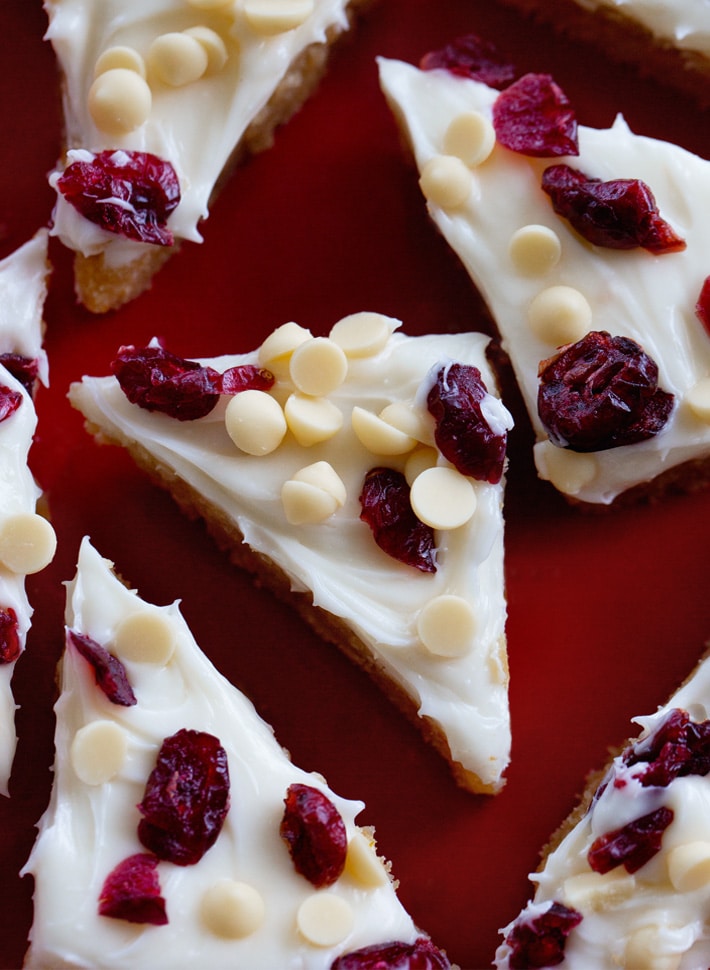 Starbucks vegan cranberry bliss bars
From frappuccinos, to peppermint hot chocolates, to cinnamon dolce lattes and apple crisp oatmilk macchiatos, the vegan options at Starbucks abound.
However, one item that you still cannot get as a vegan at Starbucks is their famous cream cheese cranberry bliss bars.
Not wanting to miss out on the holiday fun, I've come up with my own vegan version of the coffee shop classic. Besides being egg free and dairy free, these homemade cranberry bliss bars can be low calorie, keto, sugar free, and gluten free as well!
Also make these Vegan Chocolate Chip Cookies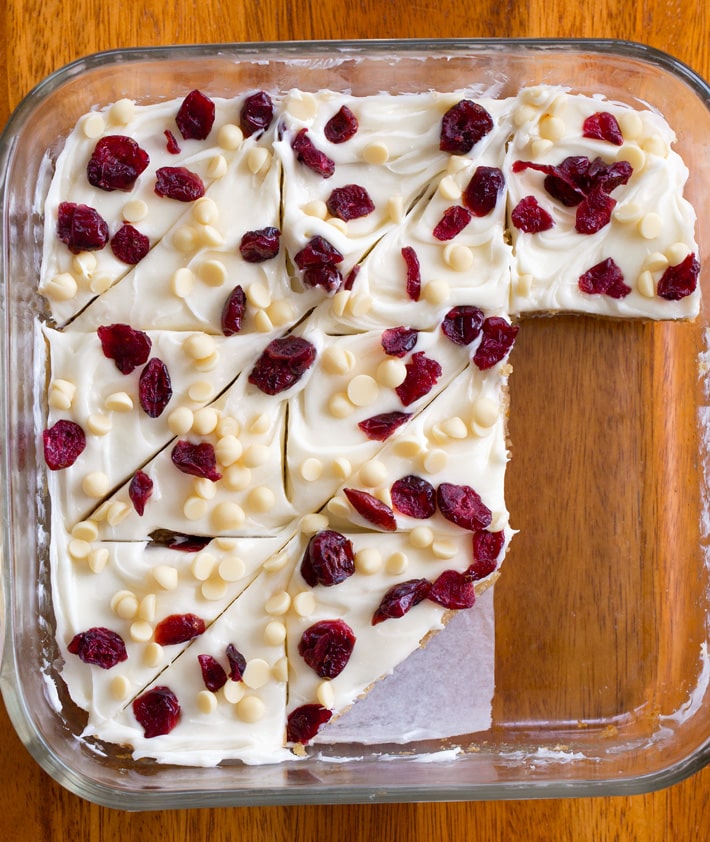 Cream cheese frosting recipe
You can either use your favorite vanilla or white frosting (many packaged brands are accidentally vegan!) or go with the vegan frosting recipe below:
Beat softened 8 ounces of store bought cream cheese or homemade Vegan Cream Cheese with 4 ounces of butter or plant based butter, 2 cups of powdered sugar or powdered erythritol, and 1 teaspoon pure vanilla extract.
Add milk of choice, such as almond milk or coconut milk, if needed to thin it out.
This vegan cream cheese frosting recipe makes more than enough to frost the bars. Try using leftover frosting on these Vegan Cinnamon Rolls.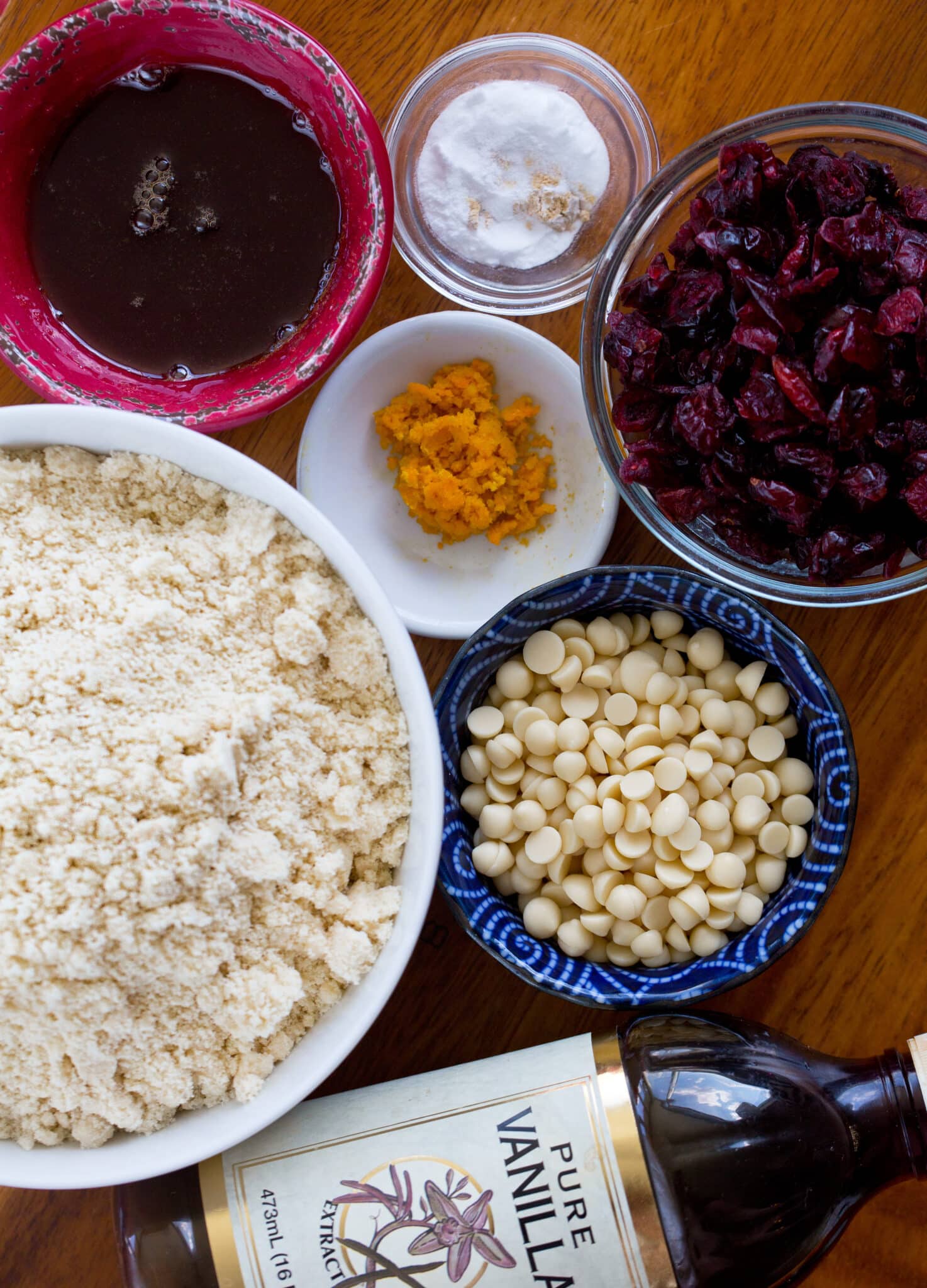 Vegan cranberry bliss bars ingredients
The festive cranberry Christmas bar recipe calls for dried cranberries, powdered ginger, baking soda, salt, pure vanilla extract, almond flour, sweetener of choice, water, orange zest, and optional regular or mini white chocolate chips.
Almond meal can be substituted for the almond flour. Or for a nut free version, you can make my Chickpea Blondies, substituting dried cranberries and white chocolate chips for the dark chocolate chips. Be sure to add the orange zest as well.
I have not tried any other flours in this recipe, such as coconut flour, white all purpose flour, or gluten free flour. So I cannot recommend any other flours here.
The recipe works with pure maple syrup, agave, honey (not for vegans), or keto maple syrup. If you wish to experiment at your own risk with granulated sugar or another dry sweetener, be sure to report back with results!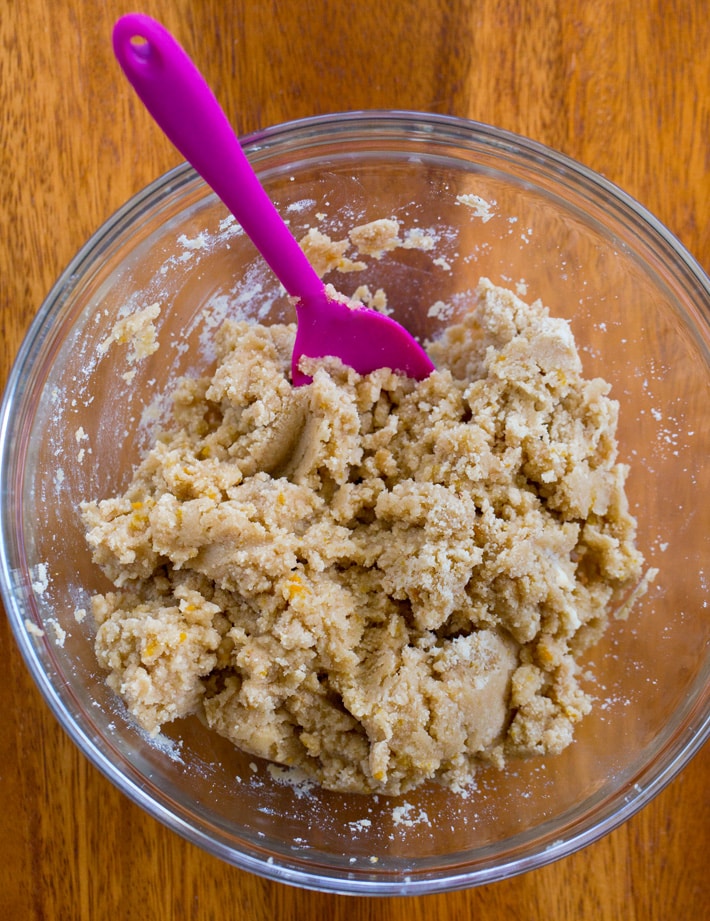 How to make the vegan cranberry bars
Start by lining an eight inch square pan with parchment paper. Set aside.
Preheat the oven to 350 degrees Fahrenheit.
In a large mixing bowl, stir together the almond flour, powdered ginger, salt, baking soda, and the dried cranberries.
Add all remaining bar ingredients, and stir to form a batter. Because these are made with gluten free almond flour, there's no need to worry about overmixing.
Scoop the batter into the prepared eight inch pan. Place a second sheet of parchment paper over top, and use your hands to smush down until the batter evenly covers the entirety of the bottom of the pan.
Bake on the center rack of the oven for 12 minutes, then remove from the oven and let cool completely before frosting.
The vegan cranberry bliss bars can be left out at room temperature if serving them at a party or event. For freshness, I recommend storing leftovers covered in the refrigerator. Bars can also be sliced and then frozen. Thaw before consuming.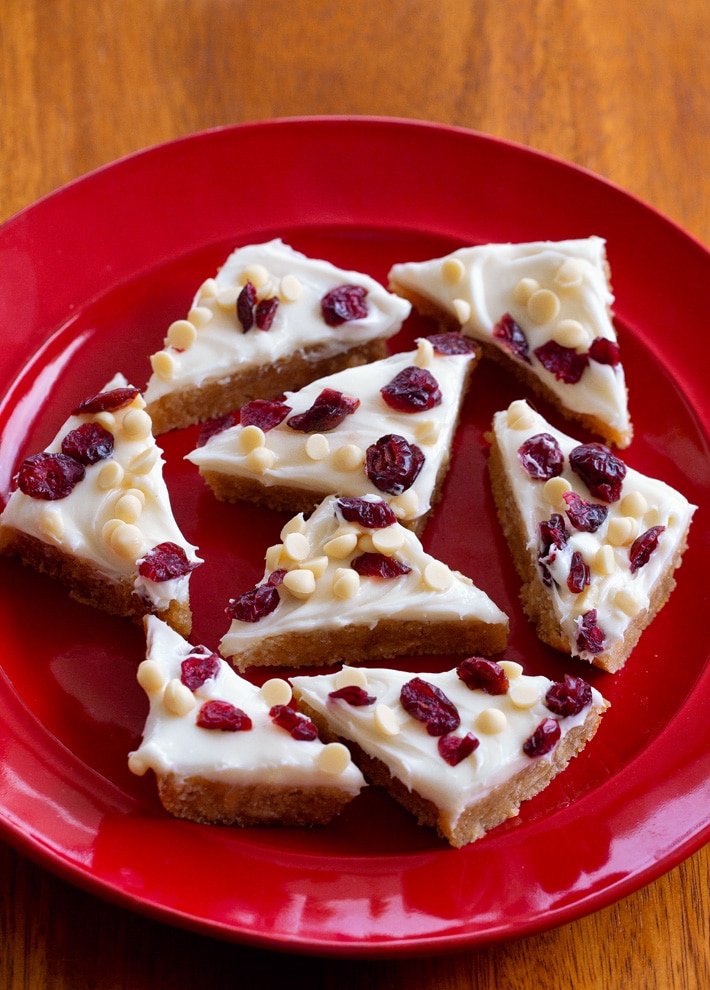 Keto cranberry bliss bars
For a low carb and sugar free recipe, use keto maple syrup or your favorite keto liquid sweetener instead of the pure maple syrup.
I would guess that using powdered erythritol and replacing the liquid with water could also work, but I have not tried it yet and therefore cannot recommend this.
The recipe calls for almond flour, so there is no need to substitute any flours. Do not try to substitute coconut flour, because the bars will come out very dry and crumbly.
You might also like this Keto Cheesecake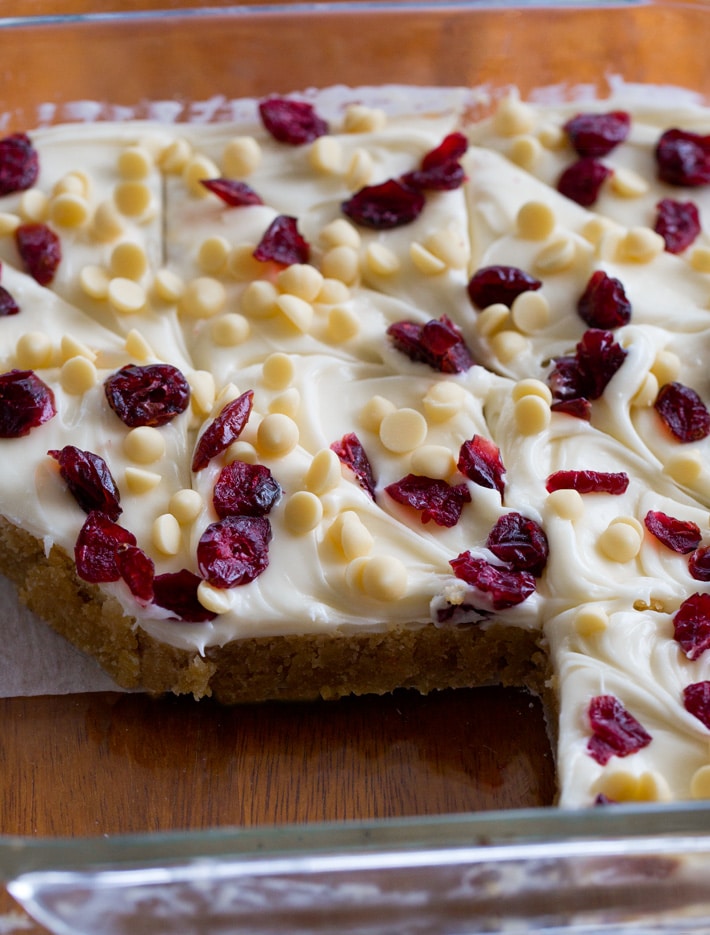 Converting the recipe to gram measurements
If, like me, you prefer to bake with a food scale instead of measuring cups for precision and easy clean up, here are the measurements to use:
360g almond flour, 45g water, 10g pure vanilla extract, 120g maple syrup, 60g white chocolate chips, 60g dried cranberries, and other ingredients not measured in grams.
One medium orange will yield around two teaspoons of orange zest.
Watch the cranberry bliss bar recipe video, above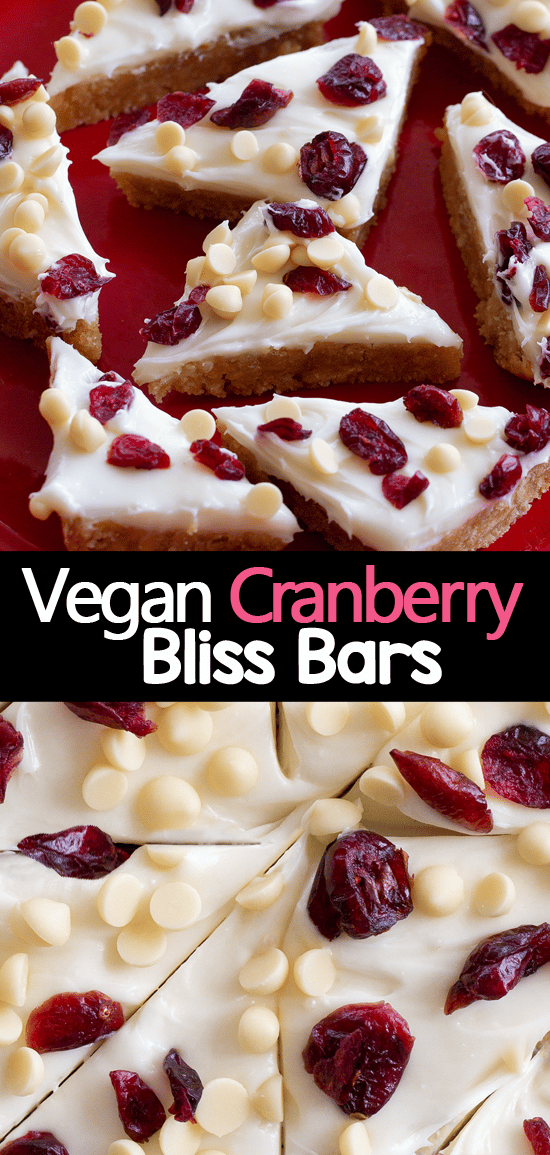 Vegan Cranberry Bliss Bars
These vegan cranberry bliss bars have the same holiday flavor and soft texture as the famous Starbucks version.
Ingredients
3

cups

almond flour

3/4

tsp

powdered ginger

1/2

tsp

each: salt and baking soda

3

tbsp

water

zest of one orange

2

tsp

pure vanilla extract

1/2

cup

pure maple syrup or keto maple syrup

1/2

cup

dried cranberries

1/2

cup

mini white chocolate chips,

optional

see frosting options above
Instructions
Preheat the oven to 350 F. Line an 8 inch pan with parchment paper, and set aside. Stir dry ingredients together, then add all remaining ingredients (except frosting) to form a dough. Cranberries can be mixed into the dough or sprinkled over top, or both. Transfer to the prepared pan, and use a second sheet of parchment to press the dough evenly into the pan. Bake 12 minutes. Let cool completely before frosting.

View Nutrition Facts
More Holiday Desserts