This homemade peach crisp recipe is packed with sweet and juicy peaches and topped with a delicious buttery oatmeal streusel. It's the perfect easy summer dessert!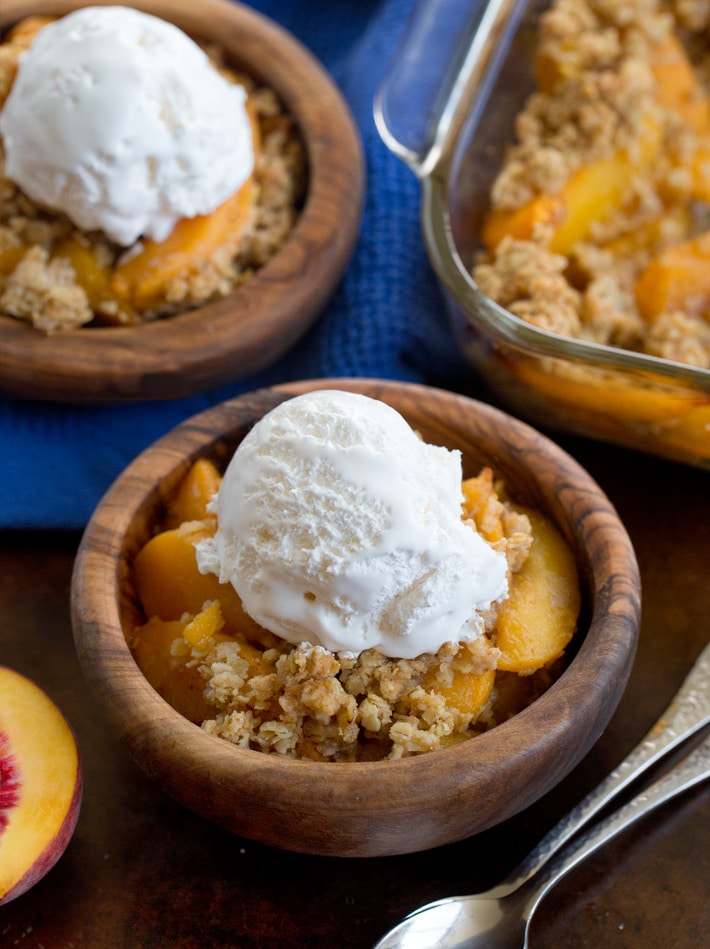 Try the classic southern peach crisp whenever you need a crowd pleasing dessert.
The recipe is quick to whip up using just a few basic ingredients.
And it's great for family weeknight dinners, summer barbecue parties, baby showers, holiday gatherings, or brunch with friends.
Growing up, my mother would make this for us almost every week in the summer months, often adding blueberries or blackberries along with the ripe peaches.
Also be sure to try this Dole Whip Recipe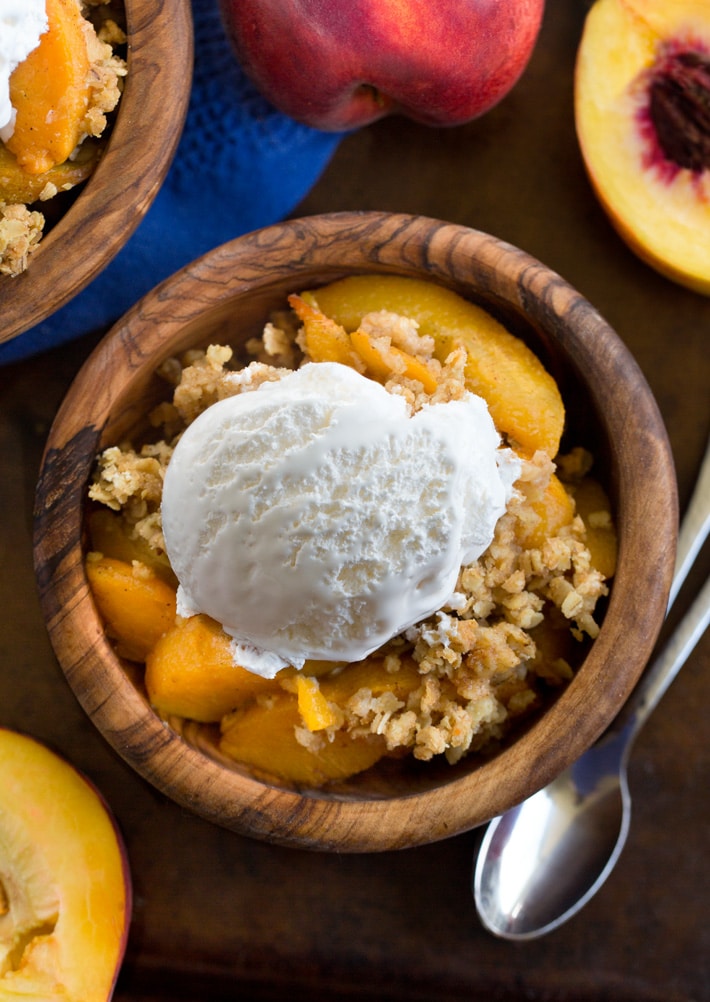 The difference between peach crisp and peach cobbler
Peach crisp, also known as peach crumble, includes a layer of sliced fruit on the bottom and is topped with a crunchy streusel made of butter, sugar, sometimes oats, and flour.
Instead of a crumbly topping, fruit cobbler recipes call for a thicker batter that resembles dumplings, drop biscuits, pie crust, or scones.
Watch the step by step peach crisp recipe video above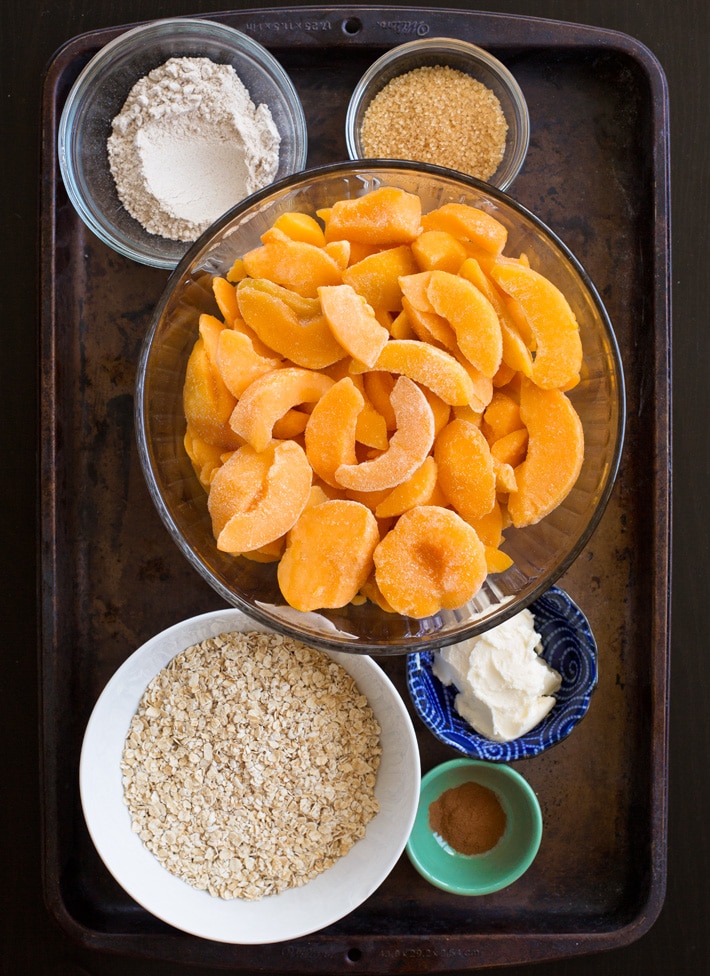 Easy peach crisp ingredients
Here's what you'll need to make the recipe: sliced peaches, rolled oats, ground cinnamon, flour, sweetener of choice, and butter or a neutral oil.
For a peach crisp without oatmeal, there is also a low carb option made with almond flour included in the recipe below.
As a fun variation, you can replace the peaches with apples or pineapple. Or replace up to half of the peaches with blueberries or sliced strawberries.
And feel free to stir a handful of shredded coconut or finely chopped pecans, walnuts, or almonds into the streusel after cutting in the butter.
Unlike many other fruit crisp recipes, this one has no cornstarch!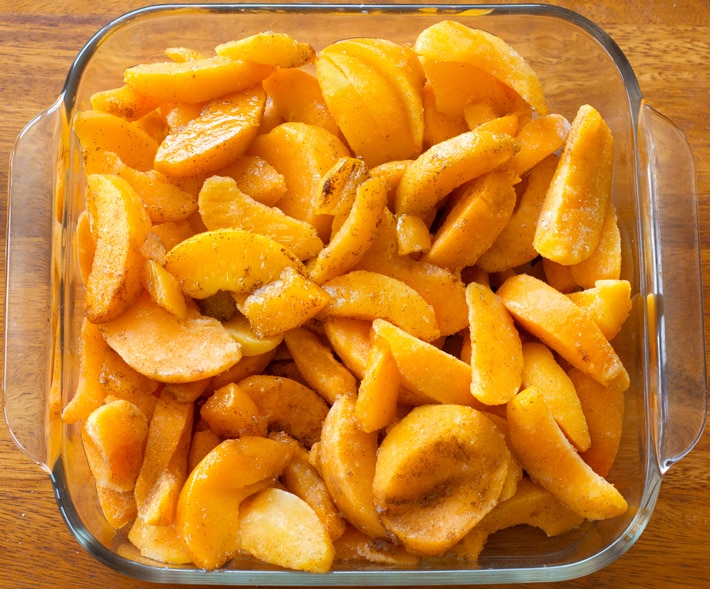 Can you use canned or frozen peaches?
You absolutely can, and this makes the recipe even easier to throw together.
Frozen peaches have already been peeled and sliced. So all you need to do is thaw the packages and wipe away excess water or ice before proceeding.
If using canned peaches in juice instead of fresh peaches, drain the cans fully before measuring out six cups of the fruit.
More peaches to use up? Try these Overnight Oats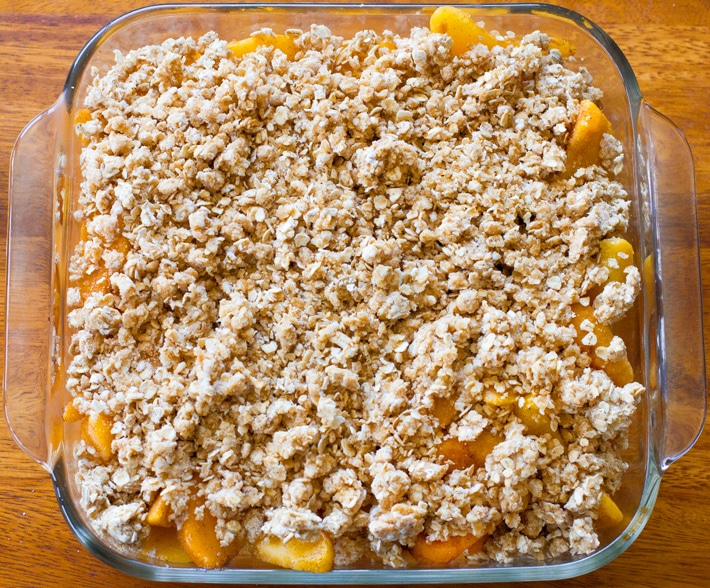 How to make the best peach crisp
If using fresh peaches, peel and slice them, discarding the pits.
Preheat the oven to 375 degrees Fahrenheit. Toss the sliced peaches with the sweetener and cinnamon in a large bowl to evenly coat.
Spread into an eight inch baking dish or cast iron pan, and set the pan aside.
Combine all remaining ingredients except the butter or coconut oil in a large mixing bowl. Cut in the butter with a fork or pastry cutter, continuing to break up large pieces of the topping until small crumbles form.
Sprinkle the crisp topping over the cinnamon peaches. Then place the baking dish on the oven's center rack.
Bake for 50 minutes or until the peaches are bubbly and caramelized with a crispy golden topping.
Portion the peach dessert into individual bowls. Serve hot or cold, and top the recipe with ice cream or whipped cream if desired.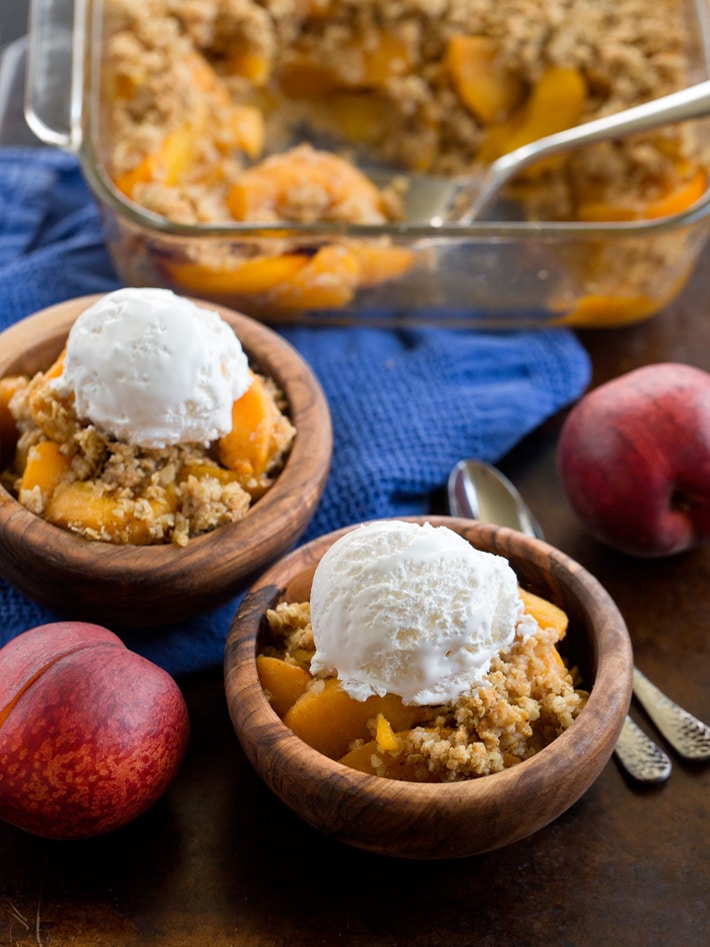 Peach crumble toppings
The recipe is sweet and delicious on its own. Or top it with any of the following:
With such healthy ingredients, you could even eat it for breakfast! Try serving the whole grain oatmeal fruit crisp on top of Chia Pudding.
Or add a scoop to plain or vanilla yogurt, for a yummy and balanced breakfast that includes antioxidants, protein, calcium, and fiber.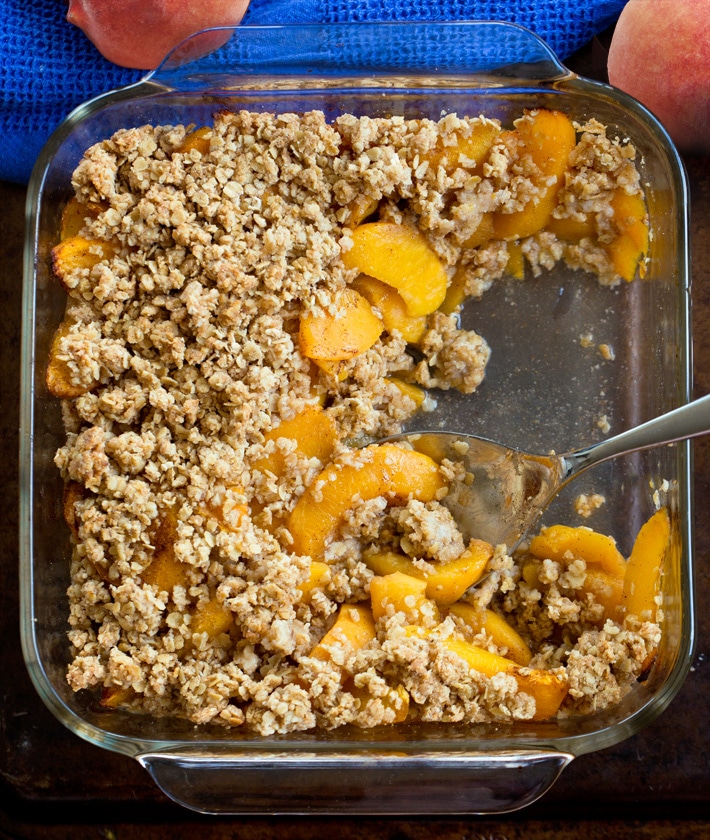 Healthy peach crisp recipe
With six cups of vitamins A and C rich peaches packed into the recipe and less than a half cup of sugar for the entire pan, this fruit crisp is a great healthy dessert option.
For a vegan peach crisp recipe, simply use your favorite nondairy butter or the oil option. The dessert is naturally egg free and can be gluten free.
If you're looking for a dessert with no added sugar, you can substitute the sweetener with date sugar, or with sugar free xylitol or granulated erythritol or allulose.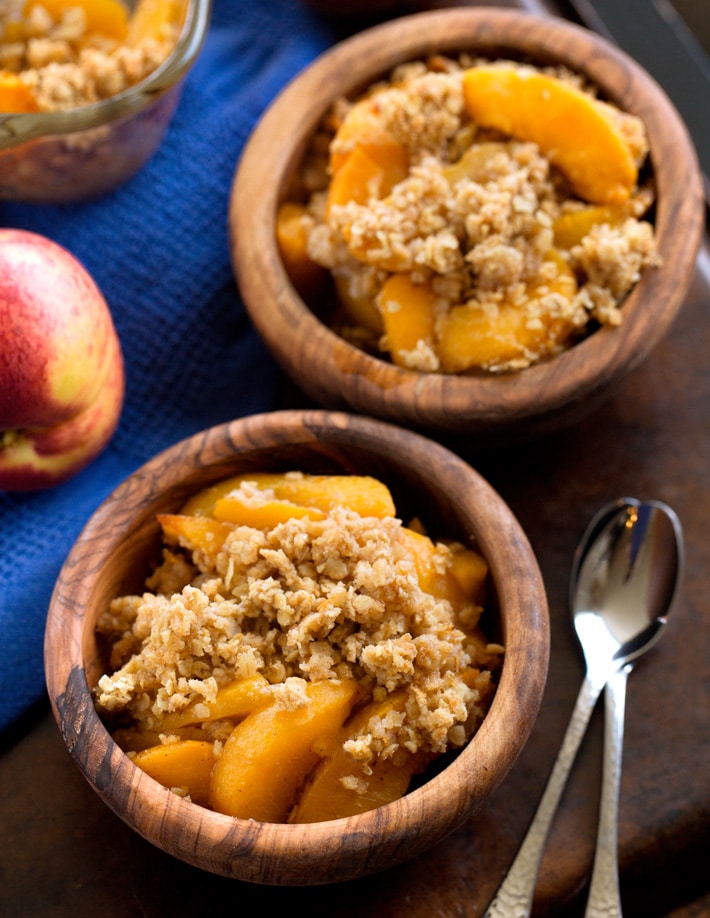 Storage instructions
Homemade peach crisp recipes are best served the day they are made, because the oat topping will have the best crispy texture.
To keep the dessert fresh and prevent it from getting soggy, store leftovers in the refrigerator in a covered container.
Be sure to leave a small opening in the container. This will prevent excess moisture from getting trapped and softening the topping.
The peach dessert can also be frozen. Thaw before serving, and reheat if you prefer hot peach crisp instead of eating it cold.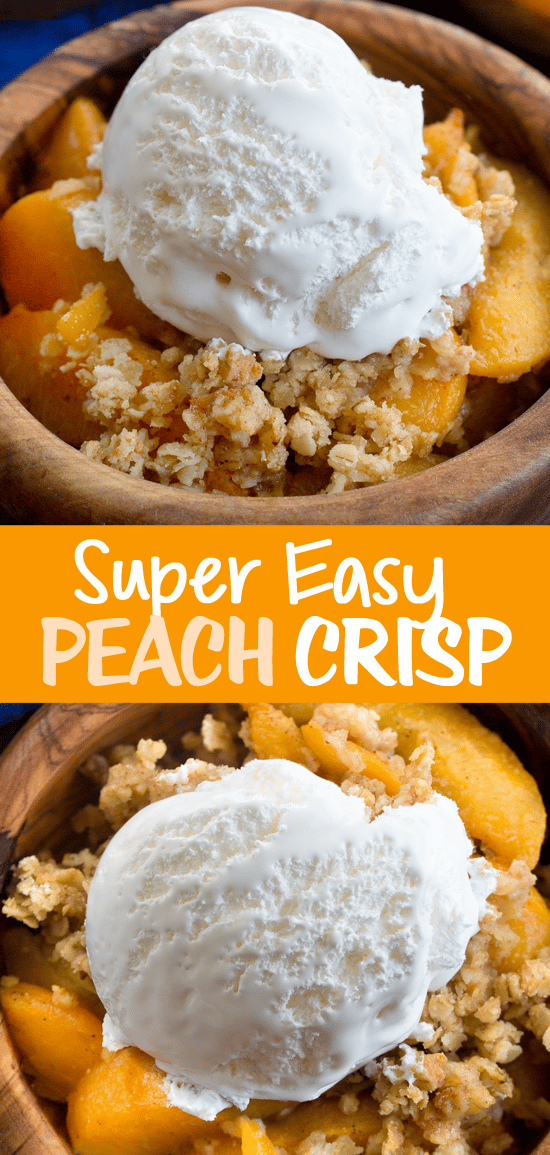 Peach Crisp Recipe
How to make the best peach crisp recipe. The whole family will love this classic summer dessert.
Ingredients
6

cups

sliced fresh, canned, or frozen peaches

1

1/2 tbsp

sweetener of choice

1/2

tsp

cinnamon

1/3

cup

flour, such as white, spelt, or oat

(or here's a low carb fruit crumble)

1

1/4 cup

rolled oats or quick oats

1/4

cup

sugar,

unrefined if desired

8

tbsp

butter or oil
Instructions
Preheat the oven to 375 F. Toss the first three ingredients in a bowl. Spread into an 8 inch pan. (Or double all ingredients for a 9×13 pan.) In a new bowl, combine all remaining ingredients except butter or oil. Cut butter in with a fork or pastry cutter until small crumbles form. (If using oil, just stir it in.) Portion the crumbles evenly over the peaches in the pan. Bake 50 minutes, until golden and bubbly. Serve hot or cold.

View Nutrition Facts
Easy Fruit Dessert Recipes