Spicy, savory, crispy, baked buffalo cauliflower wings – perfect for game day!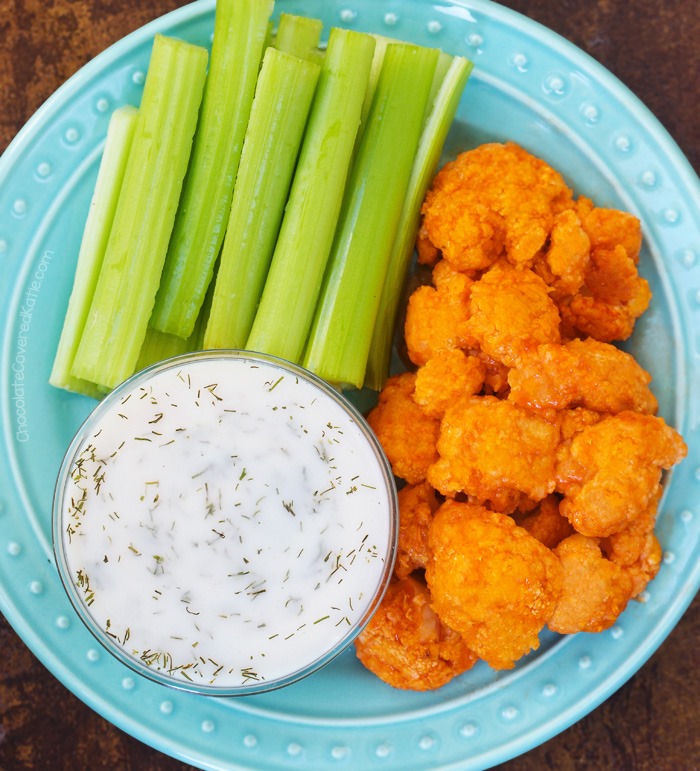 Okay, let's make one thing clear right away.
These cauliflower buffalo wings DO NOT taste ohmigosh just like real buffalo wings.
If you find any recipe that claims cauliflower is going to taste just like meat, run far away. Cauliflower is not meat, cauliflower will never be meat, and cauliflower buffalo wings are never going to fool anyone into thinking they are chicken wings.
End of story.
That being said, these cauliflower wings are delicious in their own right. There's no need to treat them as a substitute for the real thing, because they are the real thing! The completely vegan buffalo wings make a great healthy game-day snack, and they're especially good dipped in ranch dressing.
Even More Recipes -> 12 Healthy Cauliflower Recipes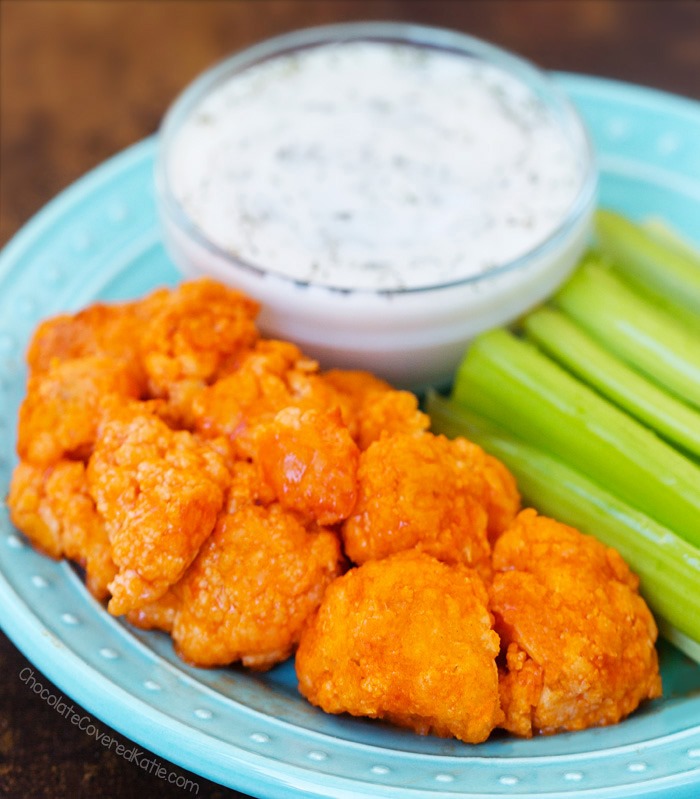 I made the buffalo cauliflower bites last weekend for a football-watching party, to test them out and gauge everyone's reactions.
Being 100% honest: Some people thought the idea was too crazy to try, and one person who did try them fully admitted he didn't like them because they weren't meat. But everyone else—all non-vegetarians in the group—gobbled up the cauliflower wings, and more than one person commented on how they appreciated having a healthy option amidst all of the pizzas, cookies, chips, and beer. A large batch of the cauliflower was completely gone by the end of the night, with multiple requests for the recipe.
Also being 100% honest: The celery was not completely gone by the end of the night.
To this day, I still know of only one person in the world who actually loves raw celery.
(Hi, Dad!)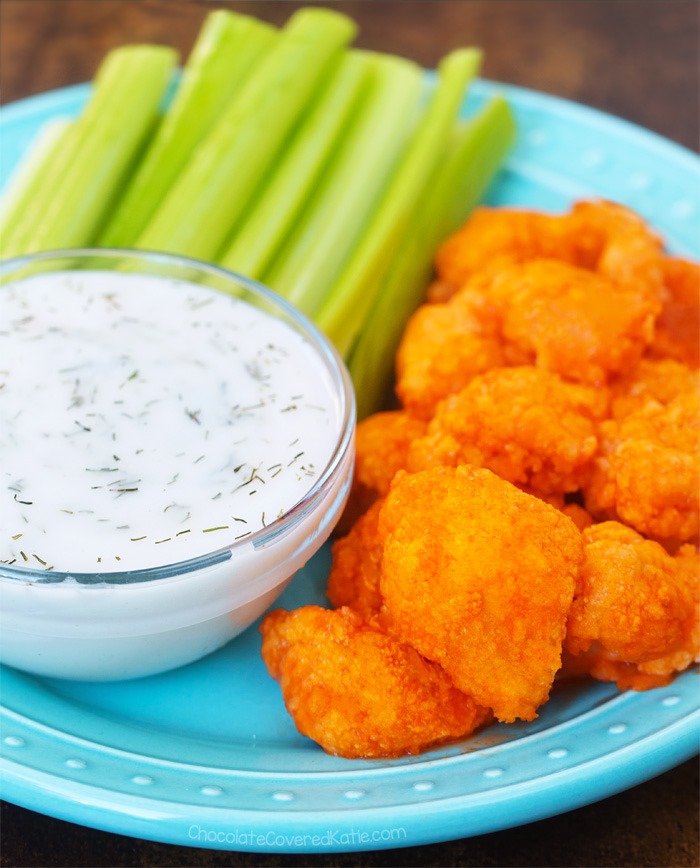 While there are many recipes out there for buffalo cauliflower wings, I decided to come up with my own recipe—adapted from my Shake & Bake Cauliflower—because I already know I love that recipe.
These are spicy, btw!
Just thought I should warn you!


Buffalo Cauliflower Wings
Adapted from Shake & Bake Cauliflower
Buffalo Cauliflower Wings
Print This Recipe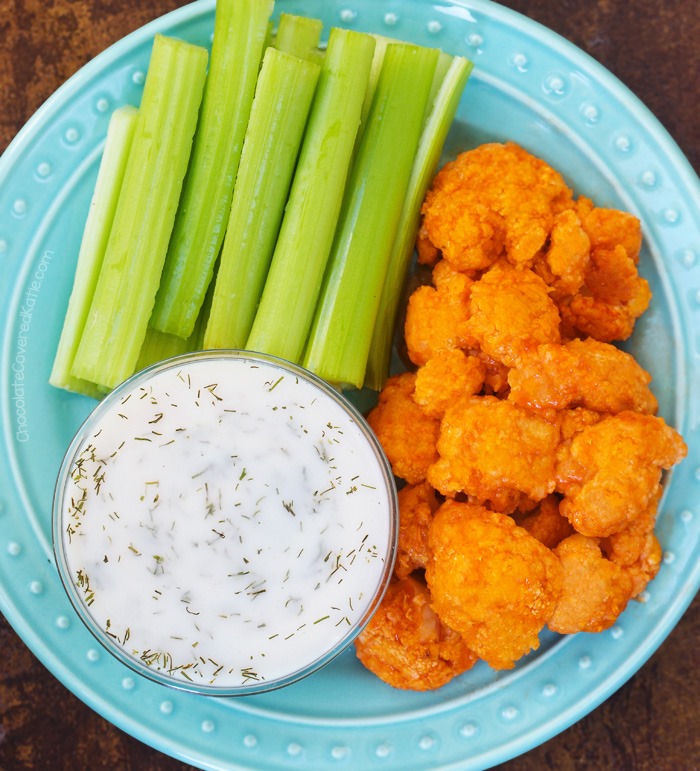 Ingredients
1/2 large head cauliflower, cut into florets
oil spray or oil
1/4 cup flour, or almond meal
1/4 tsp garlic powder
3 tbsp milk of choice
1/2 cup breadcrumbs, or additional almond meal
1/2 cup buffalo sauce or hot sauce
1-2 tsp oil or buttery spread
Instructions
Preheat the oven to 425 F. Line a large baking dish with parchment. Spray the florets with oil spray or toss with a little oil, then place in either a very large bowl or a large ziploc bag. Toss with the flour and garlic powder until evenly coated. Finely crush the breadcrumbs, either in a blender (easiest method) or by placing them in a bag and crushing with a rolling pin or heavy object. Add the milk of choice and then the breadcrumbs to the cauliflower, and toss to coat. Arrange in one layer in the baking pan. Bake on the center rack 25 minutes. Combine the oil or melted butter spread with the buffalo sauce (because the fat helps the sauce adhere to the cauliflower). Drizzle on the cauliflower, then stir to coat all sides. Bake another 15 minutes. After this time, I like to broil for up to 5 minutes, watching so it does not burn. Serve with ranch dressing.
More Cauliflower Recipes: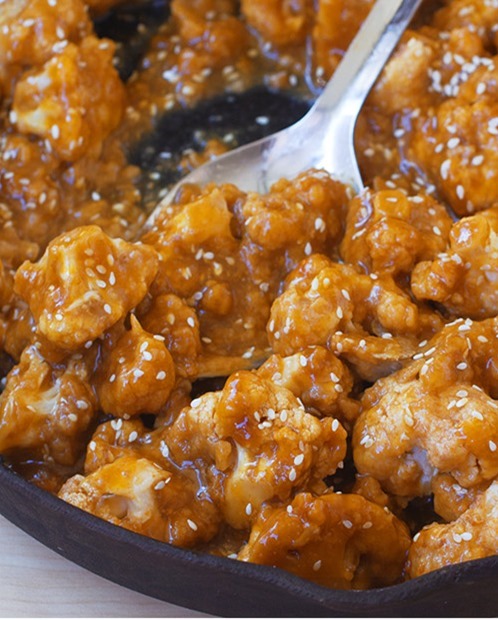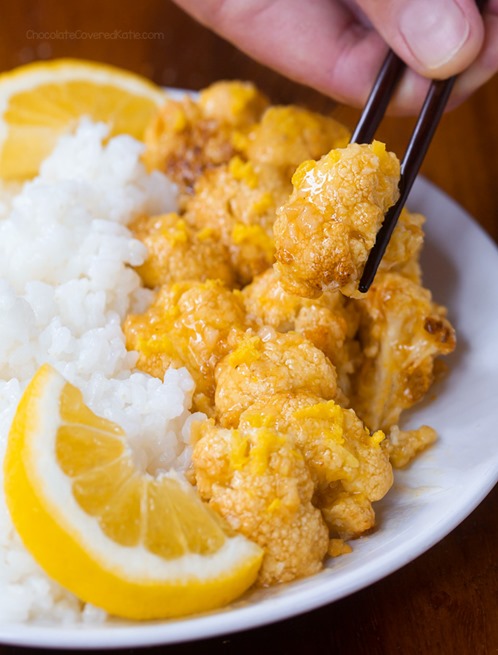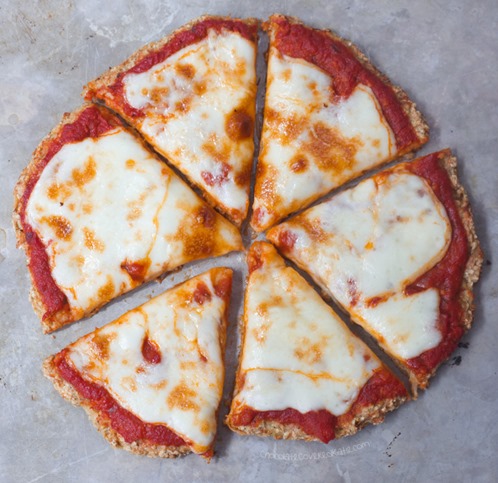 Cauliflower Pizza Crust – 5 Ingredients