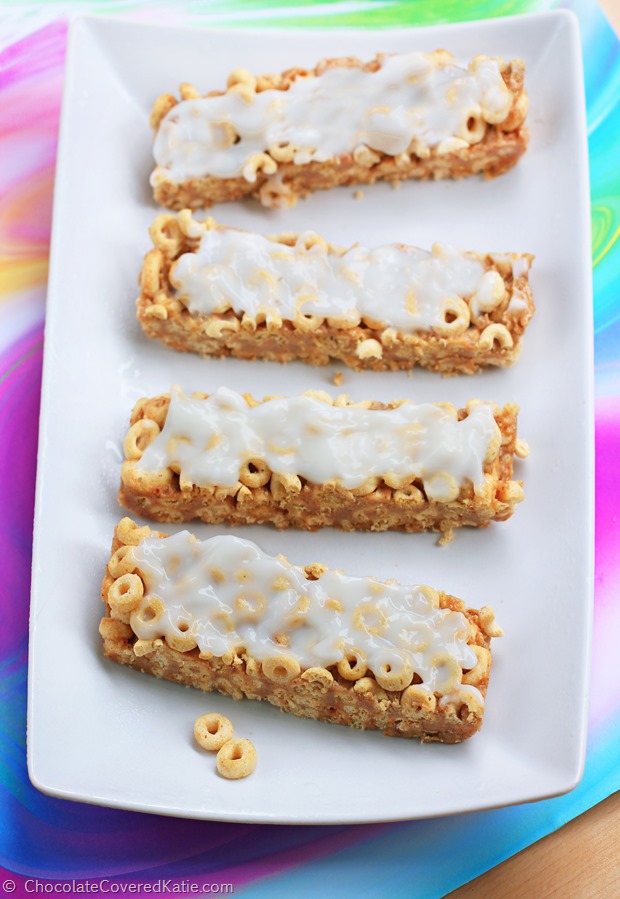 Customizable cereal bars you can make with just 6 ingredients!
Have fun changing up the flavor by using different types of cereal to match whatever you're craving.
I used Whole Foods 365 brand Morning O's this time, and apple cinnamon O's might have to be next! Inspired by the popular General Mills milk 'n cereal bars, this homemade version has a much shorter and cleaner ingredient list. The recipe is adapted from my 5 Ingredient Healthy Rice Crispy Treats.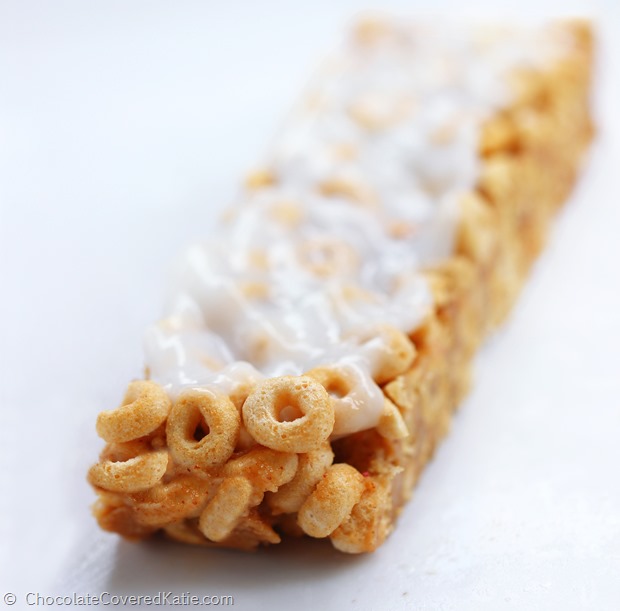 No-bake, healthy, and perfect for breakfast or snacktime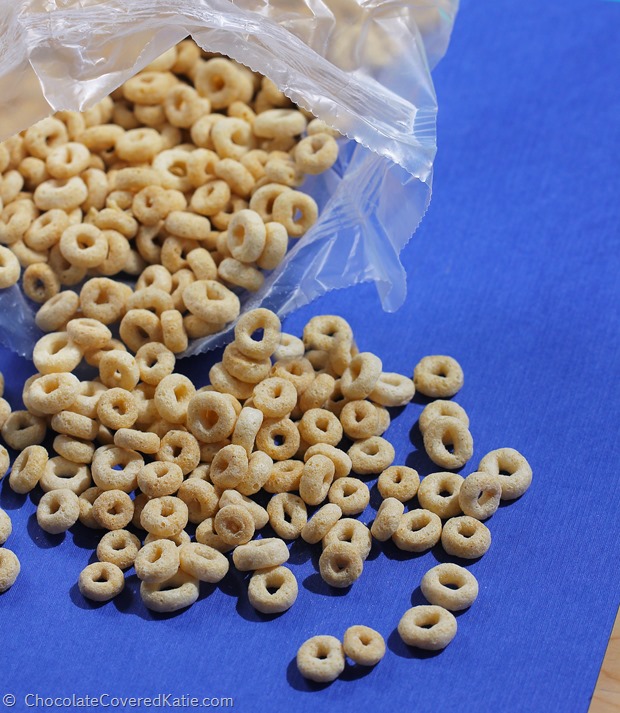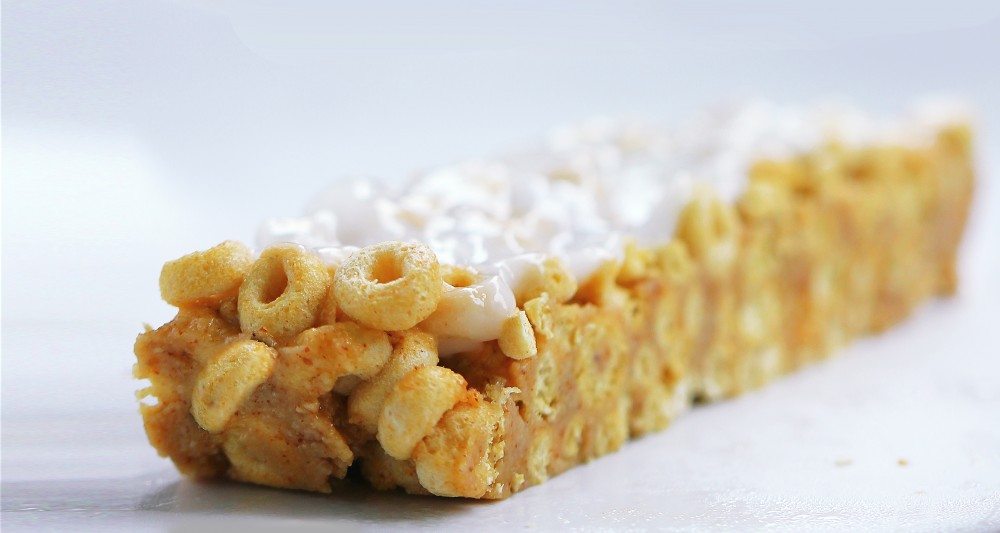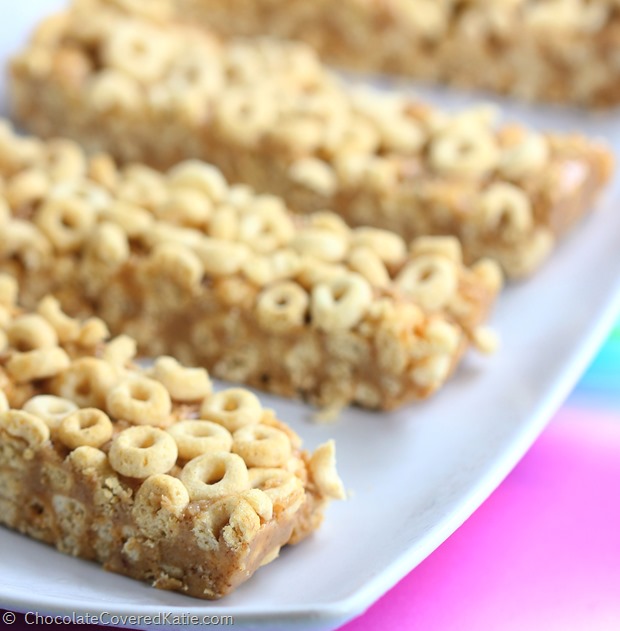 Customizable Cereal Bars
makes 5-6 bars
1 cup Cheerios-type cereal
packed 1/2 cup oat flour (Or put rolled oats in a food processor until they turn into a fine powder. Measure after blending.)
1/4 tsp salt
3 tbsp roasted cashew butter OR allergy-friendly alternative (or nut butter of choice)
5 tbsp agave (Honey will work, but is not for strict vegans.)
1/3 cup Cheerios-type cereal
optional 1/4 yogurt of choice (such as Wholesoy) or coconut butter
Combine the 1 cup cereal, oat flour, and salt in a mixing bowl. In a separate (large) bowl, combine the nut butter (warmed to a stirable consistency if necessary) and sweetener. Pour dry into wet (not the other way around), and stir until even. Line a baking dish or tupperware container with a large piece of wax or parchment paper. The batter will fill a 7×5, or about 2/3 of an 8×8. Pour the batter into the dish. Using a second sheet of parchment, squish down as hard as you possibly can! Use a heavy object to really press it down. Press the remaining 1/3 cup cheerios on top, then stick in the fridge or freezer to harden before cutting into bars. Frost just before serving, or you can opt to leave them plain. Store leftovers in the refrigerator or freezer.
View Milk & Cereal Bars Nutrition Facts
Question of the Day:
What is your favorite breakfast cereal?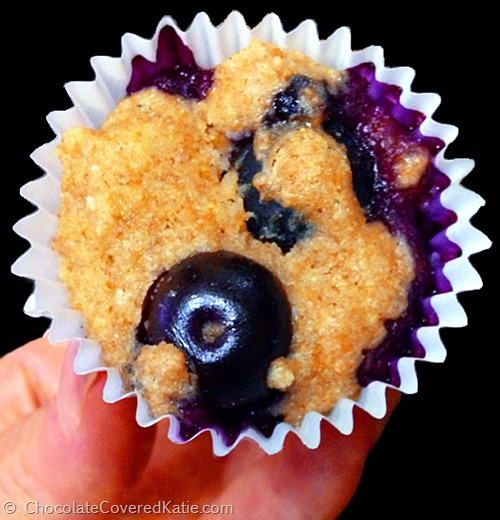 Link of the Day: