With a thick and creamy whipped texture, this rich vegan white chocolate mousse recipe is surprisingly simple to make!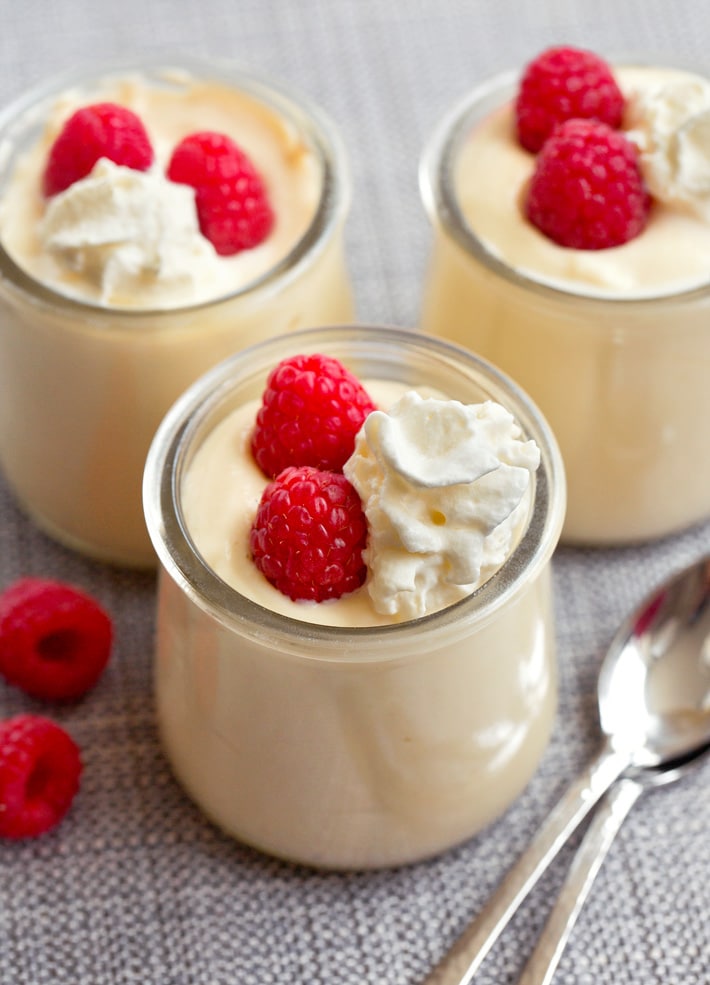 Want a fancy white chocolate dessert, in just five minutes?
Whip up this super easy (three ingredient!) vegan white chocolate mousse, and prepare to be completely amazed at the smooth and fluffy results.
Just one taste, and the velvety texture will immediately win you over!
Also try these Vegan Chocolate Chip Cookies
Watch the white chocolate mousse recipe video above
Five flavor variations
Lemon: Add the zest of one or two lemons along with the other ingredients. You can also add a few drops of lemon extract and a pinch of turmeric for color.
Orange: This is a similar idea to the lemon flavor above. Add one to two teaspoons of orange zest to the blender or food processor.
Peanut Butter: Add three to four tablespoons of peanut butter before blending. Or swap out the white chocolate chips with Peanut Butter Chips.
Cardamom: Blend in a pinch of ground cardamom and the seeds from half a vanilla bean or on fourth teaspoon of pure vanilla extract.
Coconut: Blend a fourth teaspoon of coconut extract into the mousse. Stir in a handful of shredded coconut, or top with toasted coconut and Coconut Whipped Cream.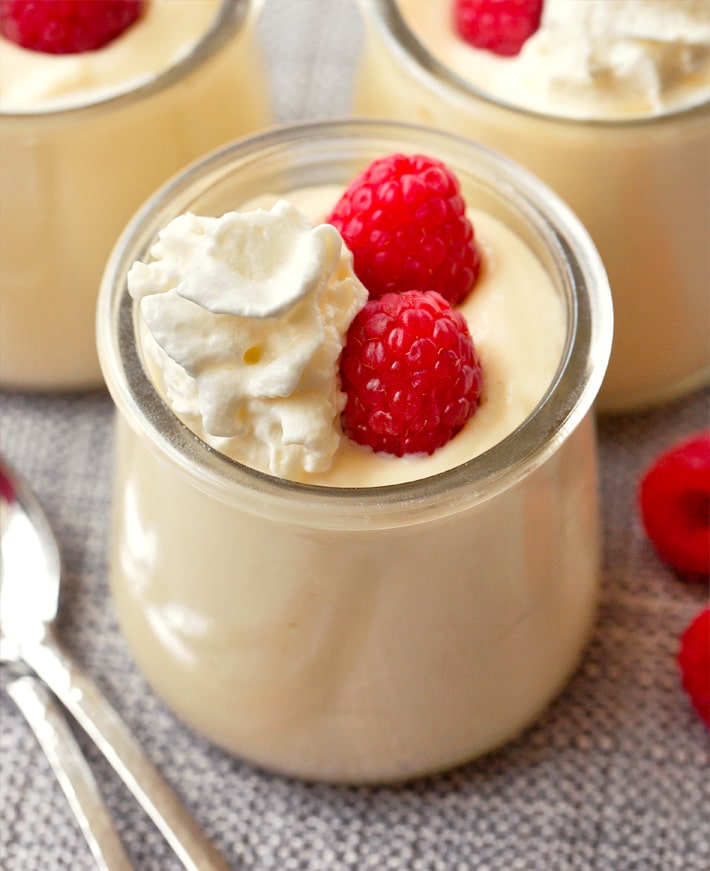 Vegan white chocolate mousse ingredients
For this recipe, you will need vegan white chocolate chips or cacao butter, sweetener of choice, and soft or silken tofu. There are also soy free substitutions listed below.
Pascha and Enjoy Life both make dairy free white chocolate chips. A few other brands, such as Evolved or Milkless, offer vegan white chocolate bars that can easily be broken up to use in place of chips.
Or you can omit the chips entirely and use raw cacao butter instead. Because cacao butter has no sugar, increase the sweetener of choice to taste.
Pretty much any all purpose sweetener is fine, including regular or unrefined sugar (like date or coconut sugar), pure maple syrup or agave, or granulated erythritol or xylitol for sugar free mousse.
Powdered or liquid stevia can also be used if you choose a brand you already know you like. Consult the package to find the amount equivalent in sweetness to one tablespoon of sugar.
Soft tofu is sold in the refrigerated section of many regular grocery stores and health food stores. If you prefer a shelf stable option, any firmness of Mori Nu vacuum packed tofu will also work. For best results, do not use refrigerated firm or extra firm tofu.
The recipe was adapted from my Vegan Chocolate Pie and this Protein Pudding.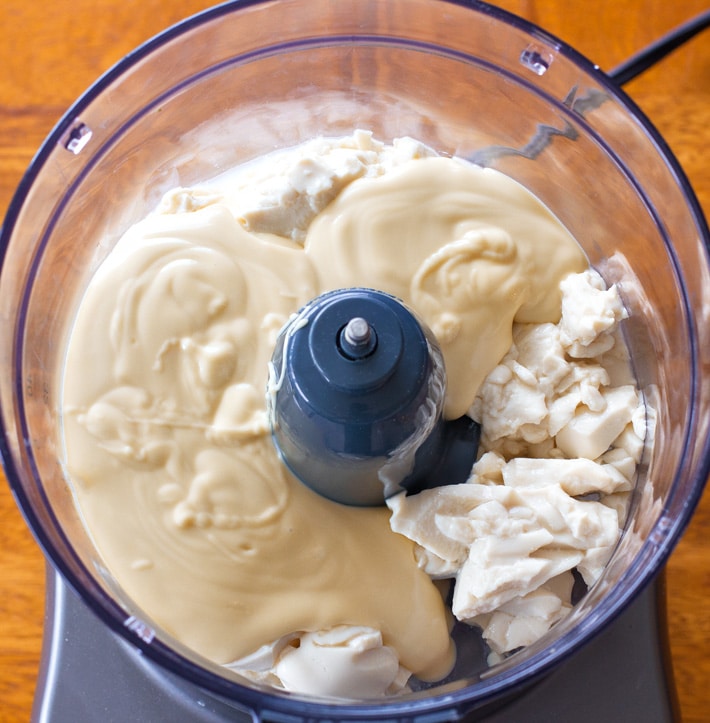 How to make the vegan dessert
Start by very carefully melting the white chocolate or cacao butter, either in the microwave or using the double boiler method on the stovetop.
Drain the tofu, if using, and let your base (tofu, coconut cream, or cream cheese) come to room temperature.
Combine all of the mousse ingredients in a food processor or blender until silky smooth, then pour into ramekins or bowls.
The elegant white chocolate mousse is ready to serve now. Or refrigerate a few hours until cold for a firmer texture.
Garnish with fresh strawberries, raspberries, sliced bananas, shaved white chocolate, crushed Oreos or pistachios, or anything else your heart desires.
Store leftovers in the refrigerator for up to five days. For best texture, I do not recommend freezing this recipe.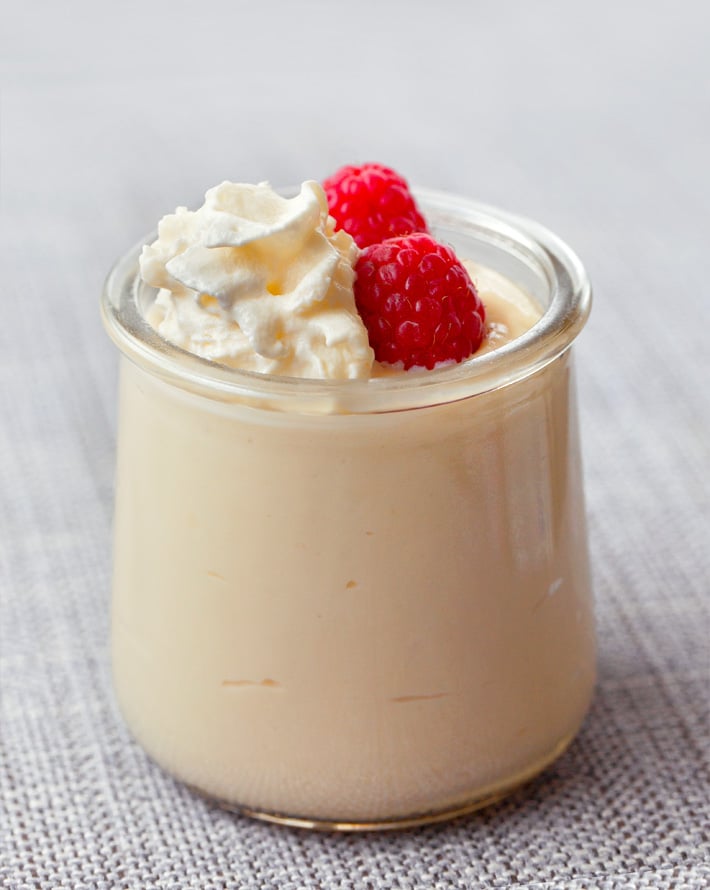 Soy free and keto white chocolate mousse
If you are allergic soy or cannot find silken tofu, feel free to use an equal amount of coconut cream or store bought or homemade vegan cream cheese as a substitute.
You can buy unsweetened canned coconut cream at stores like Whole Foods or Wegmans. Or scoop off the cream from canned coconut milk, discarding the water.
A third option is to use raw cashews. Soak the nuts for about six hours, then drain and pat fully dry. Blend into cream before blending a second time with the melted white chocolate chips and sweetener.
The dairy free white chocolate mousse is already naturally gluten free and eggless, with no heavy cream or butter.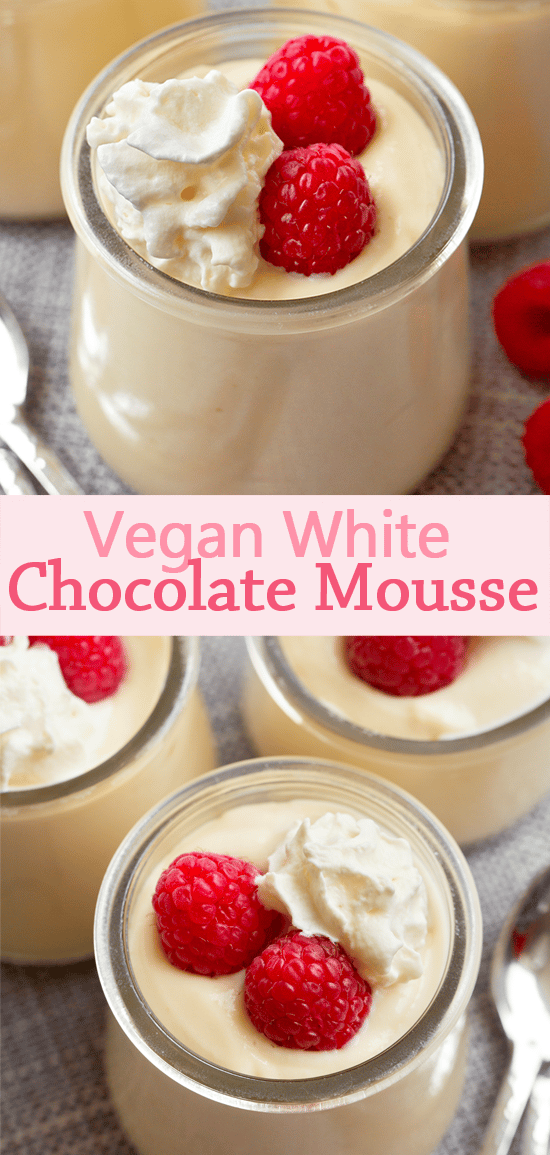 Vegan White Chocolate Mousse
With a smooth and creamy whipped texture, this thick vegan white chocolate mousse recipe is surprisingly simple to make for dessert.
Ingredients
12

oz

soft tofu

(can sub cream cheese or coconut cream)

6

oz

vegan white chocolate chips or cacao butter

1

tbsp

sweetener of choice
Instructions
Carefully melt the white chocolate, either on the stovetop or in the microwave. Drain the tofu or scoop out the cream, and let it come to room temperature. Combine everything in a blender or food processor (I like this food processor) until smooth. (If using cacao butter instead of white chocolate chips, add more sweetener of choice to taste.) Pour into cups or ramekins. Enjoy now, or refrigerate until cold for a firmer texture. Store leftovers in the refrigerator for up to five days.View Nutrition Facts
More Vegan Mousse Ideas