This homemade crustless sweet potato pie recipe is so rich, smooth, and delicious, you'll never miss the crust!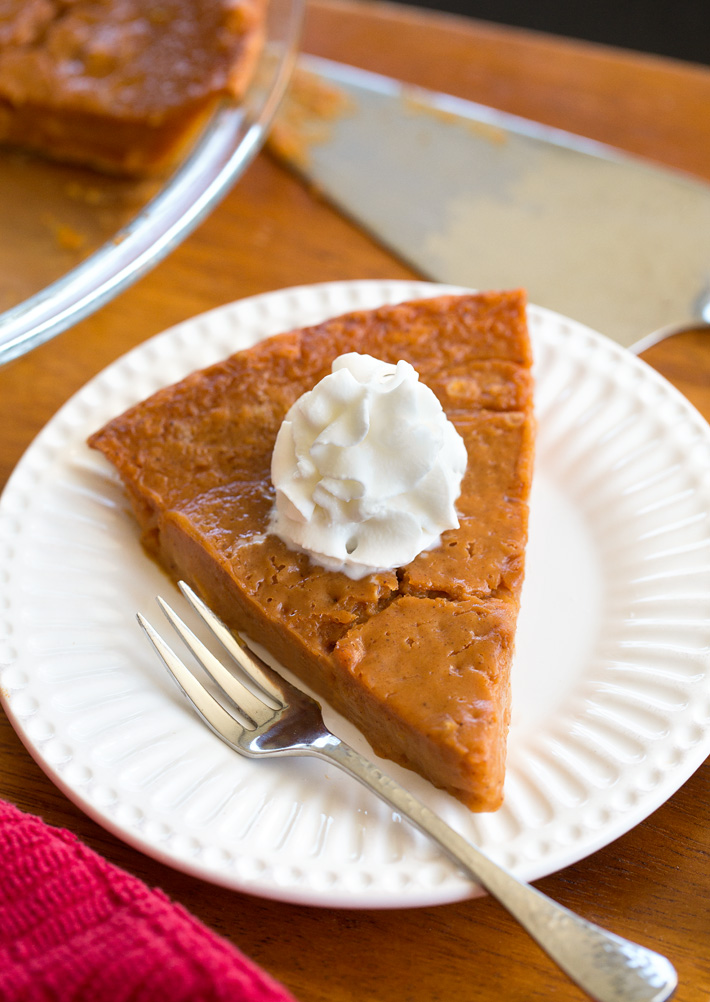 Healthy crustless sweet potato pie
If sweet potatoes are one of your favorite foods, this is the recipe for you.
One bite, and you will forget all about pumpkin pie.
With creamy sweet potato filling and no crust required, it is everything you could ever want in a classic sweet potato pie.
Low fat, packed with vitamin A, and with under 100 calories per slice, this is one of the healthiest Thanksgiving or holiday desserts you will ever find!
Readers also love these Sweet Potato Brownies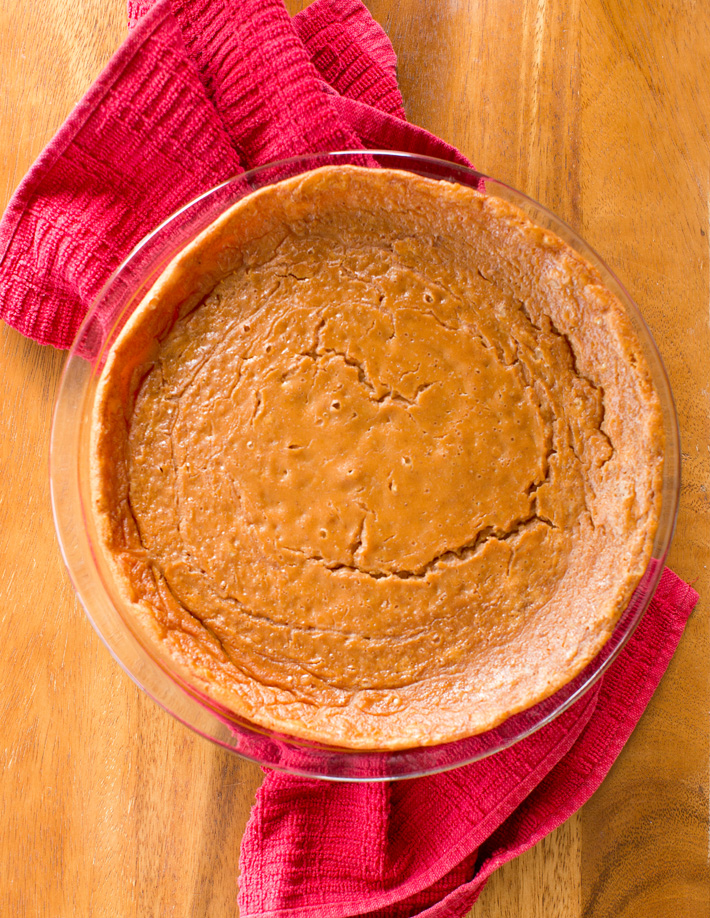 Easy crustless sweet potato pie ingredients
To make the recipe, you need sweet potato puree, cinnamon, pumpkin pie spice, milk of choice, egg or cornstarch, sugar or a no sugar sweetener, baking powder, flour or almond flour, salt, and pure vanilla extract.
For a sugar free sweet potato pie, either xylitol or granulated erythritol or a monk fruit blend will work. Almond meal can be substituted for the flour.
Coconut flour can be used instead. The pie will need a much smaller amount of flour than what is called for below, since coconut flour soaks up liquid like a sponge.
The low calorie pie is easy to slice if you include the cornstarch or egg (or a flax egg). If you will be serving it in bowls instead of on plates, feel free to make it both egg free and cornstarch free by simply omitting these ingredients entirely.
For a vegan crustless sweet potato pie, choose your favorite plant based and dairy free milk of choice. Almond milk, oat milk, soy milk, and coconut milk are great choices. There are no eggs, no heavy cream, and no dairy required for the recipe.
Leftover sweet potato? Make Vegan Sweet Potato Casserole
Step by step recipe video
Watch the crustless sweet potato pie recipe video – above
Vegan and gluten free options
With no sweetened condensed milk or evaporated milk, the recipe can easily be vegan if you use cornstarch or flax eggs instead of eggs.
For the milk of choice, any dairy free, plant based milk will work, including almond milk, cashew milk, soy milk, oat milk, or canned coconut milk.
To make an old fashioned gluten free sweet potato pie, use almond flour or sorghum flour. While coconut flour works, you will need to use less, because this grain free flour alternative soaks up liquid like a sponge.
The recipe can also be oil free, nut free, nondairy, and saturated fat free.
While the pie can be made with no sugar added, keto diets do not include sweet potatoes. So if you are looking for a low carb and keto crustless pie for the holidays, I recommend the crustless pumpkin pie in the notes below.
You might also like these Applesauce Muffins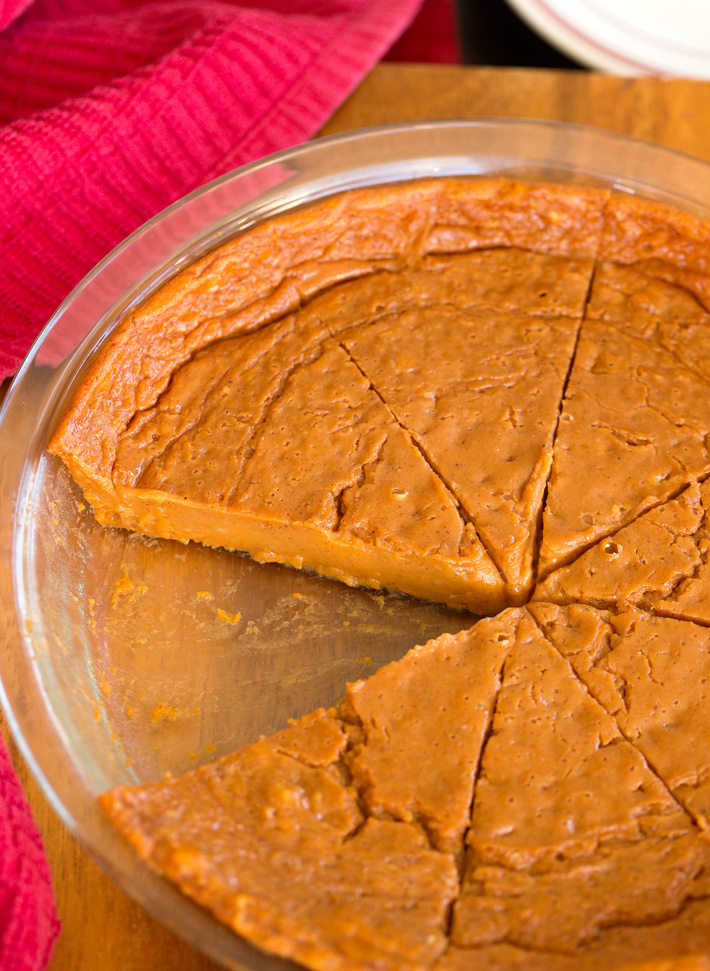 How to make sweet potato pie without crust
Preheat the oven to 400 degrees Fahrenheit. Grease a nine inch round pie pan, then set this baking pan aside.
In a large mixing bowl, whisk together the sweet potato puree, milk of choice, pure vanilla extract, and optional egg and oil. No blender is required.
Add the cinnamon, pumpkin spice, salt, baking powder, flour, and sugar or sugar free sweetener. If using cornstarch, stir it in now as well.
To save time, you can mix together the dry ingredients the night before if you prefer. Or mix them together days or even weeks before, and store the dry pie mix ingredients in a large sealed bag until ready to use.
Once everything is mixed together, pour the sweet potato pie filling into the prepared pan. Bake on the center rack of the oven for thirty five minutes.
The pie should look undercooked when you remove it from the hot oven. Let it cool fully, then transfer the pan to the refrigerator. For best results, leave uncovered for at least six hours or overnight, during which time it will firm up considerably.
Once the crustless sweet potato pie is set with a firm texture, slice and enjoy.
While the oven is hot, try Baked Apple Cider Donuts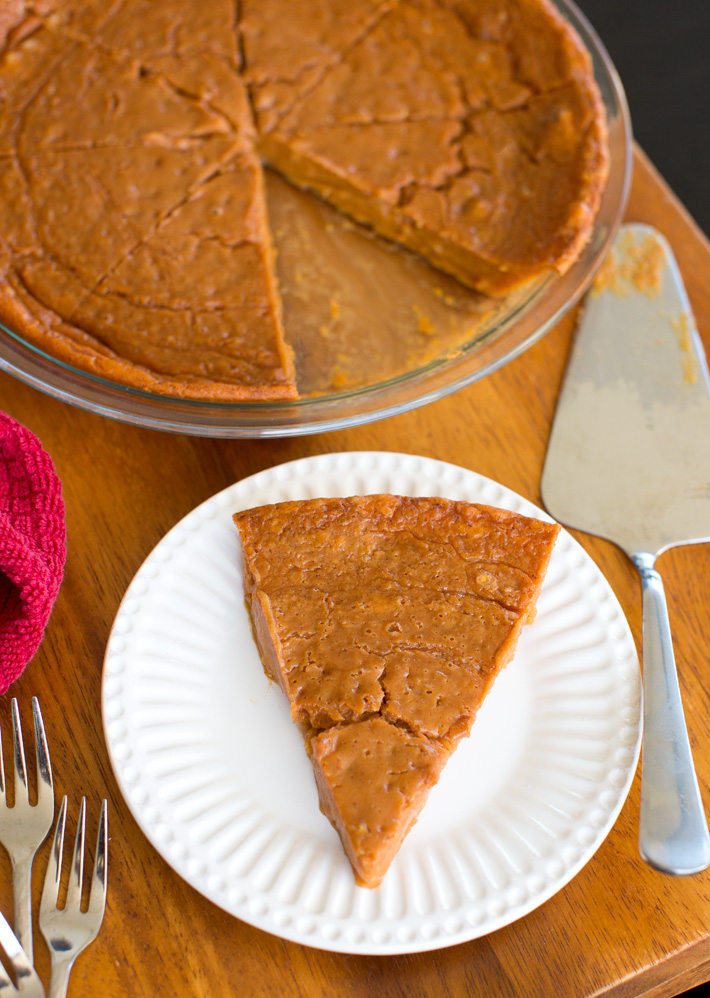 Serving and storage suggestions
This pie is wonderful on its own or topped with marshmallow fluff, roasted pecans, oatmeal streusel, candied walnuts, or caramel sauce.
Or top each slice with Coconut Whipped Cream or Coconut Ice Cream.
After a day, refrigerate leftovers in a container or covered with saran wrap or aluminum foil. The pie should stay good in the fridge for up to five days.
Or store it in an airtight container in the freezer for two to three months. Thaw overnight in the refrigerator, and serve either cold or warmed up.
The recipe is so healthy that you can easily eat it for breakfast, snack, or dessert.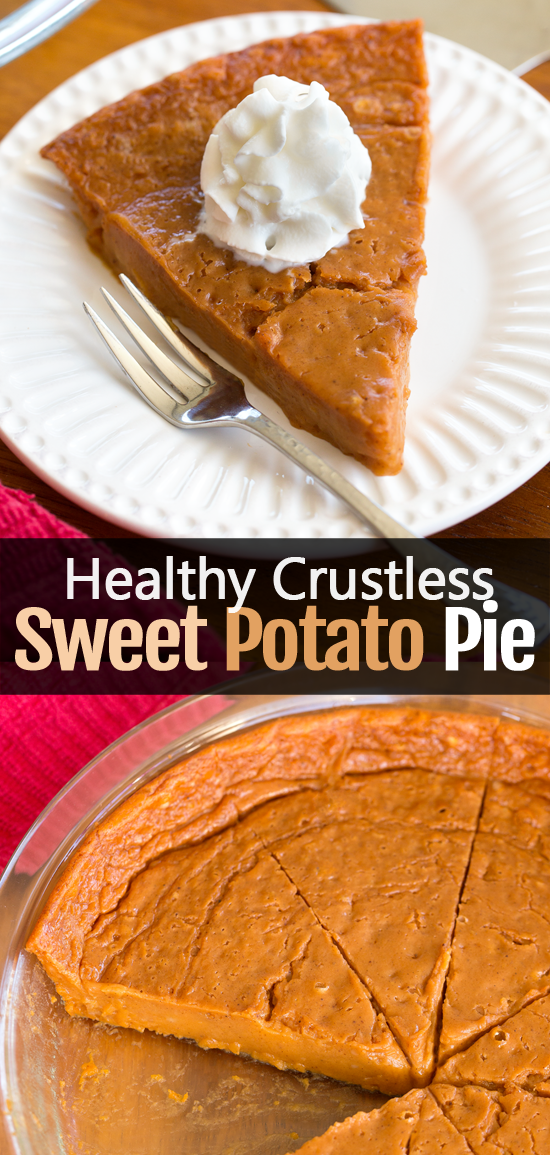 The pie was inspired by this Healthy Pumpkin Pie and my Vegan Pumpkin Pie.
Crustless Sweet Potato Pie
This homemade crustless sweet potato pie recipe is rich, smooth, and delicious. You'll never miss the crust.
Ingredients
Instructions
Preheat the oven to 400 F. Grease a 9-inch round pan. In a large bowl, whisk all ingredients well. Pour into the pan. Bake 35 minutes. It will be gooey after baking. Allow to cool completely before transferring uncovered to the fridge to "set" for at least 6 hours, during which time it will firm up. Slice and enjoy.View Nutrition Facts
More Thanksgiving Desserts