You will instantly fall in love with this delicious recipe for soft, fluffy, and secretly healthy protein muffins!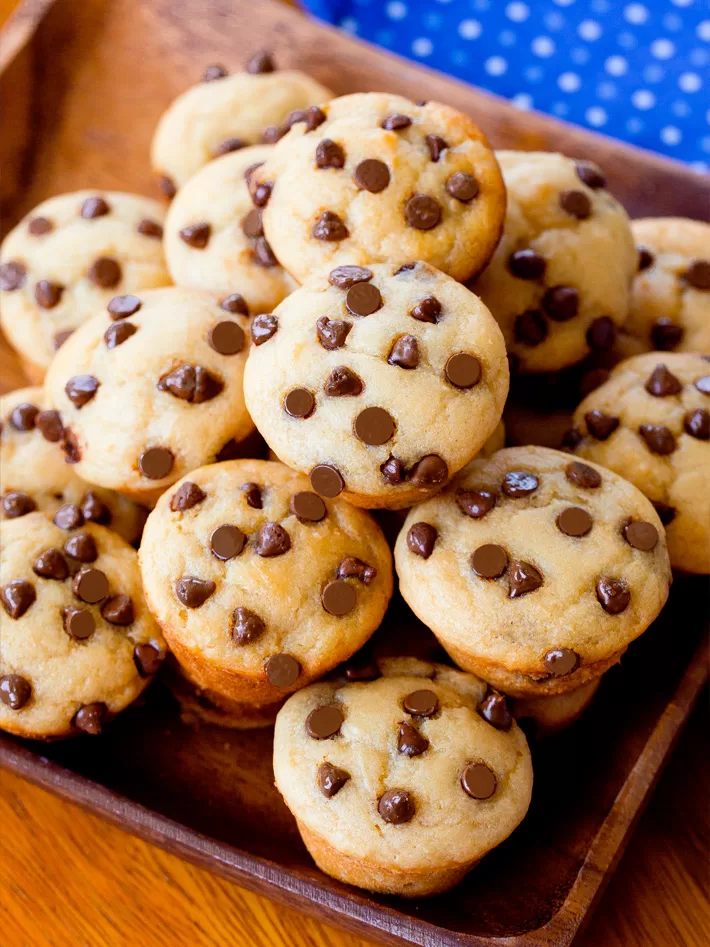 The best protein muffins
If you're looking for a nutritious breakfast or healthy snack, be sure to give this super easy protein muffin recipe a try.
The muffins are just 100 calories, with over 10 GRAMS of protein each!
One pillow soft bite, and it's almost impossible to believe the stellar nutrition facts. They taste like real bakery style muffins yet are secretly healthy at the same time.
The recipe can be whole grain, vegan, gluten free, added sugar free, egg free, oil free, low fat, and low calorie, with no banana required.
Also make these Healthy Blueberry Muffins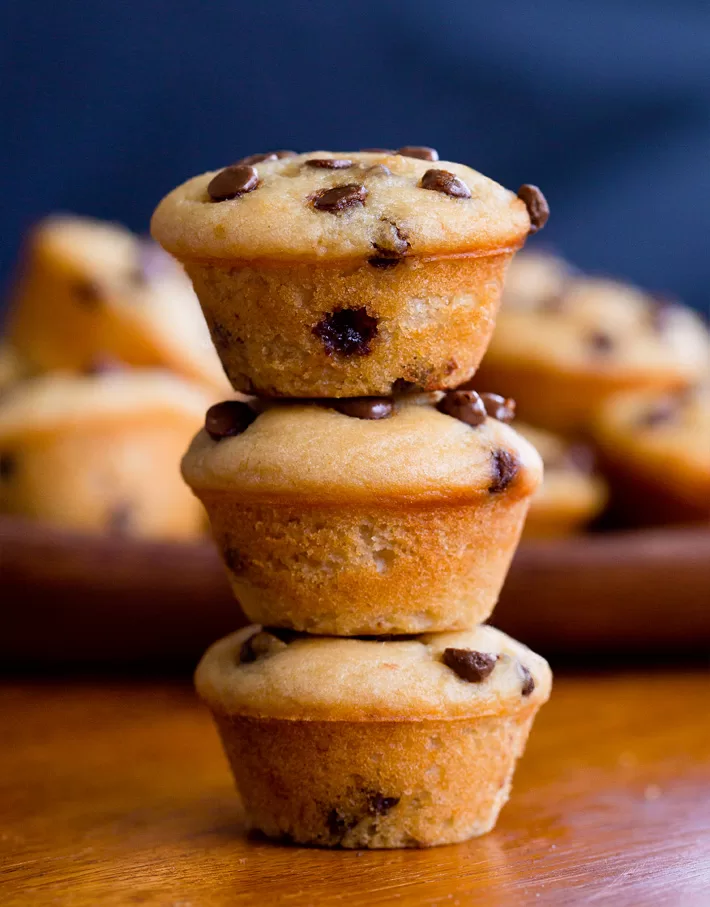 High Protein Muffin Flavors
Chocolate Protein Muffins: Use your favorite chocolate protein powder. For double chocolate muffins, add a handful of regular or mini chocolate chips.
Protein Pumpkin Muffins: Instead of yogurt, use canned pumpkin puree. Increase cinnamon to two teaspoons and add a half teaspoon of pumpkin pie spice as well.
Nutella Protein Muffins: Swap the oil for this Homemade Nutella Recipe or for store bought chocolate hazelnut butter. Stir in a fourth cup of finely chopped hazelnuts.
Blueberry Protein Muffins: Use blueberry flavored yogurt, and place a few blueberries into each muffin top just before baking. This same method can be used to make raspberry, blackberry, cherry, or strawberry muffins.
High Protein Lemon Muffins: Go with a lemon flavored yogurt, and stir the zest of one lemon into the batter when you add the liquid ingredients.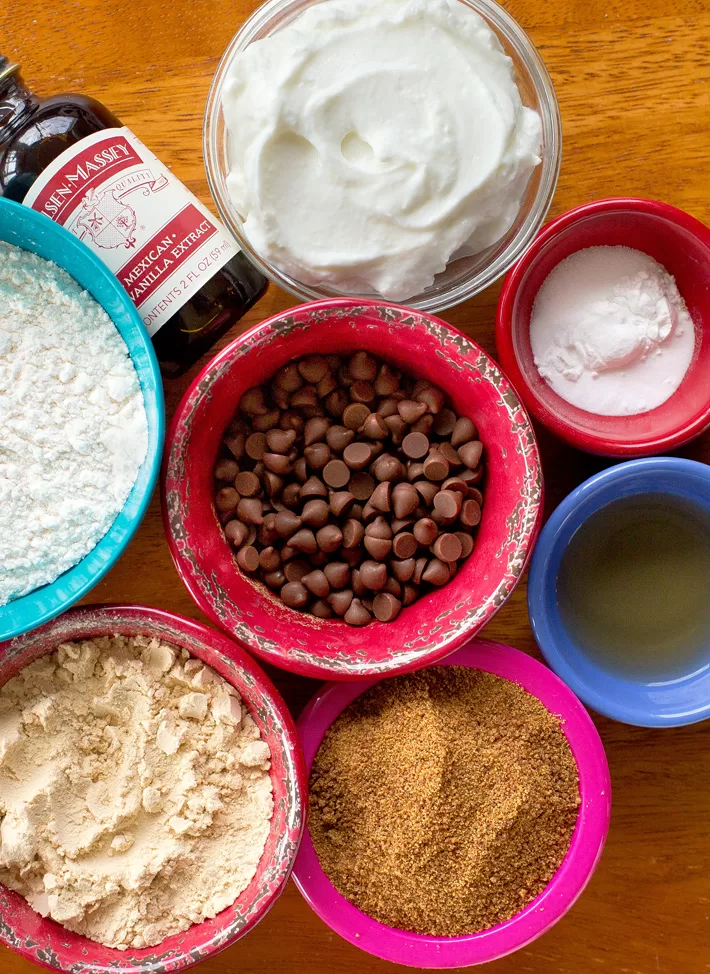 Healthy protein muffin ingredients
You will need flour, protein powder, sugar or granulated sweetener, ground cinnamon, baking powder, baking soda, salt, yogurt, water, pure vanilla extract, white or apple cider vinegar, optional egg whites, and optional oil or nut butter.
Types of flour that work include oat flour, white flour, some brands of gluten free all purpose flour, and spelt flour (my personal favorite).
We cannot vouch for whole wheat flour, pastry flour, chickpea flour, almond flour, or coconut flour. If you are looking for low carb muffins, try these Keto Muffins.
Pretty much any all purpose granulated sweetener will do well, including regular sugar, brown sugar, coconut sugar, or date sugar. We have not tried a liquid sweetener like honey or pure maple syrup. Be sure to report back with results if you try.
For protein muffins with no sugar added, use xylitol or granulated erythritol.
Step by step recipe video
Watch the protein muffin recipe video above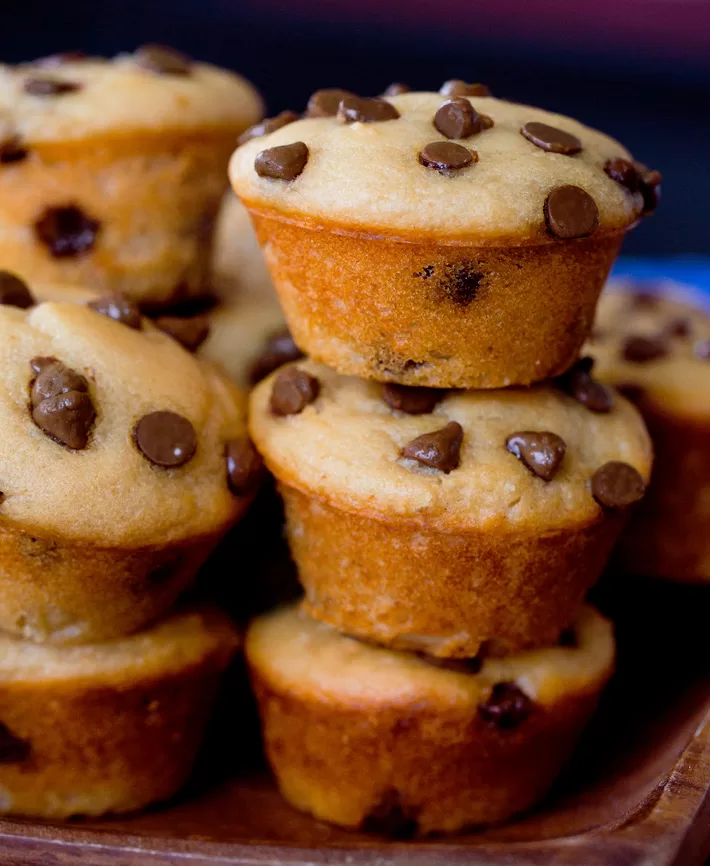 Vegan protein muffins
For dairy free protein muffins with no eggs, simply increase the water to half a cup instead of adding egg whites.
You can use a non dairy yogurt, such as coconutmilk yogurt or soy yogurt.
Or replace the yogurt with an equal amount of pumpkin or sweet potato puree, unsweetened applesauce, or mashed banana. Only if using mashed banana, it is fine to decrease the sugar in the recipe to a third cup.
Vegan guests will also love these Vegan Brownies or Vegan Chocolate Chip Cookies.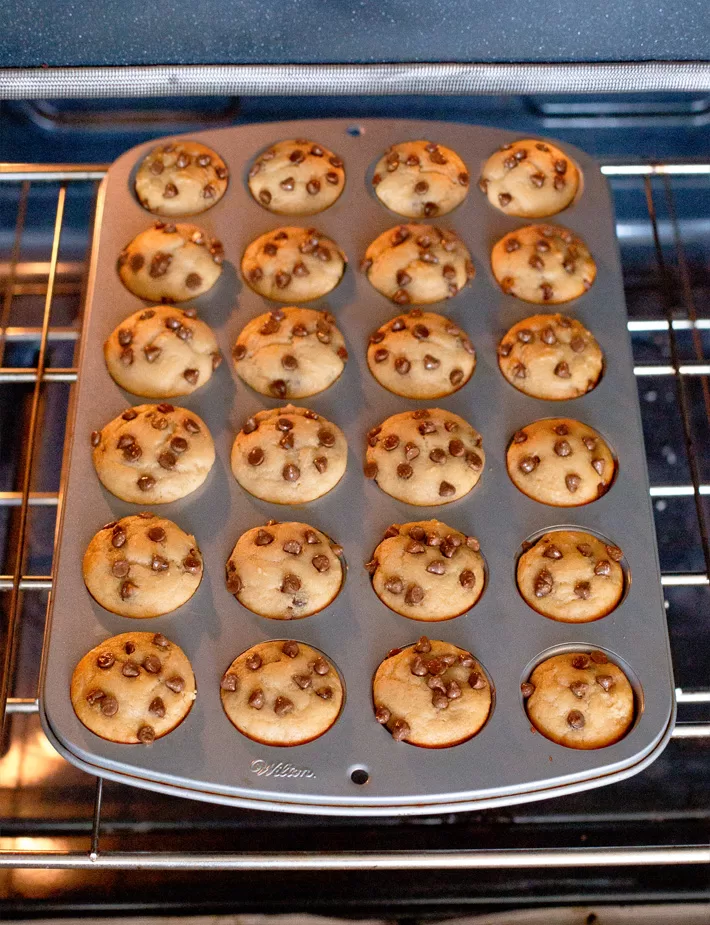 How to make protein muffins
Gather all ingredients, and preheat the oven to 350 degrees Fahrenheit.
Line each cup of a muffin tin with cupcake liners, or grease the cups with oil spray.
In a large mixing bowl, whisk together the yogurt, water, pure vanilla extract, vinegar, and optional eggs and oil or nut butter.
To save time, you can combine the dry ingredients weeks, or even months, in advance if you wish. Store this homemade protein muffin mix in a large sealed Ziploc bag or container until ready to use.
Stir the flour, protein powder, dry sweetener, cinnamon, baking soda, salt, and baking powder into the mixing bowl. If adding chocolate chips, mix them in here as well.
Only stir until just evenly mixed. This will prevent the muffins from becoming tough, dense, and overly chewy once baked.
Scoop muffin batter into the prepared cups, dividing the batter evenly among the cups. It should fill around two thirds of each lined cup.
Bake the muffin pan on the oven's center rack for nineteen minutes. Check for doneness by inserting a toothpick into the center of a muffin. If they are done, it should come out mostly clean.
Allow the pan to cool for ten minutes or so. Then remove the muffins.
What protein powder to use?
Use a brand and flavor of protein powder that you know you like.
I recommend unsweetened protein powder when baking, because it allows you to control the sweetness of recipes and avoid an artificial aftertaste.
However, feel free to experiment with other flavors, such as birthday cake batter, vanilla, caramel, coffee, or cookies and cream.
I often choose unflavored pea protein powder for these muffins. They will work with other forms of protein as well.
Grocery stores and health food stores should sell numerous types of protein powders, including whey protein, soy protein, brown rice, egg, hemp, casein, collagen, and pumpkin seed protein.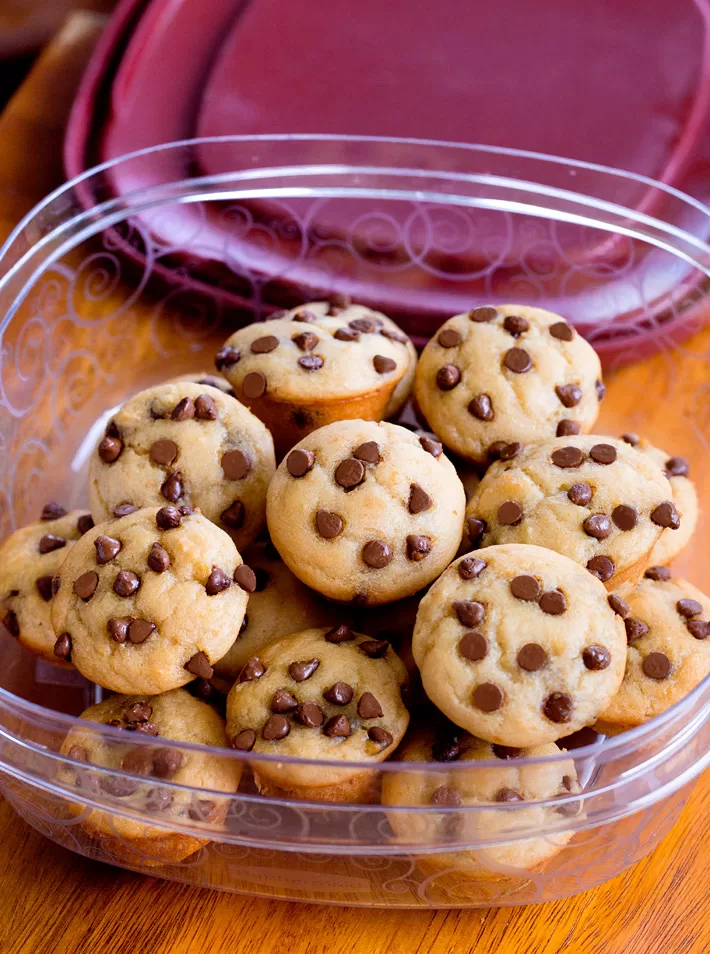 Making protein mini muffins
If you prefer mini muffins to larger ones, grease or line a mini muffin pan.
Decrease the baking time to just twelve minutes.
This protein muffin recipe will yield around 20-22 mini protein muffins of a similar size to the ones in the video and photos here.
Recipe storage tips
I've found that if you let the muffins sit on the counter or in the refrigerator, loosely covered with cloth or paper towels, the liners peel off easily by the next day.
This works for the version with no oil as well.
After a day, store leftover protein muffins in an airtight container in the refrigerator for up to five days. Or freeze the muffins for up to three months.
If you'd like to reheat leftover muffins, first slice them in half and add butter, honey, agave, or a spread of choice. Toast in a regular or toaster oven.
Gram measurements for protein muffins
If you prefer to bake with a food scale instead of the cups and measuring spoons listed further below, here are the amounts to measure:
60 grams flour, 60 grams protein powder, 100 grams dry sweetener, 120 grams yogurt, 60 grams water, 60 grams egg or additional water, 36 grams oil or additional water, and 12 grams pure vanilla extract.
(If omitting the egg whites and oil, you will simply use 156 grams of water.)
Also be sure to include the baking powder, baking soda, salt, and cinnamon.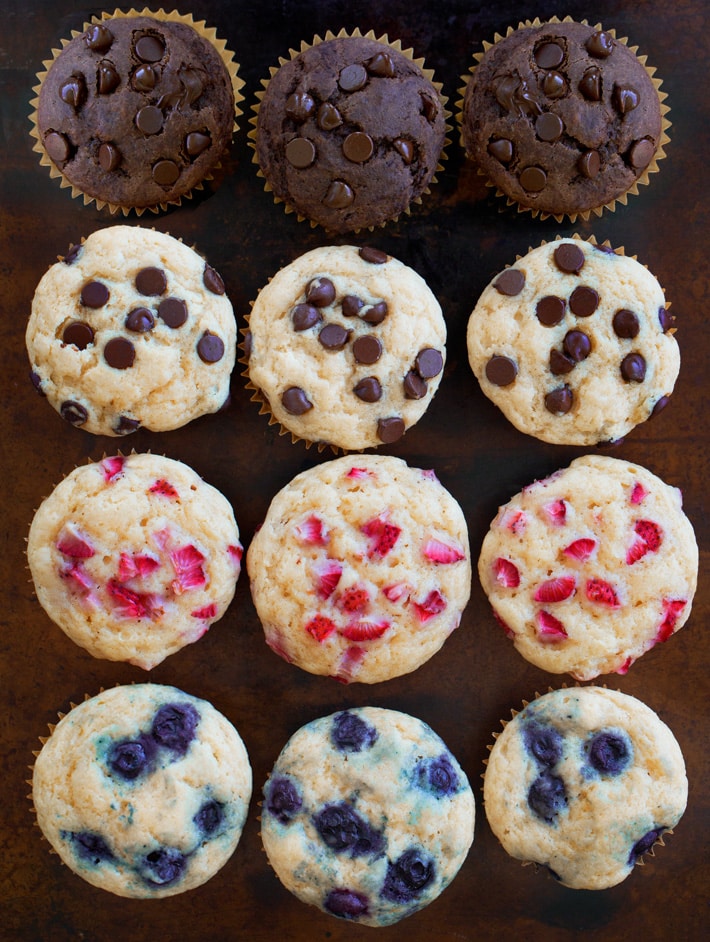 Other healthy muffins
Healthy Muffins (15 flavors)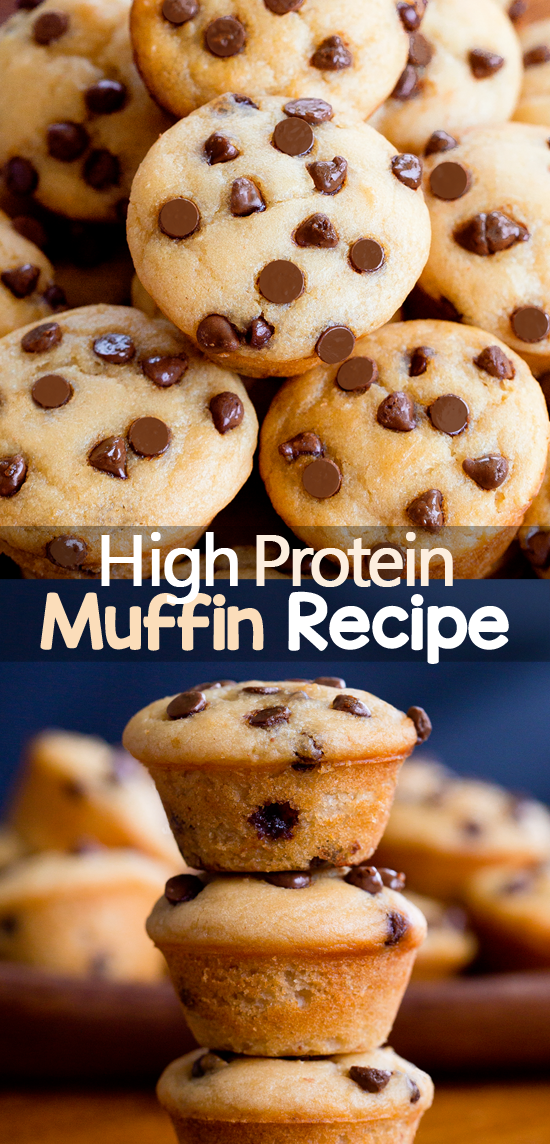 Protein Muffins
These soft and fluffy healthy protein muffins are a nutritious breakfast or snack recipe.
Ingredients
1/2

cup

yogurt

(use nondairy for vegan)

1/4

cup

water

1/4

cup

egg whites

or additional water

3

tbsp

oil,

nut butter, or additional water

1

tsp

pure vanilla extract

2

1/2 tsp

white or cider vinegar

2/3

cup

flour

1/2

cup

protein powder

1/2

cup

sugar,

unrefined or xylitol if desired

1/2

tsp

cinnamon

1/2

tsp

each: baking powder, baking soda, and salt

optional chocolate chips
Instructions
Preheat the oven to 350 F. Grease or line a muffin tin. Whisk the wet ingredients in a bowl. Stir in remaining ingredients just until evenly mixed. Pour into the muffin tins. Bake 19 minutes. The protein muffins should look domed when you take them out. Allow to cool before removing from the tins. If you let them sit loosely covered overnight, the liners peel off easily by the next day.

*If you prefer to make mini muffins like the ones in the photos and recipe video, decrease baking time to 12 minutes. It will yield 22 mini muffins.

View Nutrition Facts
More Recipes With Protein Powder