How to make the best easy vegan cake from scratch, with absolutely NO eggs, no milk, and no butter!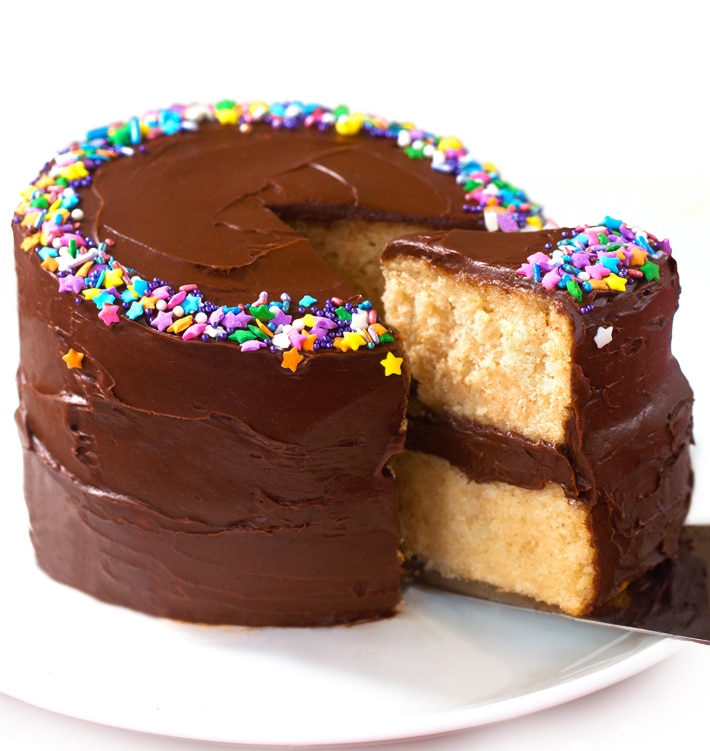 This is my go-to vegan vanilla cake recipe.
It's a perfect choice for holidays, birthday parties, or any occasion at all.
Just one taste of the ultra soft and fluffy homemade cake, and you will never go back to boxed cake mix ever again.
The recipe can hold its own against any classic nonvegan vanilla cake, because it's made with only traditional ingredients – no chia or flax eggs, no tofu, no beans or chickpeas, and no fancy expensive flours.
Also try these Vegan Chocolate Chip Cookies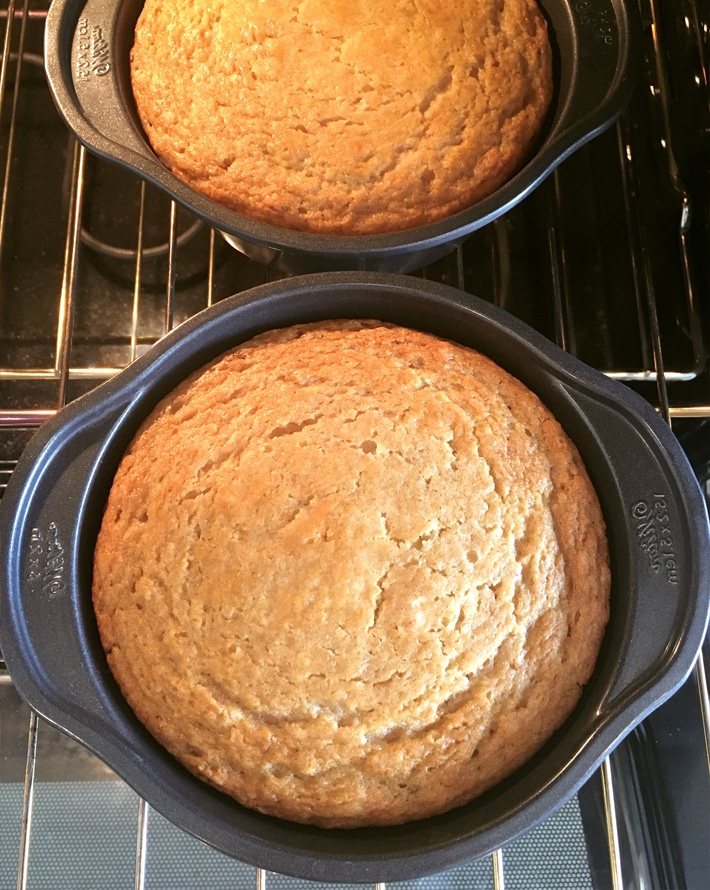 Not only is it easy to make a cake without any eggs or milk, vegan birthday cake can taste so light, fluffy, and delicious that you might even find yourself choosing this vegan recipe as your new go-to cake recipe…
Even if you're not a vegan!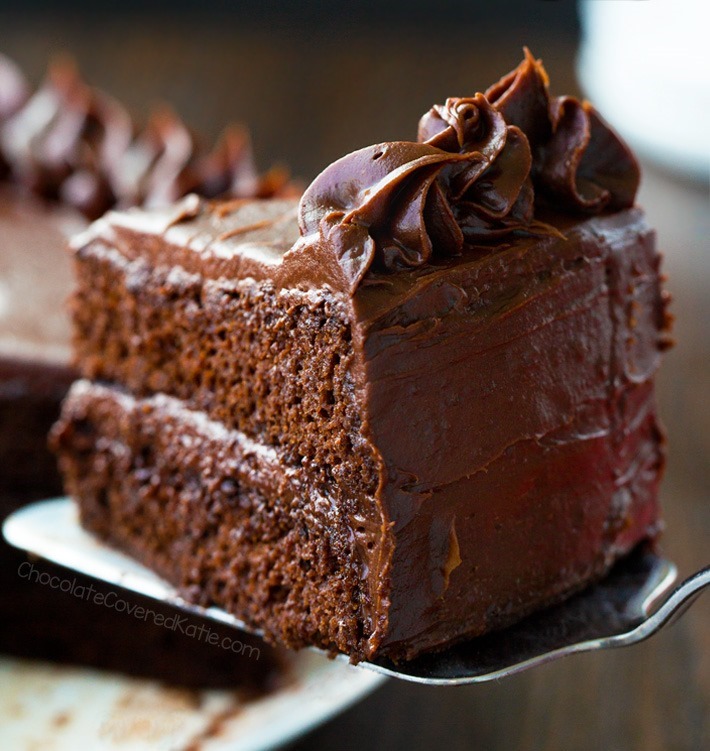 Vegan Cake Recipes
You can also add 1/2 cup of sprinkles to the basic cake recipe below for a kid friendly rainbow vegan funfetti cake.
Or stir 1 tsp of coconut extract and a handful of shredded coconut into the batter, then frost with coconut icing for a vegan coconut cake.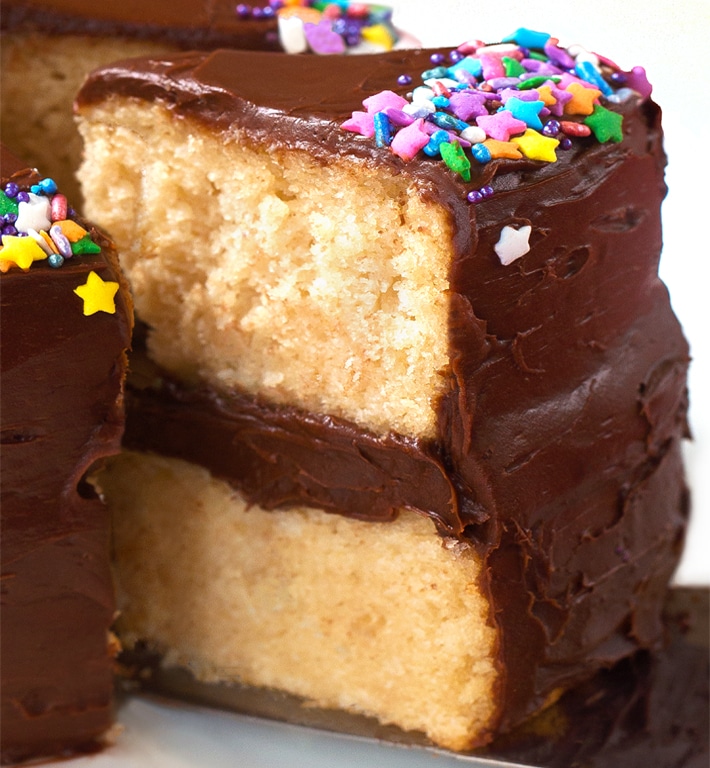 How to make vegan cake
Start by gathering all of the ingredients.
Preheat your oven to 350 degrees Fahrenheit, and grease two 8-inch pans or one 9×13 pan, then set the pans aside while you make the batter.
Combine the nondairy milk, vinegar, oil, and pure vanilla extract in a large mixing bowl, and let this sit for at least ten minutes.
Stir together the flour, sugar, salt, and baking powder in a new bowl. (For a one bowl cake, you can add the dry ingredients to the first bowl if you prefer. Just be sure to do this after letting the liquid mixture sit.)
Pour dry into wet, and stir just until evenly mixed. Overmixing cakes can activate the gluten too much and thus result in tough or chewy baked goods.
Transfer the batter to the prepared pan or pans, and bake on the oven's center rack for 30 minutes or until the cakes have risen and a toothpick inserted into the center comes out mostly clean.
You may also like this Vegan Pizza – just 4 ingredients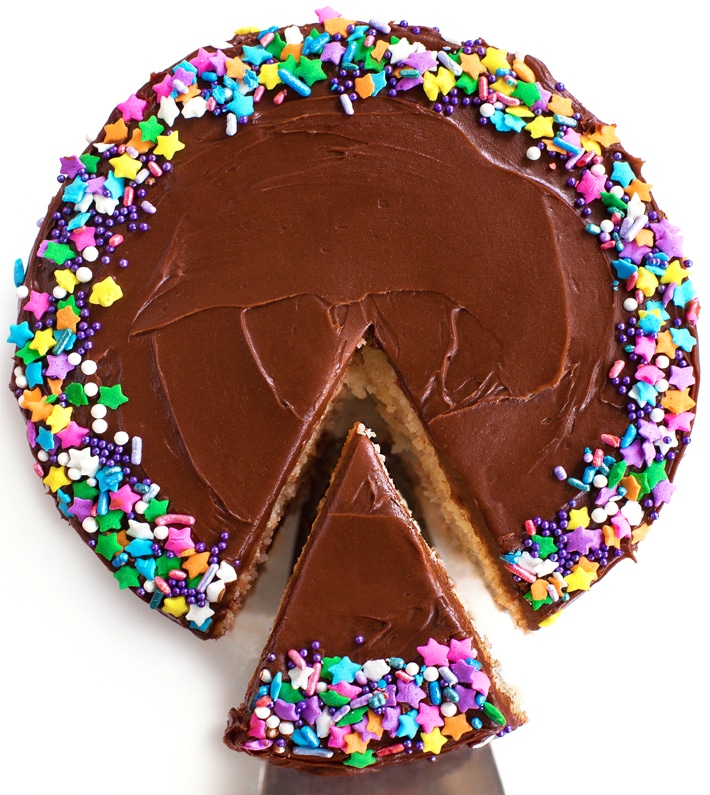 Eggless Cake
Even if you're not a vegan, knowing how to make a cake without eggs is a good idea for so many reasons:
If you need to make dessert but don't have any eggs on hand.
When you're baking for a friend or family member with an egg allergy or someone who's watching their cholesterol.
For those times when you want to bake a cake and eat spoonfuls of the cake batter as you work.
After all, who doesn't love cake batter?!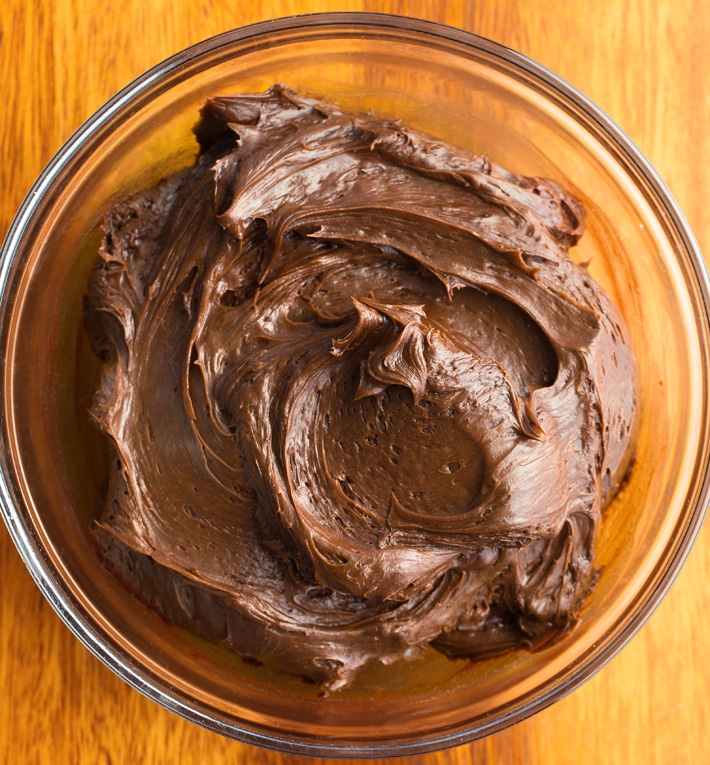 Frosting Ideas
There are so many ways you can frost a vegan white cake, including Healthy Chocolate Frosting, raspberry jam, powdered sugar, chocolate chips, or chocolate ganache.
Or top it with fresh fruit and Coconut Whipped Cream.
Surprisingly, many store-bought icings are accidentally vegan, including some flavors from both Duncan Hines and Pillsbury.
To make an easy homemade vegan cream cheese frosting, simply whip together 8 oz store-bought or homemade Vegan Cream Cheese with 4 oz vegan butter, 2 cups powdered sugar, and 1 tsp pure vanilla extract.
For the cake in the photos, I used my Chocolate Cream Cheese Frosting
Above, watch the vegan layer cake recipe video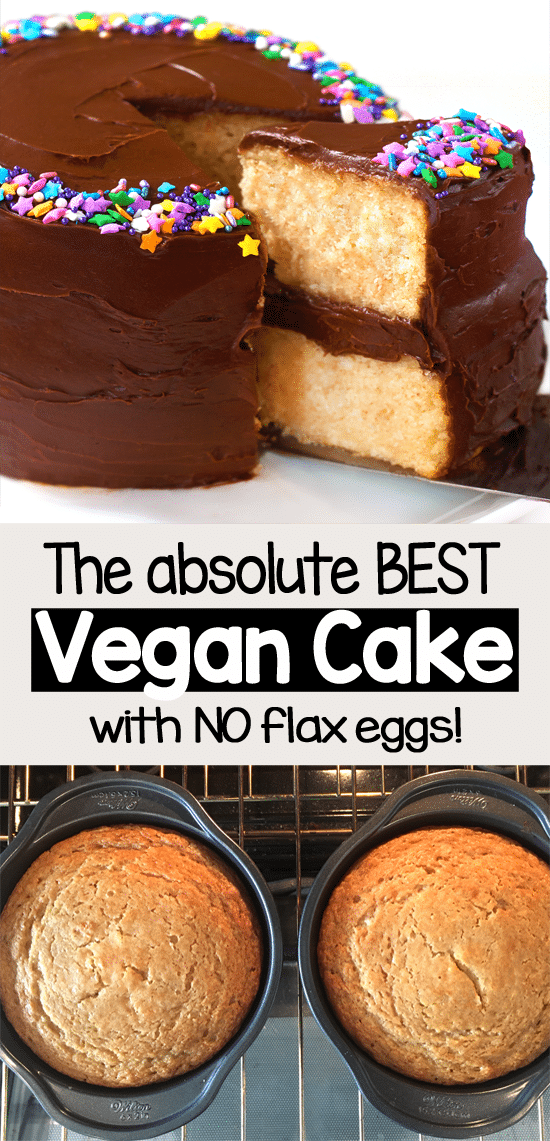 The recipe was adapted from these Vegan Chocolate Cupcakes.
Vegan Cake Recipe
How to make the best vegan cake recipe that's perfect for birthdays or any time you need an easy basic vanilla cake.
Ingredients
1 1/4

cup

milk of choice

1 1/2

tbsp

white or cider vinegar

1

tbsp

pure vanilla extract

1/4

cup

oil

2

cups

white, spelt, or oat flour

(for low carb, make this Keto Cake)

1

tbsp

baking powder

1/2

tsp

salt

1

cup

sugar, unrefined if desired
Instructions
The recipe makes two 8-inch cakes, or one 9×13 sheet cake, or three 6-inch cakes. To make the vegan cake, start by preheating the oven to 350 F. Whisk liquid ingredients in a large bowl. Let sit at least 10 minutes, then add remaining ingredients to form a batter. Smooth into greased baking pans. Bake 30 minutes, or until cake is risen and cooked through. (If you are a visual learner, feel free to watch the recipe video above.) 

View Nutrition Facts
More Vegan Recipes