Every now and then, someone finds this site while google searching for "how to cook kale."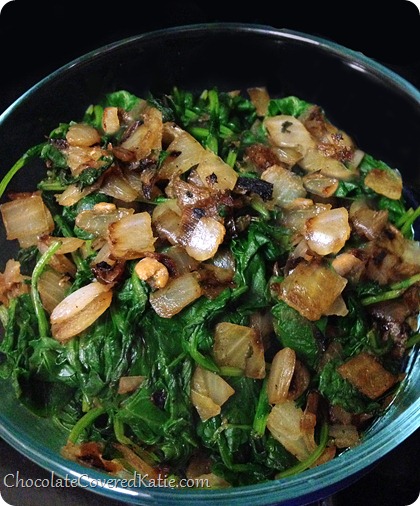 How to cook kale?
It's incredibly easy! I make the following recipe at least every other week (sometimes substituting other greens for the kale), and it's probably one of the simplest things you'll ever try.
Yet at the same time, the recipe tastes like something you'd find at a fancy, expensive restaurants. Others will be impressed with your cooking skills, never knowing all you used to make the dish were a few simple ingredients and a sauté pan.
And although it's true some people say kale is over-hyped, you'll never hear this from me. Kale's nutritional profile reads like a who's-who of vitamins (Beta carotene! Vitamin C! Vitamin K! Lutein! Fiber!), and you can turn the versatile veggie into chips, sneak it in smoothies, or even make Kale Brownies or the chocolate chip kale cookies that were featured on The Huffington Post.
Remember the Chocolate Chip Kale Cookies? 😉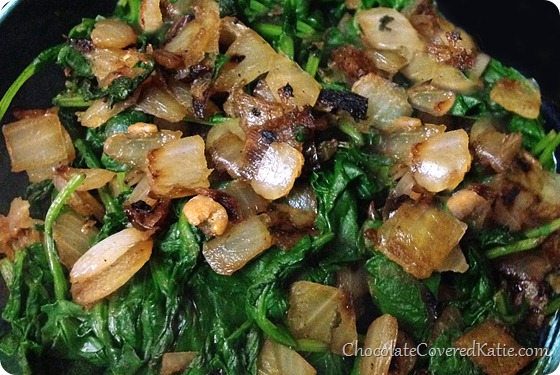 Or you can go for the traditional option…

How To Cook Kale
How To Cook Kale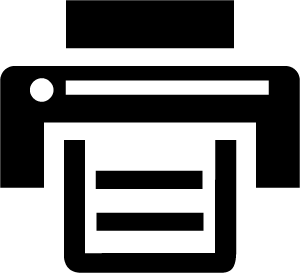 Print This Recipe
[mrp_rating_result show_count="false" show_rich_snippets="false"]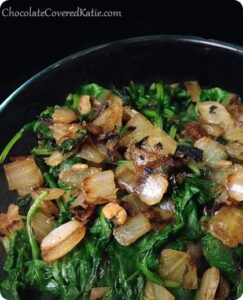 Ingredients
10 oz raw kale leaves (or two 5-oz packages), or raw greens of choice
1 cup raw onion, diced
1 tsp garlic powder, or minced garlic to taste
salt to taste (I use about 1/4 tsp)
oil or oil spray of choice
Instructions
How to cook kale: In a large sauté pan over medium heat, cook the onion and minced garlic (if using) in the oil (or oil spray, but keep in mind that kale's vitamins are more optimally absorbed when fat is added) until the onion begins to turn brown. Stir. Add the kale, or as much of it as will fit in the pan. Let cook until it wilts enough to stir, then add the rest of the kale as soon as you can. Stir occasionally to prevent sticking. When the kale looks wilted and onions are nicely browned, turn off the heat. Season with garlic powder and salt to taste. Feel free to add any other spices if desired, such as chili powder or ground ginger. You can also stir in a little sesame oil and a sprinkle of sesame seeds at this time. Yields about 2 cups (440g).
Do you like kale? What's your favorite way to eat it?
I know a lot of people are really big into the green smoothies (especially on instagram… wow there are a lot of green smoothies posted to instagram!). My favorite way to eat kale, however, is definitely when it's sautéed with onions and garlic. P.S. all of the photos in this "how to make kale" post were taken with an iphone!
Recipe Of The Day: