These sweet cinnamon sugar sopapilla cheesecake bars are one of the easiest and most delicious desserts you will ever make. And they have TWICE AS MUCH cream cheese filling as other recipes!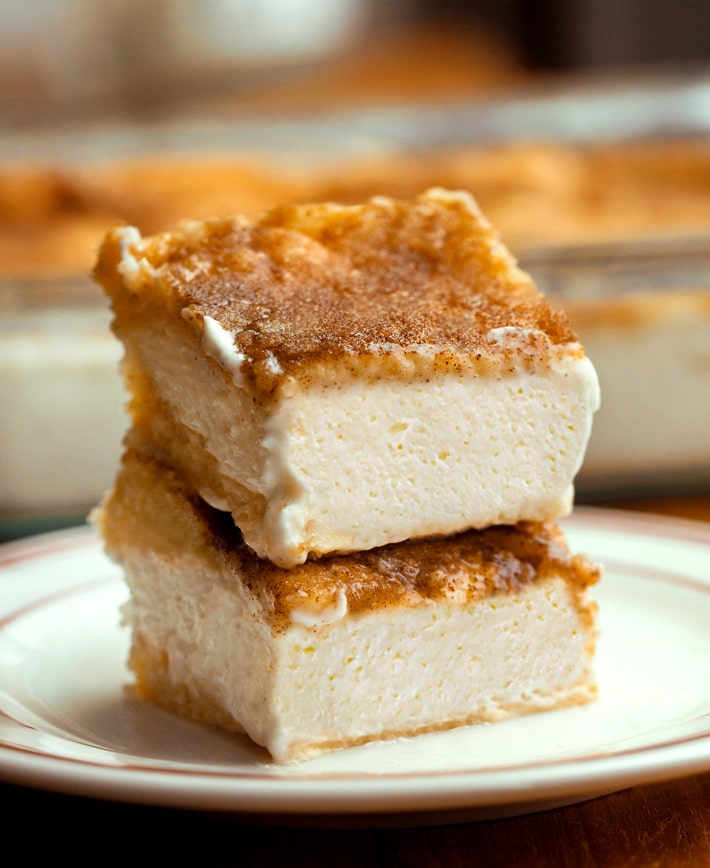 Trust me, you will be asked for the recipe.
With a thick cream cheese filling, buttery crust, and sprinkle of cinnamon sugar on top, guests can never resist the rich and decadent sopapilla cheesecake bars.
So if you are looking for a super party friendly dessert, definitely be sure to save this recipe, because people rave about it every single time!
You may also like this Coconut Ice Cream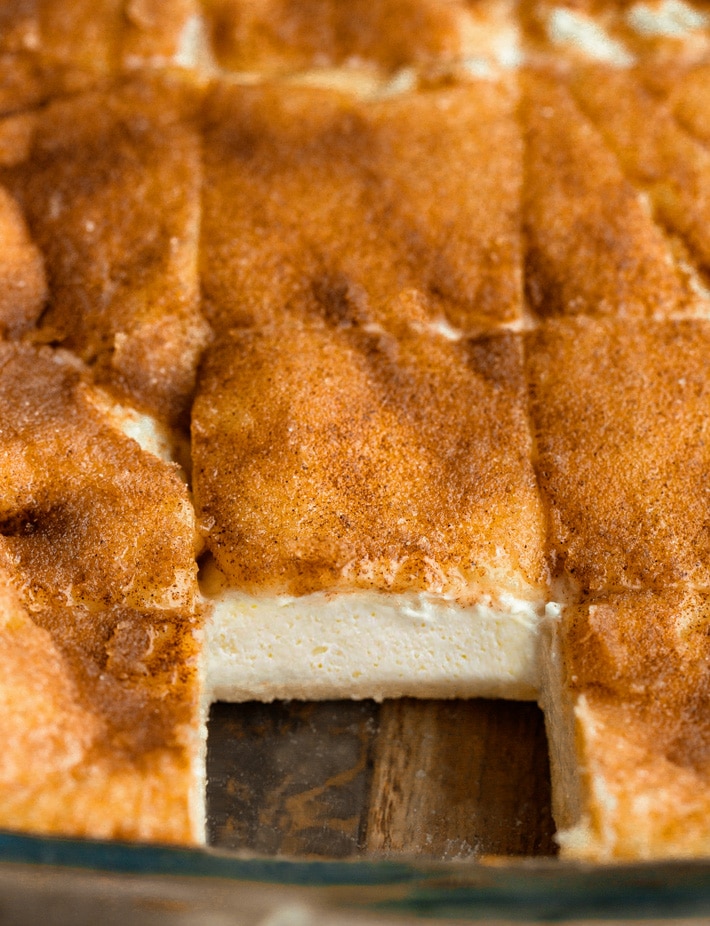 What makes this the best recipe?
While you can find many sopapilla cheesecake bar recipes online, most of the others only have a very thin layer of cheesecake filling in the middle.
This one is different, because it includes a rich, creamy, and DELICIOUSLY THICK CREAM CHEESE FILLING, stuffed luxuriously in between layers of flaky crust.
And while this isn't the healthiest dessert I've ever posted, the recipe is surprisingly healthier than one might guess, with less than a tablespoon of sugar per bar.
Plus, thanks to the cream cheese and yogurt, each sopapilla cheesecake bar packs in over 6 grams of protein and can be completely egg free!
Leftover cream cheese? Make Cauliflower Casserole
Above, watch the sopapilla cream cheese bar recipe video
Easy sopapilla cheesecake bars
After trying sopapilla cheesecake bars at a Cinco de Mayo party earlier this year, one of my friends texted to ask if I had a recipe for these sweet cinnamon pastries.
Having grown up in Texas, I was familiar with traditional South American or New Mexican fried sopapillas, which appear on many Tex-Mex restaurant dessert menus.
But adding a layer of cheesecake? This was something I needed to taste.
And so, I found myself in the kitchen on a rainy day in May, intent on creating my own version of the popular cheesecake dessert bars.
I chose to adapt the filling from my Vegan Cheesecake and Keto Cheesecake recipes and make it extra thick, because the cream cheese filling is the best part!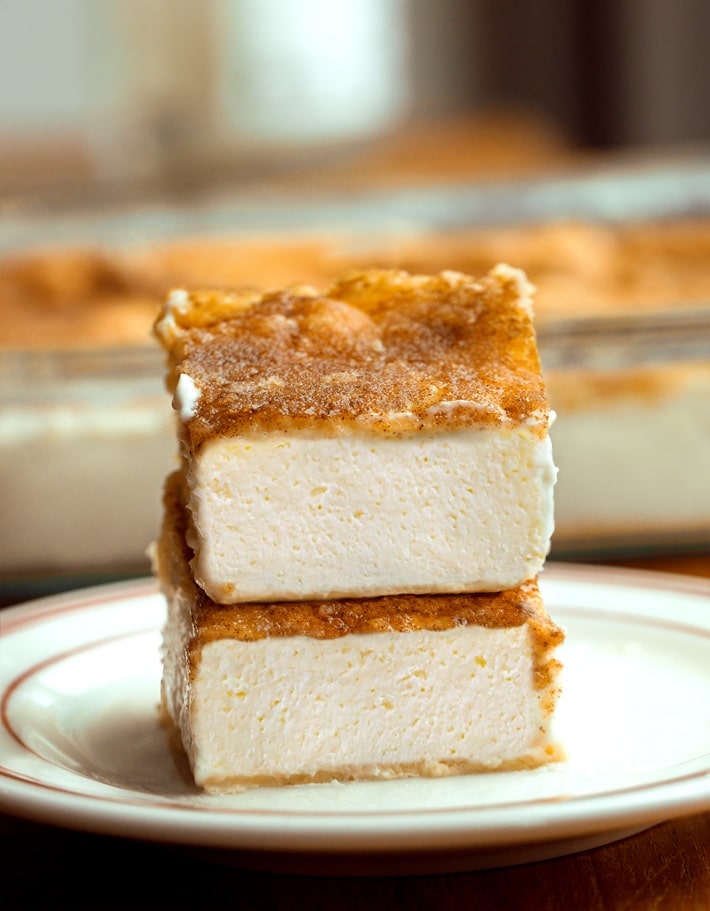 Sopapilla bar ingredients
You need the following: cinnamon, cream cheese, yogurt or sour cream or coconut cream, crescent roll dough, pure vanilla extract, sweetener, butter or oil, and cornstarch or almond flour.
It is fine to use homemade or store bought crescent roll dough. You can buy unbaked crescent rolls in the refrigerated section of almost any mainstream grocery store.
The regular or Greek yogurt can be swapped for sour cream or coconut cream if you prefer. Want to use vanilla yogurt instead of plain? Just omit the vanilla in the recipe.
The sweetener in the cheesecake can be granulated (such as regular sugar, coconut sugar, brown sugar, etc.) or liquid (pure maple syrup, honey, or agave). Use a granulated sweetener in the cinnamon sugar topping.
For sugar free sopapilla cheesecake bars, go with granulated erythritol, xylitol, or a stevia baking blend that measures like sugar (not powdered or pure stevia).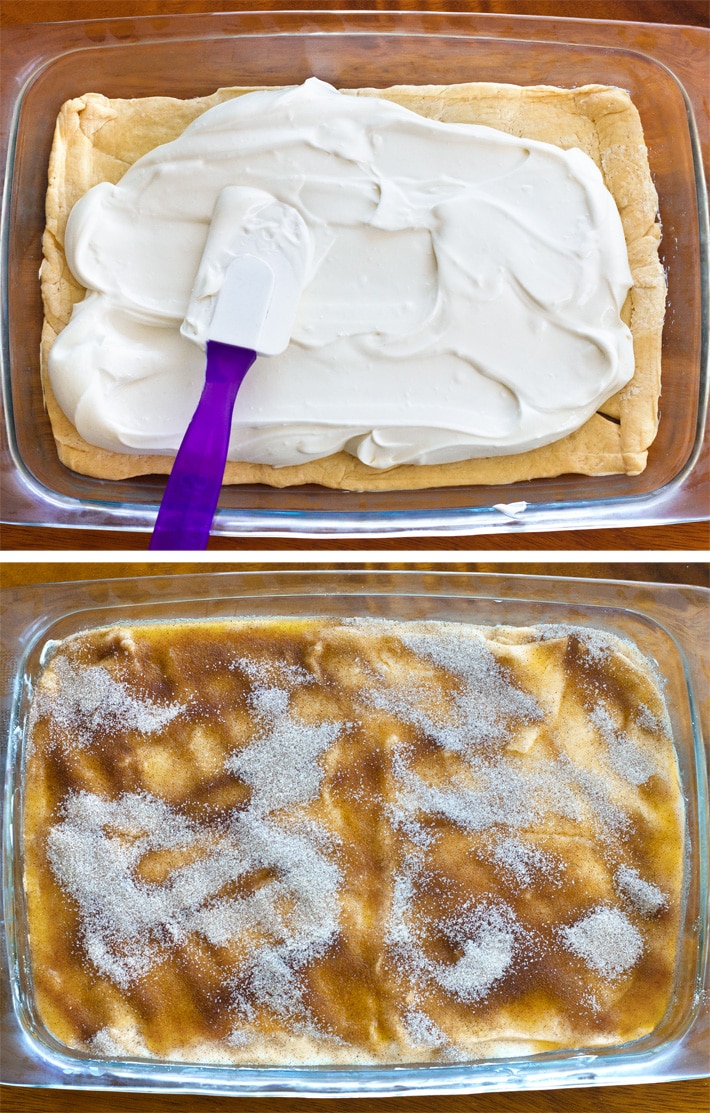 How to make the recipe
Start by gathering all of your ingredients and equipment. Let the cream cheese come to room temperature.
Open the crescent roll cans, and use a rolling pin or your hands to roll them out and close the seams. If they're not perfect, do not worry. Mine weren't either!
Line the bottom of a 9×13 baking pan with one of the sheets of dough. Set this pan aside, and preheat the oven to 350 degrees Fahrenheit.
Either in a food processor or with a hand mixer, blend the cream cheese, yogurt, cornstarch, vanilla, and sweetener until completely smooth. Unlike with regular cheesecake, there's no need to worry about blending too long.
Spread the cream cheese filling evenly into the baking dish. Carefully place the remaining crescent roll sheet on top.
Now pour on the melted butter or coconut oil. If needed, use a spatula to get it evenly onto the dough. Sprinkle the cinnamon sugar over everything.
Bake on the center rack of the oven for 25 minutes. Let cool completely before cutting. Once the pan is no longer hot, I like to refrigerate uncovered for a few hours (or overnight, covered in a cloth towel). The bars firm up considerably once cool and are much easier to cut.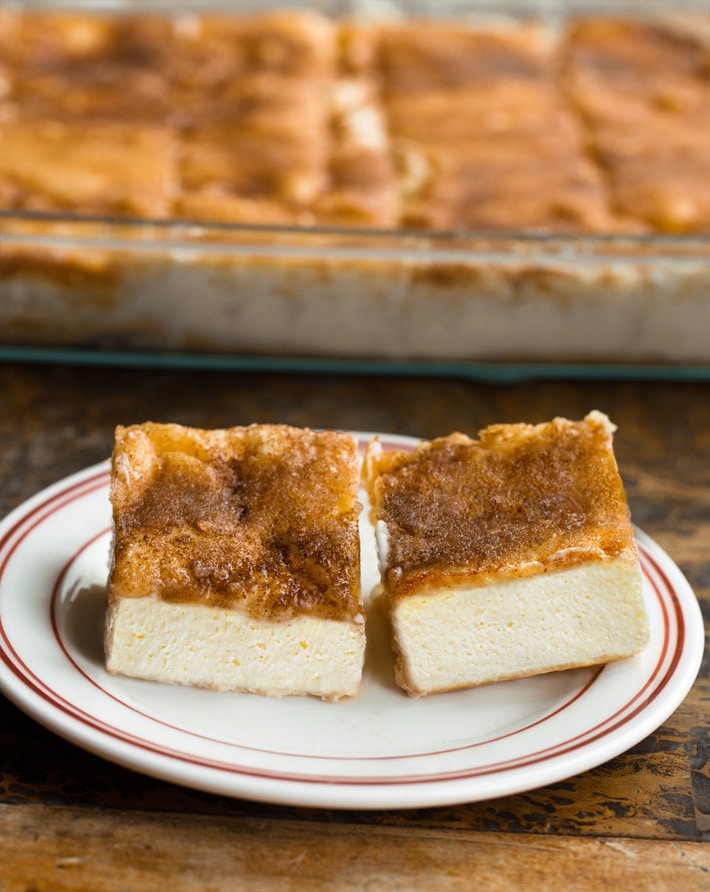 Storage and baking tips
Refrigerate leftovers in a covered container for three to five days. Technically, the bars can also be frozen if you don't mind the softer crust. Thaw before eating.
These sopapilla cheesecake bars, which are also sometimes called churro cheesecake bars, are great for potlucks and parties. They can sit out for a few hours in a cool room.
This recipe is very forgiving. If your top crescent roll dough breaks as you place it over the cheesecake layer, do not worry. Watch the video above, and you'll see that mine did just that! Simply press it back together as best you can, and it will still be just fine.
For vegan sopapilla cheesecake bars
Since they already have no egg, the bars are easy to make vegan.
Most brands of plain refrigerated packaged crescent rolls are accidentally vegan. These include Pillsbury, Immaculate Baking Company, Trader Joe's, and Annie's, as well as some generic grocery store brands like Giant, Aldi, Walmart, Safeway, and Wegmans.
I like Immaculate Baking or Annie's organic crescent rolls because they do not contain hydrogenated oils, artificial flavors, or preservatives present in some other options.
Use coconut cream or your favorite dairy free yogurt and cream cheese. Brands that sell vegan cream cheese include Kite Hill, Violife, Wayfare, Trader Joes, and Tofutti.
Readers also love these Vegan Chocolate Chip Cookies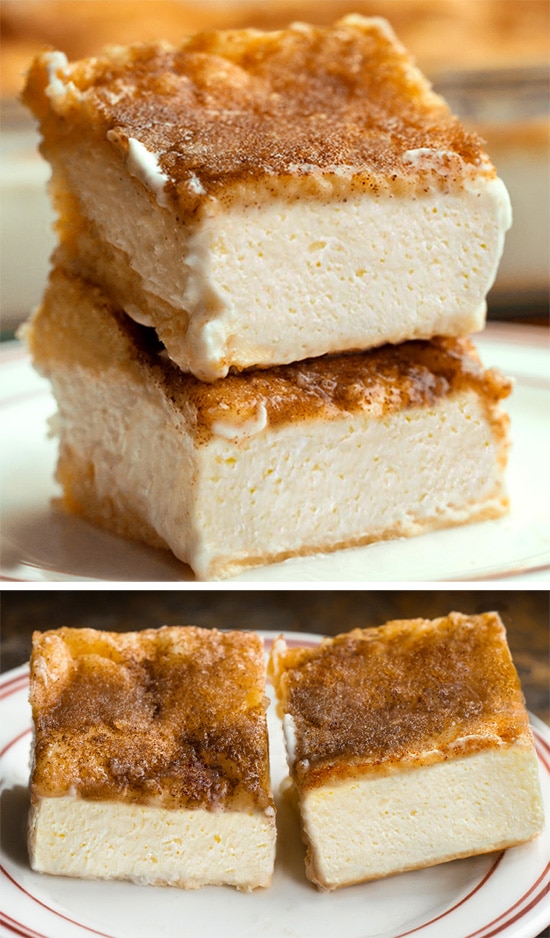 Sopapilla Cheesecake Bars
These sweet cinnamon sugar sopapilla cheesecake bars are a super easy dessert recipe that guests can never resist.
Ingredients
24

oz

cream cheese

(for vegan, see note above)

2

cans

refrigerated crescent rolls

(16 oz total)

1

3/4 cup

plain yogurt, sour cream, or coconut cream

1

1/2 tsp

pure vanilla extract

3/4

cup

sweetener of choice

2

1/2 tbsp

cornstarch, or 5 tbsp almond flour

3

tbsp

melted butter or coconut oil
Cinnamon Sugar Topping
1

tsp

cinnamon

1/3

cup

sugar or granulated erythritol
Instructions
Roll out crescent dough. Place one of the sheets on the bottom of a 9×13 baking pan. Preheat oven to 350 F. With a food processor or hand mixer, blend the cream cheese, yogurt, cornstarch, vanilla, and sweetener until completely smooth. Spread evenly into the pan. Carefully place the remaining crescent roll sheet on top. (Watch the step-by-step recipe video above. It's okay if the sheet falls apart! Press back together as much as you can.) Spread butter on top, sprinkle on the cinnamon sugar, and bake 25 minutes. Without opening the oven, turn off the heat and let sit in the closed oven for an additional 10 minutes. Let cool completely before cutting. I like to refrigerate the pan (once it's cooled) for a few hours, or loosely covered with a towel overnight, because the bars firm up considerably once cooled.  View Nutrition Facts
Easy Party Dessert Ideas