Now it's easy to make your own summer copycat Chick-fil-A healthy peach milkshake recipe at home!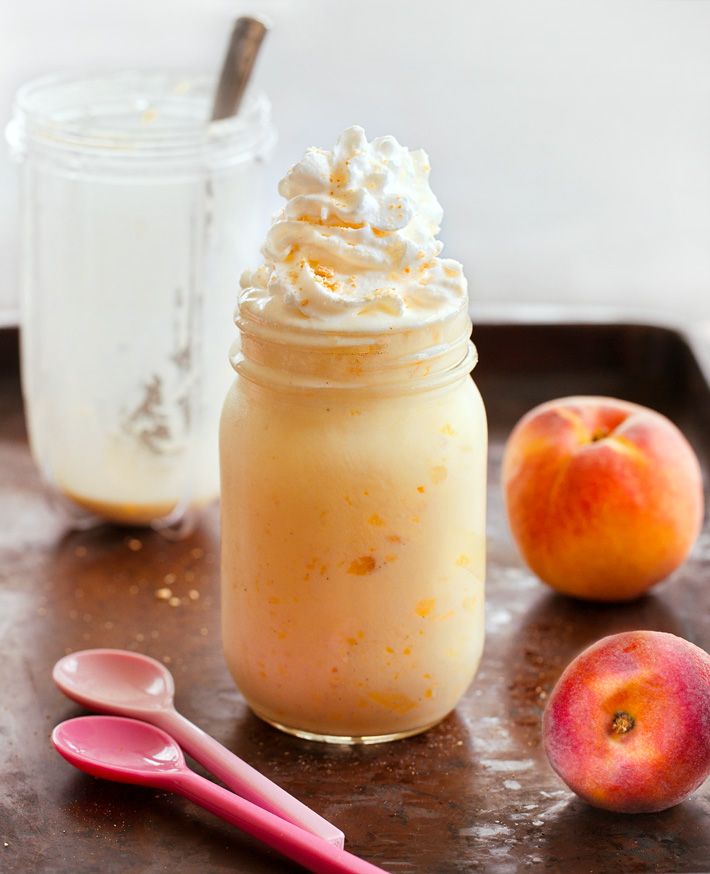 Creamy healthy peach milkshake
The famous seasonal Chick-fil-A peach milkshakes are back on the menu again.
And while they taste good for the few minutes they last, even a small restaurant peach milkshake packs in 620 calories, 20 grams of fat, 13 grams of saturated fat, 101 grams of carbs, and over 100 grams of sugar. And that's just for the small!
Do your health a favor and skip the fast food version.
This homemade healthy peach milkshake is thick, creamy, and extra delicious, without all the empty calories, fat, high fructose corn syrup, or artificial flavors.
Also try these Banana Oatmeal Cookies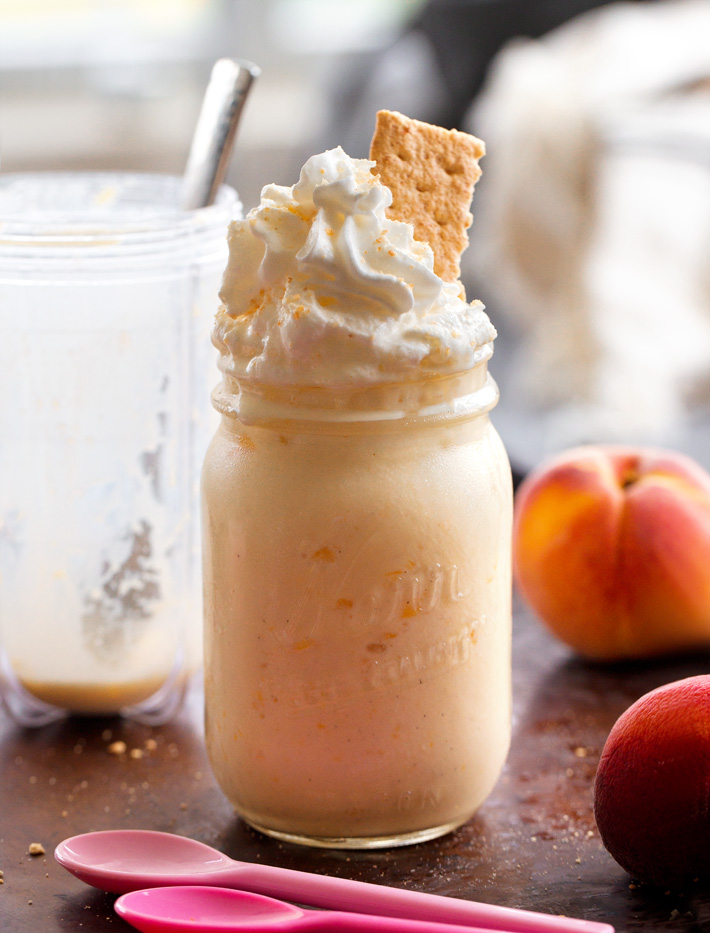 Does it taste like a Chick-fil-A peach milkshake?
Since they do not make a vegan Chick-fil-A milkshake, I've never tried the original. So I asked a group of friends who have tried both versions to tell me their thoughts.
One friend summed up everyone's opinion the following way:
"The healthy version tastes just as good as the real thing, and the milkshake texture is just as thick and creamy.
While it doesn't taste exactly the same, it more than satisfies my craving for a Chick-fil-A peach milkshake, and I don't feel at all deprived."
Popular today: Healthy Chocolate Chip Cookies
Above, watch the healthy peach milkshake recipe video
Healthy peach shake ingredients
Unlike a fast food milkshake, this one calls for just three ingredients.
It has no corn syrup, mono and diglycerides, guar gum, caramel color, sorbitol, red #40, sodium benzoate, cellulose gum, corn starch, or carrageenan, which are all Chick-fil-A peach shake ingredients.
This light peach milkshake recipe calls for vanilla frozen yogurt, milk of choice, and fresh, frozen, or canned sliced peaches. That's it.
Feel free to replace the frozen yogurt with homemade Greek frozen yogurt, or other flavors like orange, blueberry, strawberry frozen yogurt or peach frozen yogurt.
For a more decadent dessert with an even richer texture, you can also substitute an equal amount of vanilla ice cream or vegan ice cream for the frozen yogurt.
Of course the ice cream version will not be quite as wholesome as the option with yogurt, but I believe decadent desserts in moderation can be part of a healthy diet.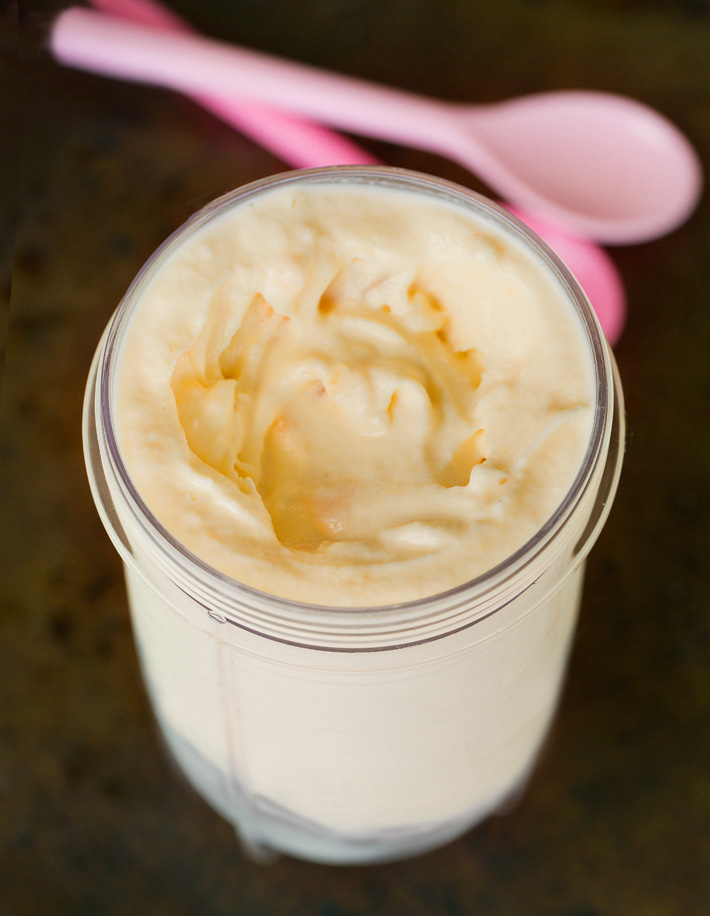 Vegan peach milkshake recipe
For a dairy free and plant based milkshake, simply use your favorite nondairy brand of frozen yogurt or vanilla ice cream.
Or you can use Almond Milk Ice Cream, Oat Milk Ice Cream, or Coconut Ice Cream.
Vegan milk of choice options include full fat or low fat canned coconut milk, or rice milk, cashew milk, soy milk, or unsweetened almond milk for a low calorie milkshake.
As well as being egg free, dairy free, and vegan, the healthy fruit shake can also be soy free, nut free, added sugar free, refined sugar free, and gluten free.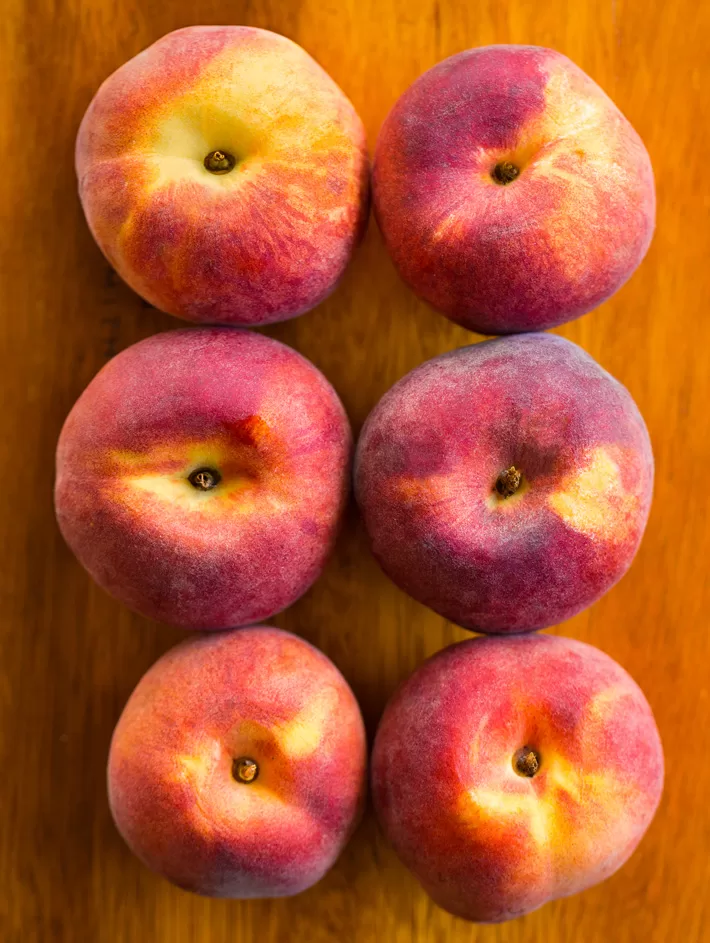 Fresh or frozen peaches
One of the best things about this healthy peach dessert is that you can enjoy it all year long, not just in the hot summer months when peaches are in season.
If using fresh peaches or canned peaches, I like to freeze them after slicing. You can peel the peaches or use unpeeled peaches for added fiber.
For a peach drink with frozen peaches, you do not need to thaw the fruit. Simply open the bag and throw the peach slices into the blender as-is.
*If you only have a personal single serving blender, such as a Magic Bullet or Nutribullet, use unfrozen or thawed peaches, because these smaller blenders may not be able to handle hard frozen fruit.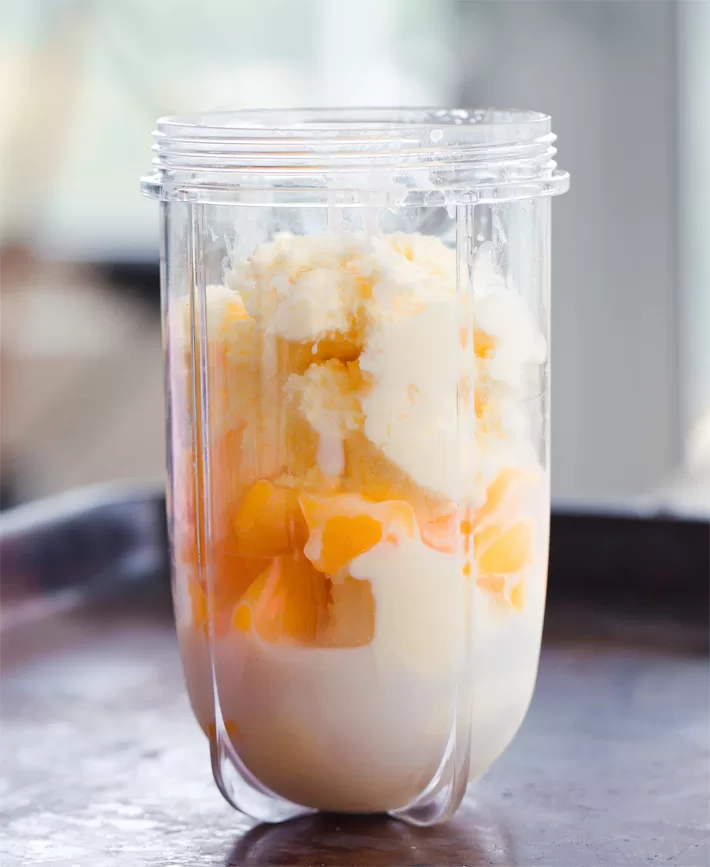 How to make a healthy peach milkshake
While it is not required to freeze the peach slices first, freezing them will yield a thicker milkshake. This step can be done days or even weeks in advance.
To make the healthy milkshake, throw everything except optional garnishes into a blender. Blend until completely smooth.
If you want to add texture, you can stir about half a cup of finely diced peaches into the shake with a spoon after blending.
Pour the thick peach shakes into tall glasses, or turn them into peach smoothie bowls if you prefer. Garnish as desired, with homemade whipped cream and a cherry, graham cracker crumbs, or anything else you desire.
This healthy recipe makes two large peach milkshakes.
Still craving peaches? Try this Peach Crisp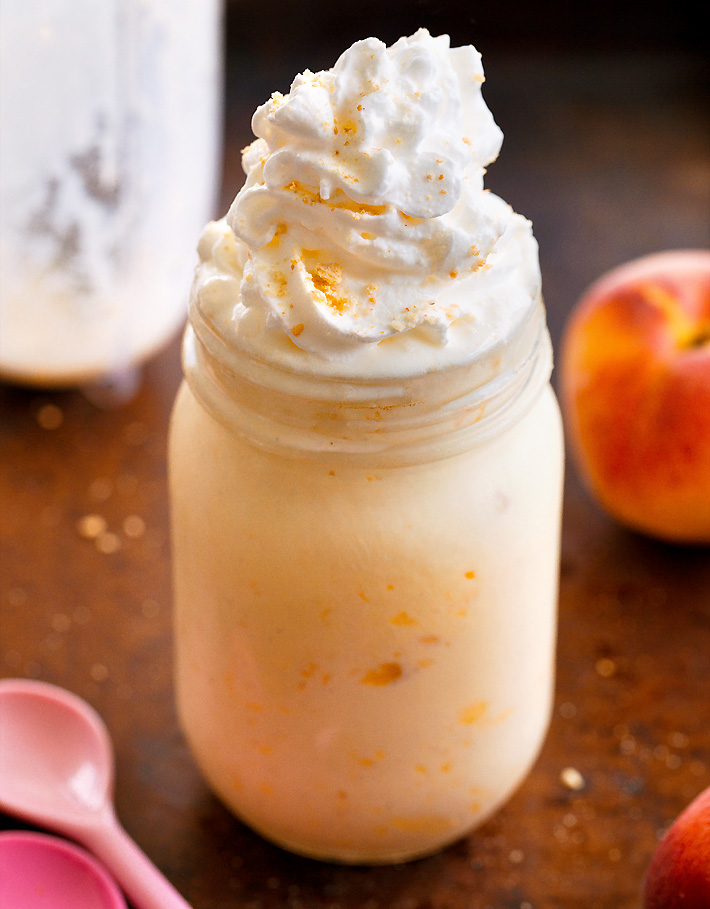 Healthy peach milkshake toppings
You can drink your copycat peach milkshake plain or topped with any one or more of the following garnishes:
Granola
Maraschino cherries
Caramel sauce
Rolled oats or quick oats
Graham crackers
Sliced peaches or bananas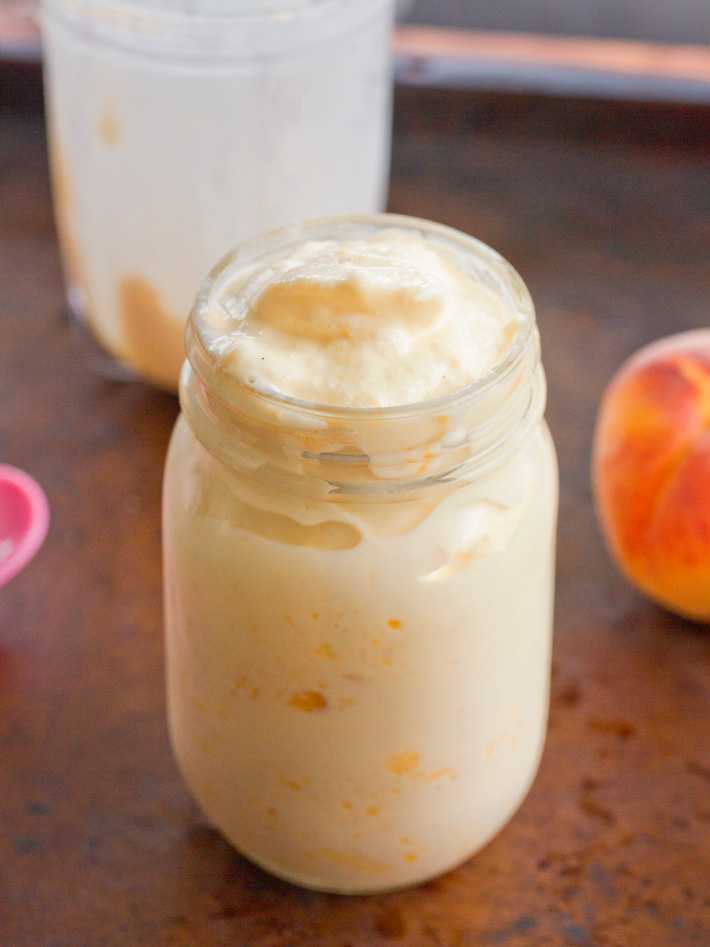 Peach protein shake
Thanks to the yogurt, this is already a high protein milkshake, packing in over 16 grams of protein per serving.
For an even higher protein shake, add one scoop of your favorite protein powder.
Recommended flavors that go with peaches include maple, vanilla, brown sugar, cherry, coffee, or caramel protein powder.
My preference is to use unflavored plain protein powder in this shake, because it allows the sweet natural peach flavor to take center stage.
I have never tried using chocolate protein powder so have no idea how that specific flavor combination would taste. But now that I'm thinking about it, a chocolate covered peach milkshake sounds quite tasty!
Or turn it into a peach smoothie
For an even healthier option, you can omit the frozen yogurt and replace it with four frozen bananas or a packed two cups of Banana Ice Cream.
If you are not a banana fan, frozen pineapple or mango work as well.
Or you can use non frozen regular or Greek vanilla yogurt. If using an unsweetened yogurt, you will most likely need to add sweetener of choice, such as pure maple syrup, honey, or brown sugar, to taste.
Tips for using gram measurements
If you'd like to measure the milkshake using a food scale instead of measuring cups, here are the weights to use:
180 grams sliced peaches, 270 grams frozen yogurt, and 60 grams milk of choice.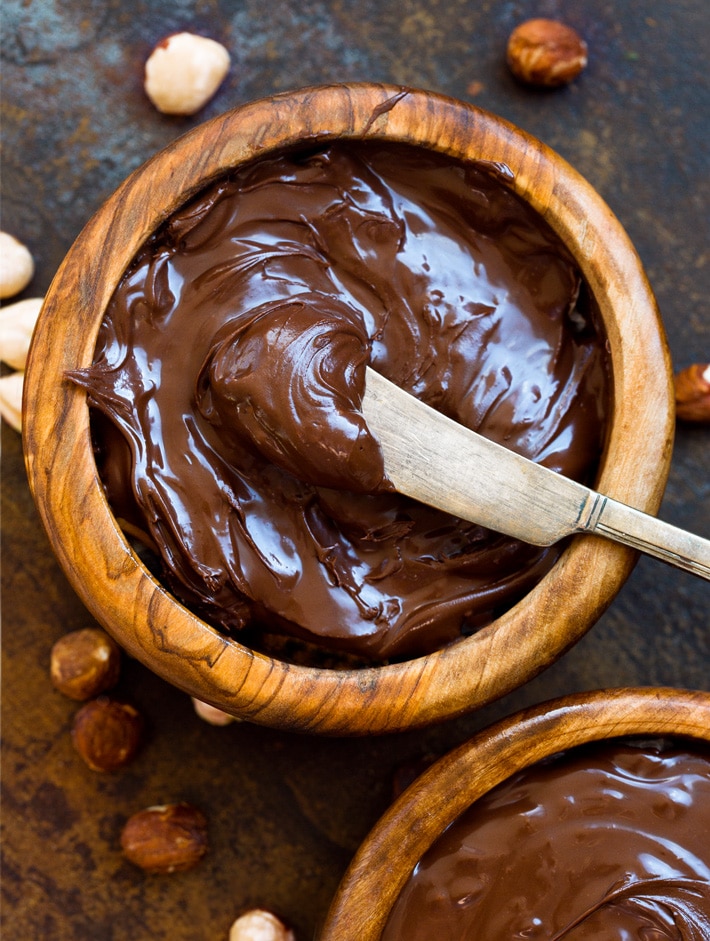 More healthy copycat recipes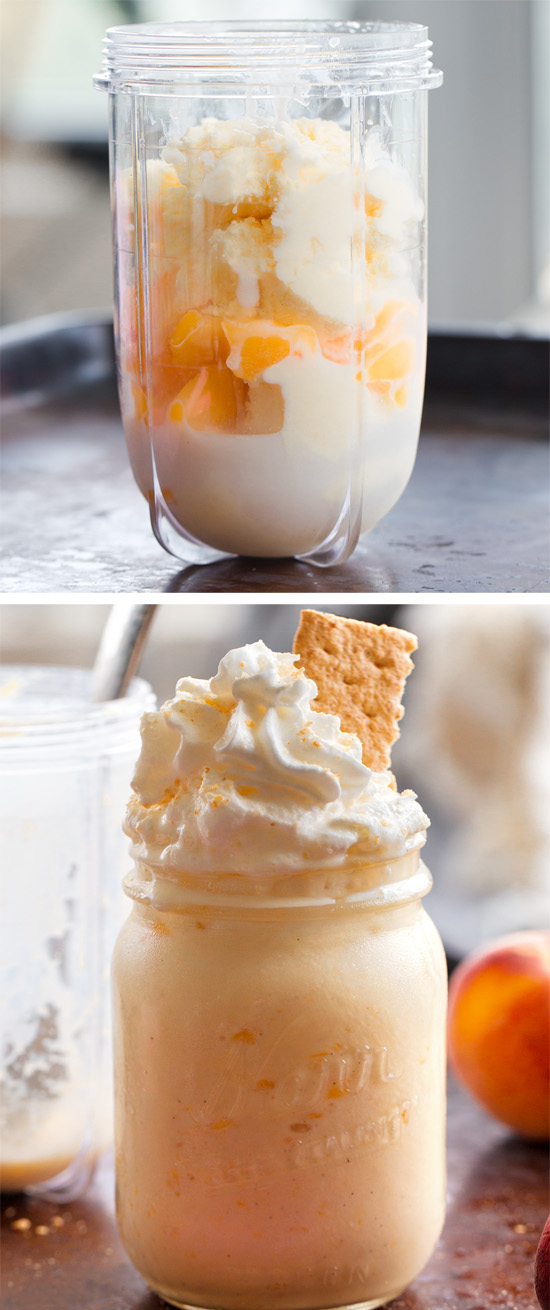 Healthy Peach Milkshake
Make your own summer copycat Chick-fil-A healthy peach milkshake recipe at home.
Ingredients
1

1/2 cups

sliced peaches

1

1/2 cups

vanilla frozen yogurt

or Homemade Frozen Yogurt

1/2

cup

milk of choice

toppings of choice

optional 1/2 cup diced peaches
Instructions
Combine the healthy peach milkshake ingredients, excluding optional ingredients, in a blender. Blend until completely smooth. If desired, stir finely diced peaches into the shake after blending. Pour into glasses or a bowl, top with whipped cream or granola if desired, and serve.

View Nutrition Facts
More Healthy Drink Ideas