A "lightened up" version of those classic chocolate oatmeal no bake bars everyone loves so much: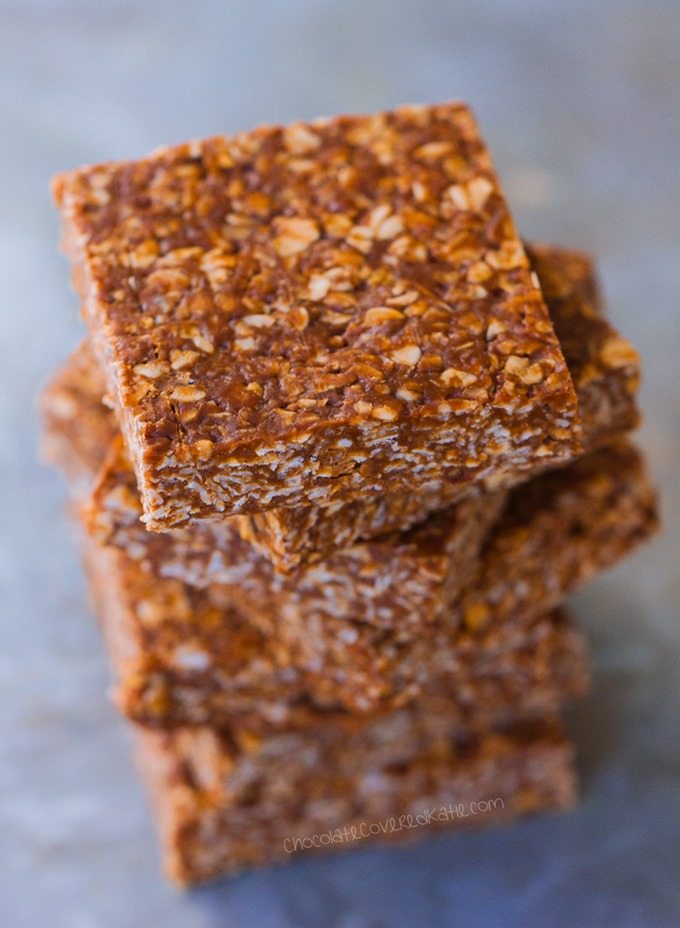 At first glance, traditional chocolate no bake recipes—made with wholesome oatmeal instead of flour—might seem like a healthy choice.
But with half a cup of butter and TWO full cups of refined sugar packed into traditional no bake bar recipes, they're really not even close! These clean chocolate oatmeal no bake bars offer the perfect healthy alternative:
You get all of the wholesome ingredients without all the extra butter and sugar.
I swapped out the sugar here for pure maple syrup and have also cut way back on the sweetener in general. And I substituted protein-rich peanut butter for the butter.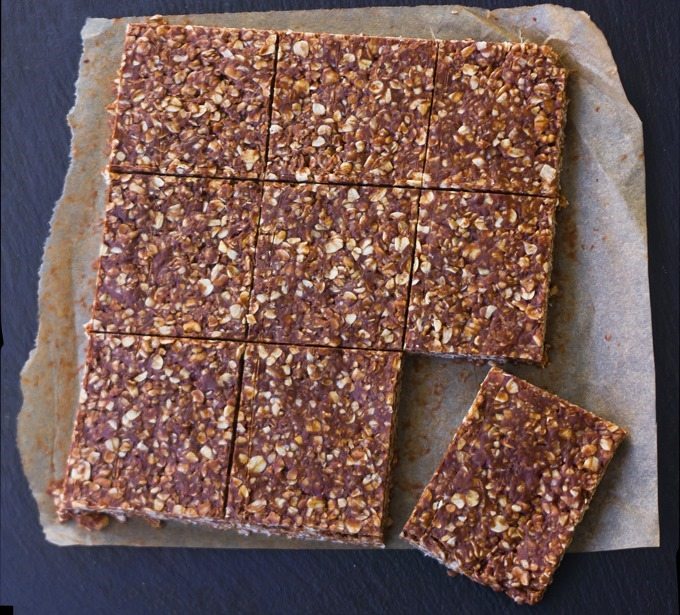 The recipe first came about during the Snowpocalypse 2016, when my then-boyfriend and I were trapped in my apartment while the snow relentlessly slammed down outside.
After watching about seven Daredevil episodes in a row, he looked at me and said, "So where are all the famous Chocolate Covered Katie baked goods?"
With no grocery stores open, I took stock of my pantry and pulled out every one of my favorite ingredients that I always have on hand:
Chocolate.
Peanut Butter.
Coconut.
Oatmeal.
Combining so many delicious ingredients into one easy-to-make & heart-healthy dessert was pretty much a guaranteed success right from the start. I formed them into no bake cookie balls and put them on a plate.
The boy proceeded to eat eight of them… So I took that as a good sign!
Then we watched even more Daredevil, and ate pasta with jarred Ragu from 7/11 for dinner.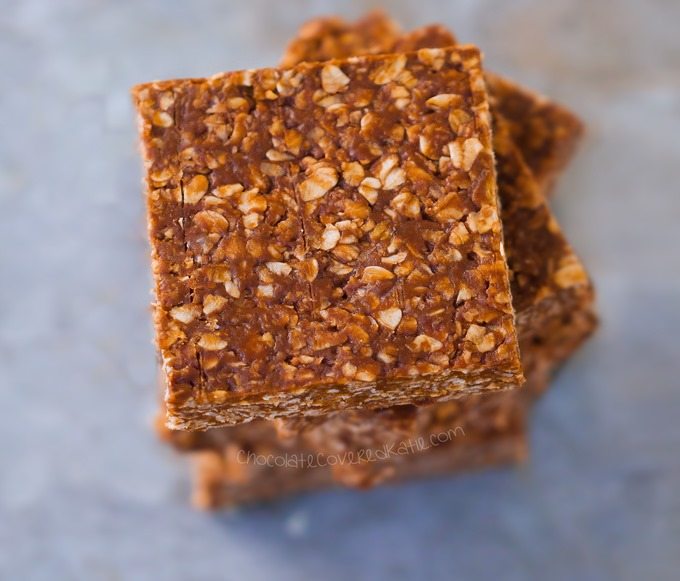 And swore we'd never tell anyone.
Oops.

Oatmeal Chocolate No Bake Bars – Instructions: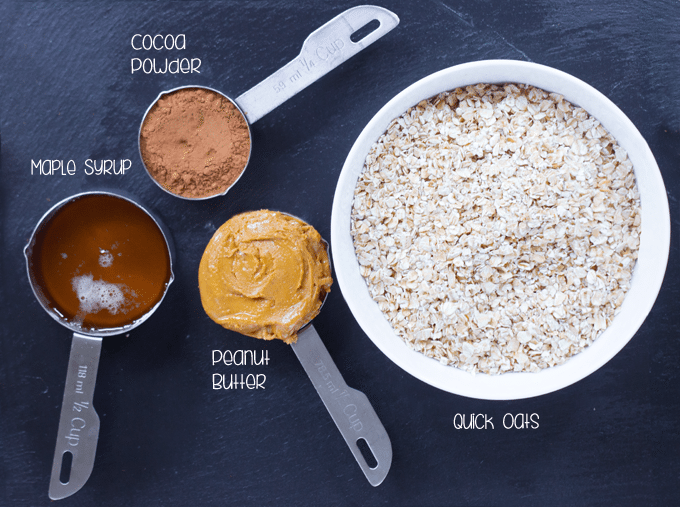 Step One:
Prepare an 8-inch pan by lining it with parchment or wax paper.
Stir together the liquid ingredients, then combine with the oats and stir until evenly mixed.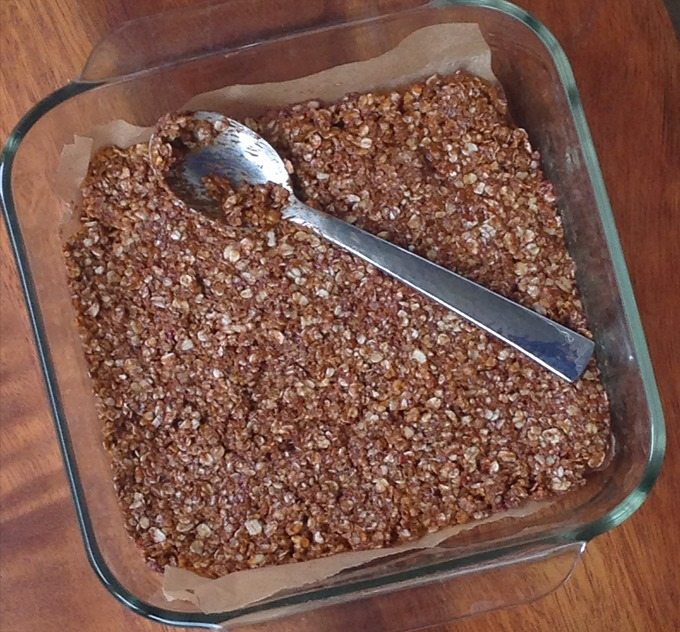 Step Two:
Smooth into the prepared pan, and press down with a spoon as hard as you can. Really press down as hard as you can.
Transfer the pan to the freezer until the bars are firm enough to cut.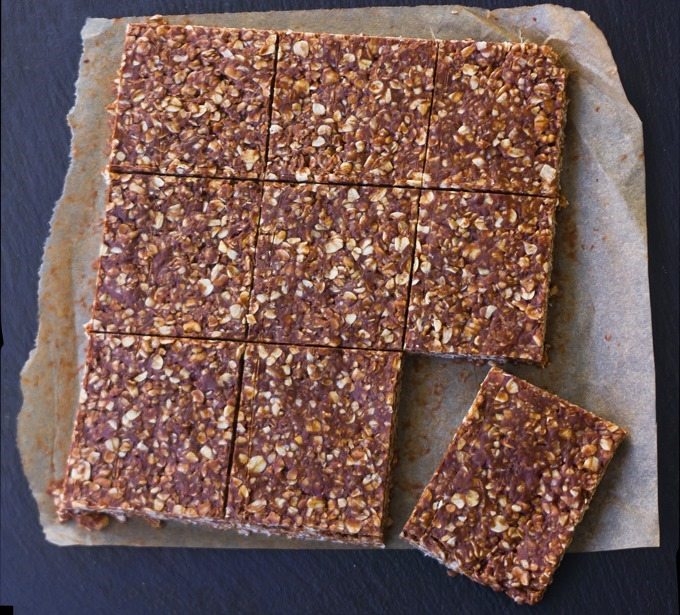 Step Three:
Slice into bars, and enjoy! Leftovers can be left out at room temperature for a few hours, but for optimum freshness I like to keep them in the fridge or freezer, where they last a few weeks…
If you don't eat them all first!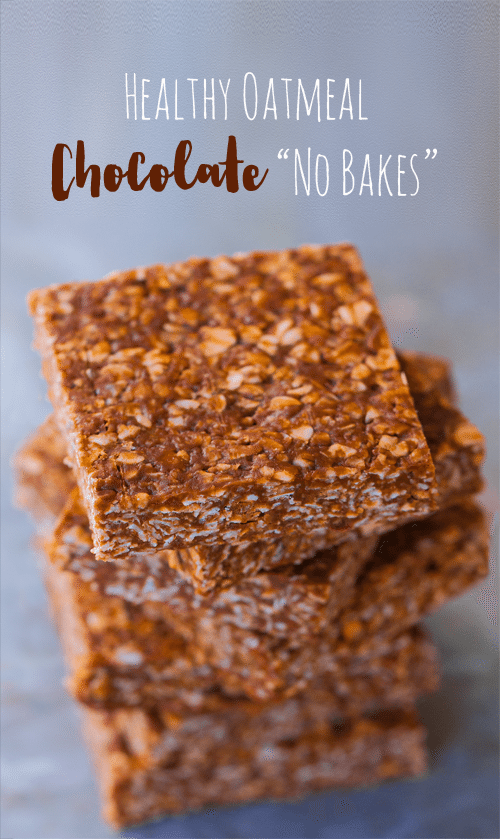 Chocolate Oatmeal No Bake Bars
Adapted from Peanut Butter No Bake Bars
Ingredients
1/4 cup + 3 tbsp peanut butter (or allergy-friendly sub)
1/4 cup + 3 tbsp pure maple syrup, honey, or agave
1/4 cup virgin coconut oil (48g)
1/2 tsp pure vanilla extract
1/4 tsp salt
2 cups quick oats (180g)
1/4 cup cocoa powder
Instructions
Line an 8-inch square pan with parchment or wax. Set aside. Stir together the first three ingredients. Gently heat until the oil is melted and peanut butter is easily stir-able. Whisk in the vanilla extract and salt, stirring until completely smooth. Stir in the quick oats and cocoa powder until evenly coated. Smooth into the prepared pan, and press down with a spoon as hard as you can. Really pack it in. Freeze until firm enough to cut. Leftovers can stay out a few hours, but I like to keep them in the freezer for optimum freshness, where they last a few weeks.
Link of The Day: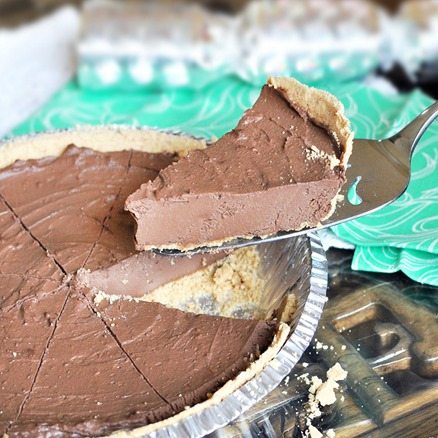 The Ultimate Chocolate Fudge Pie